Meatless Zucchini Meatballs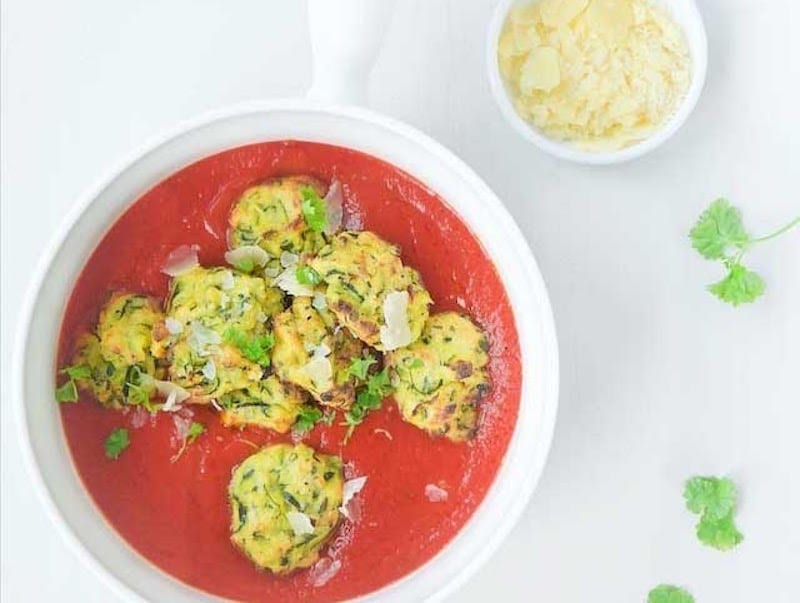 If you want crunchy and vegetarian, these zucchini meatballs are for you. Slowly baked, served in a delicious tomato sauce and full of fresh vegetables, these zucchini meatballs can add a light touch to a heavy dish.
By Andrea Janssen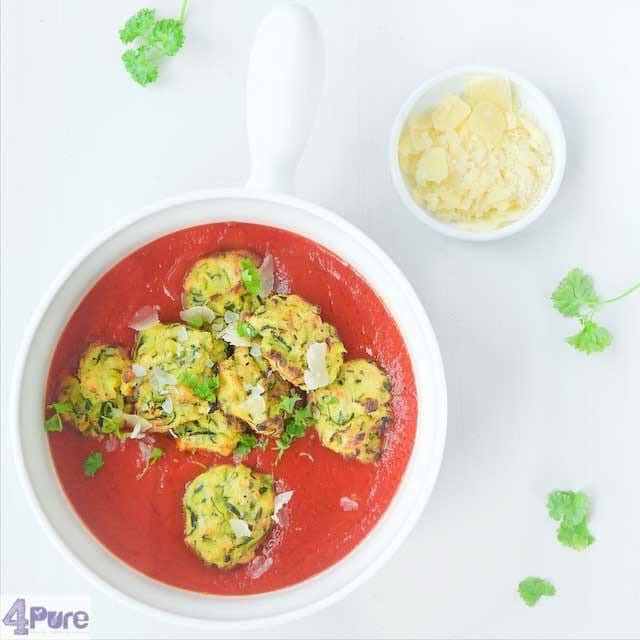 My eating motto is don't over do it. Not too much milk, not too sweet, not too much. Don't exaggerate, just use common sense.
I'm always in the search for great vegetarian dishes. And when I was strolling on the internet I came across the site of skinnytaste.com and found a recipe for zucchini meatballs in tomato sauce. And her description sounded so good that I had to try it. I have adapted the recipe (I'm not that fond of store bought tomato sauce) and put it on the table. The responses were, after a thorough inspection of the ball, positive. And so I share it with you here. As a healthy vegetarian alternative to meatballs.
Oh yes, a small remark. Because it is winter, I make the recipes in daylight, I then photograph them and warm them again before eating (yes, it's not always easy to live with a food blogger in the house). When heating them up again the balls fell apart in the sauce (luckily I kept some apart). So if you want to prepare some in advance, keep them apart until you almost going to serve them and just heat them in the sauce.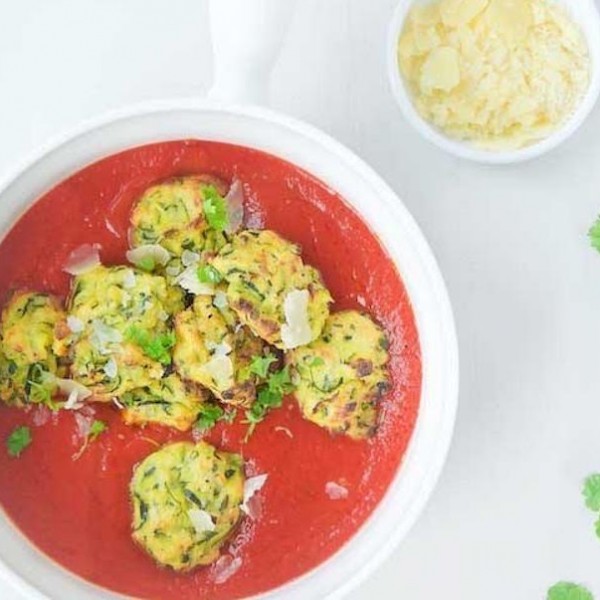 Meat Free Zucchini Meatballs
Andrea Janssen
If you want crunchy and vegetarian, these zucchini meatballs are for you. Slowly baked, served in a delicious tomato sauce and full of fresh vegetables, these zucchini meatballs can add a light touch to a heavy dish.
Ingredients
Zucchini meatballs:
2

tablespoons

olive oil

2

cloves

garlic

mashed

2

zucchini

coarsely grated

0.5

teaspoon

sea salt

pinch

of pepper

90

grams

3.1 ounces breadcrumbs

2

teaspoons

Italian seasoning

1

egg

L, beaten

40

grams

1.4 ounces of Parmesan cheese, finely grated.
tomato sauce:
1

tablespoon

olive oil

1

shallot

finely chopped

1

clove

garlic

finely chopped

30

grams

1 ounce of tomato puree

400

ml

13.5 ounces passata/tomato puree

400

grams

14.1 ounces of peeled tomatoes (canned)

1

teaspoon

Italian seasoning

1

bay leaf
Instructions
Meatballs:
Preheat the oven to 180 degrees Celsius.

Put a frying pan on the stove and pour a tablespoon of olive oil in.

Put the 2 crushed cloves of garlic and stir fry for 1 minute. Remove the garlic from the oil and then add the zucchini.

Stir-fry the zucchini between 5 and 10 minutes, until all the liquid has evaporated.

Let the zucchini drain in a colander and then put it into a bowl where you mix it with salt, pepper, bread crumbs, Italian herbs, Parmesan cheese and egg.

Make small balls of the zucchini mixture and place them on a baking tray.

Brush the top of the balls lightly with olive oil and put them in the oven.

Bake for 20 to 25 minutes until golden brown and firm.
Tomato sauce:
Put the olive oil into the pan and fry the shallot in 3 minutes until translucent.

Add the garlic and cook 30 minutes.

Stir in the tomato puree and bake while stirring for another 2 minutes.

Pour over the passata and peeled tomatoes and sprinkle with Italian seasoning.

Mix well and place the bay leaf on top of the sauce.

Simmer for 20 minutes, until the peeled tomatoes are pretty soft and you can press them flat with the back of your spoon (do so for all the tomatoes).

Add the zucchini meatballs to the sauce and warm 2 minutes.

Serve with Parmesan cheese and (optional) fresh herbs such as parsley and basil.
Andrea Janssen
Andrea is a wife, mom of three boys and a passionate cook. She loves to make everything from scratch and loves to entertain. She shares her recipes on her blog: http://www.4pure.nl/en