Making authentic Italian pizza at home is easy with the right guide. Learn how to create the perfect sourdough crust and pizza basics like the Positanese.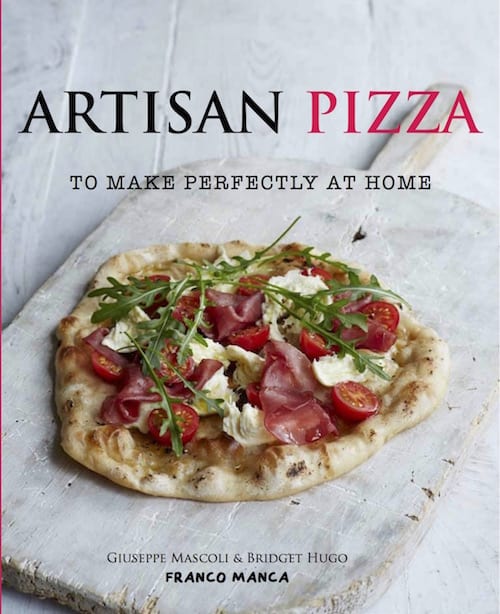 Homemade pizza is delicious, but can it live up to the artisanal pizza tossed at the finest Italian pizzerias in Italy and beyond? They can if you have the proper technique and tools! No need to have a pizza stone or wood-fired oven to create the perfect crust, according to Giuseppe Mascoli and Bridget Hugo's new cookbook and guide, Artisan Pizza to Make Perfectly at Home.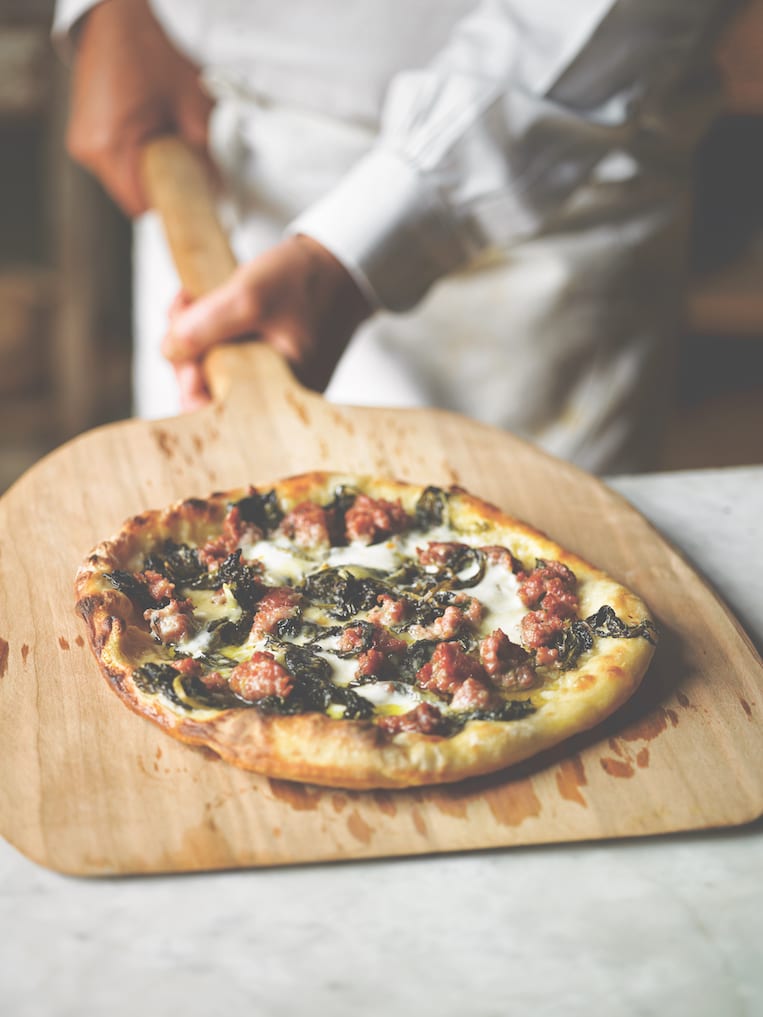 Restaurant partners, Giuseppe and Bridget run the popular London pizza restaurants, Franco Manca, famous for their sourdough crust.
The book is packed with beautiful topping combinations, a fool-proof crust, and all the tips you need for the perfect pie. Not convinced? Here are our questions when it comes to making a perfect pizza at home, now answered thanks to Giuseppe and Bridget.
Do I really need a pizza stone?
No! This is music to our ears. Not only can we save cupboard space, but we also don't have to buy and store a peel. Rather than relying on your home oven to get a stone hot enough, the Franco Manca owners recommend baking your pizza in a cast iron pans. Get the pan hot enough on the stovetop and then transfer to the oven for baking. Genius!
How do I make the perfect dough, every time?
"There is no secret to a dough recipe—it is flour, water, and salt…and yet each of these elements is key." So. True. Pizza dough is made with the simplest elements, but yet is has always seemed like a mystery to be able to create a thin, soft crust, with a perfectly crisp bottom. The cookbook breaks down each one of those simple ingredients and gives easy guidelines to a sourdough starter, fermentation, and temperatures. So which flour is best? At Franco Manca they only use stone-ground bread flour. And for the best possible dough, be sure to make it 24 hours ahead of time so it is able to ferment and the gluten is able to relax. Check out the book for the perfect dough recipe.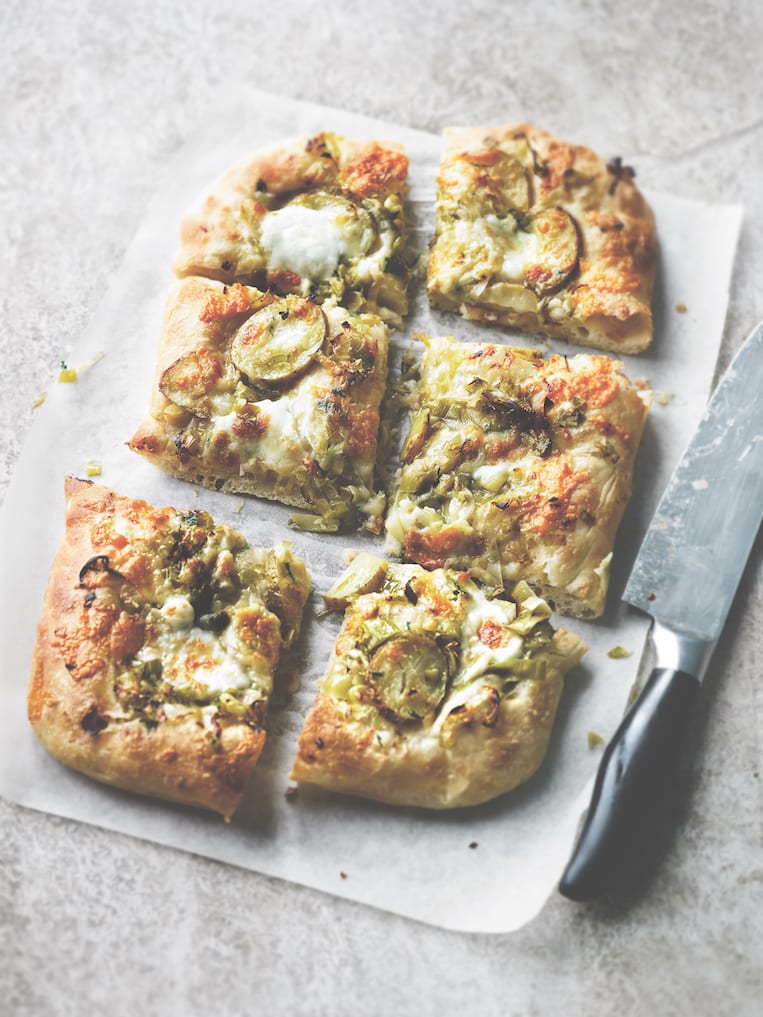 h3>Can I easily make pizzette at home
Pizzette or small fried pizza dough is easy to make in your own kitchen. Take your tried and true sourdough recipe and fry in about 3/4 of a cup of vegetable oil at 350F degrees. That's it!
What are the traditional cheeses used on Italian pizza?
The world of cheese, especially artisanal cheeses, used on Italian pizzas is endless. Today, more than ever, Italian pizzerias are branching out and sourcing local, interesting varieties to top their pies. At Franco Manca and in their book, they suggest mozzarella, ricotta, Parmesan Reggiano, roquefort, gruyere, provolone, and caciocavallo. Want to add smoked mozzarella? This book easily teaches you how to make your own!
See Also
True Italian pizza only uses olive oil as a fat, right?
Actually, the book recommends trying lard, duck or goose fat, and even peanut oil. However, if you choose to stick with the original olive oil, make sure it is cold pressed and high quality.
The cookbook goes on to feature recipes for traditional Margherita or Neopolitan pizzas, plus many more unorthodox styles. The pages are laden with recipes for basic tomato sauces, pesto, Italian sausages, or cured meats. Never again will pizza night be boring!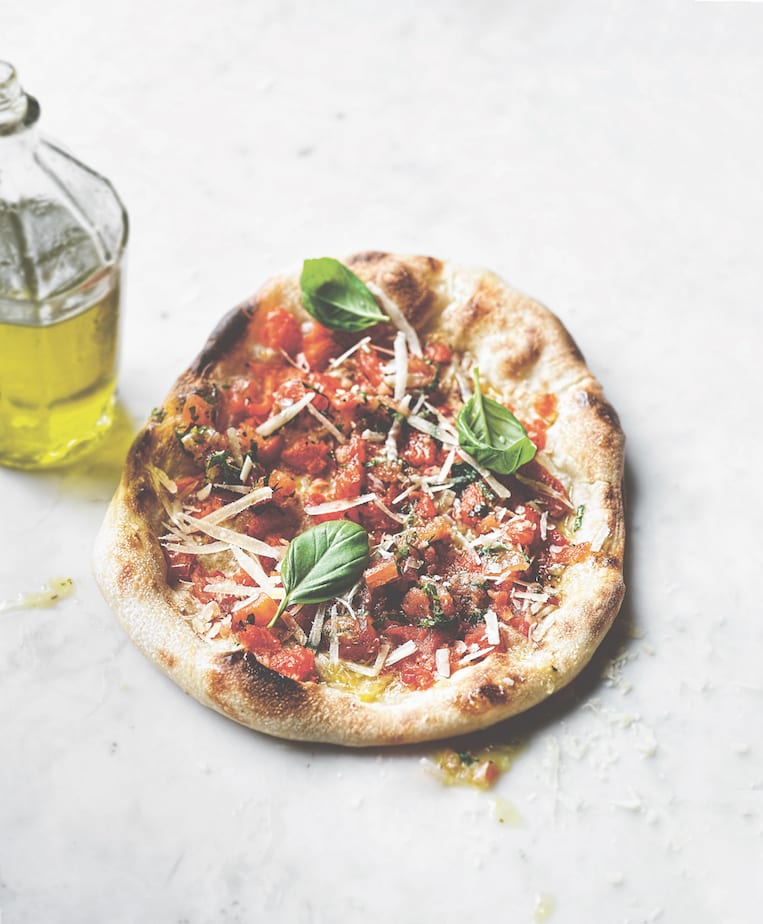 Try a favorite pizza recipe from the book, Positanese. This raw salsa is a classic from Positano on the Amalfi coast. You need very good tomatoes for this, so make sure that you find some that are super-sweet and fruity. We also call this pizza "a la Eduardo," a reference to Eduardo di Filippo, the famous Italian actor, playwright, author, and poet, who passed this recipe on to us many years ago.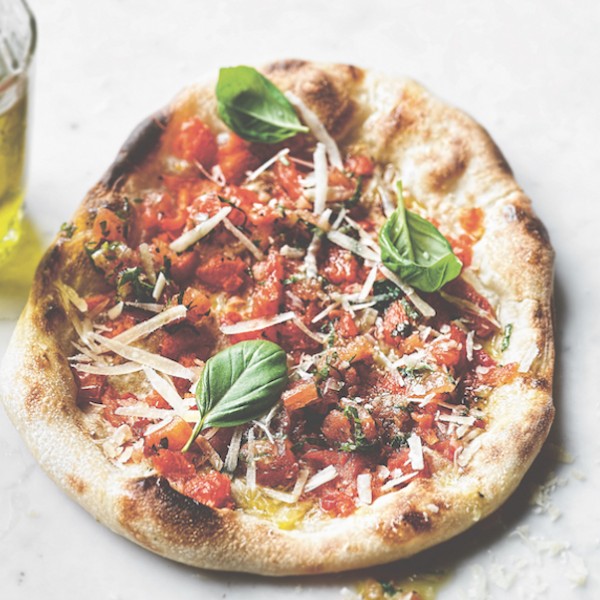 Giuseppe Mascoli & Bridget Hugo from their book Artisan Pizza
Ingredients
1

dough ball

see page 16 in the book, left to rise for 11?2 to 2 hours

flour

for dusting
for the salsa (makes enough for 4 pizzas)
2

medium tomatoes

1

?2 teaspoon salt

1

garlic clove

crushed

1

?2 tablespoon mashed onion

2

tablespoons

olive oil

4

basil leaves

a pinch of dried oregano

a pinch of marjoram

a few sprigs of fresh parsley

chopped

1

tablespoon

chopped celery

freshly ground black pepper

Parmesan

grated
Instructions
Make the salsa:
Bring a pot of water to a boil and remove from the stove. Place the tomatoes in the water and leave for about 3 minutes until their skins start to wrinkle. Peel and seed the tomatoes and finely chop. Place the tomatoes in a sieve, add the salt, and leave to drain over a bowl for about 20 minutes. Discard the juice and transfer the drained tomatoes to a large bowl with the garlic. Add all the remaining salsa ingredients and stir to combine. Marinate for at least 2 hours (it will keep in the fridge for up to 2 days, although if you do this, bring it up to room temperature before use). Place a rack on the highest shelf of the oven and turn the broiler to its highest setting. When hot, place a greased 10-inch cast-iron pan on the stove, set to medium heat. Divide the salsa into two bowls and set one aside, reserving it for later (in total, ensure you have enough for about 4 tablespoons per pizza).
Assemble
Sprinkle a little flour over your hands and on the work surface and open the dough ball by flattening and stretching the dough with your fingers, or by rolling the dough with a rolling pin. Pick the pizza base up and gently stretch it a little more over your fists without tearing it. Drop this onto the hot pan, and allow it to start rising. As soon as the dough firms up, spread a quarter of the tomato salsa over the base with the back of a metal spoon. Cook the pizza on top of the stove for about 3 minutes, then transfer the pan to the broiler for another 3 to 4 minutes. Once ready, add 2 tablespoons of the reserved salsa (at room temperature) and finish with Parmesan, either grated or shaved, with extra basil if you like. Serve whole or in slices.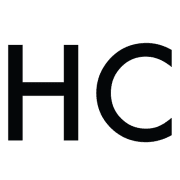 Honest Cooking
The Honest Cooking editorial team handpicks inspiring culinary stories to share with you that we think are beautiful. As an international online culinary magazine with the ambition to truly change the face of online food media we hope to create an inspiring place for serious culinary debate, salivating recipes, interesting food news and international food-fun.