These spiced pumpkin seeds are great as a snack or sprinkled on salads, soups, tacos and yogurt.
By Chitra Agrawal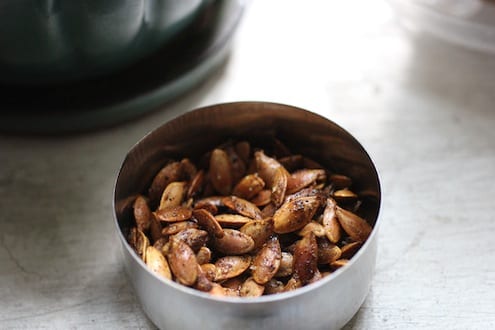 Inspired by chili roasted peanuts I like to buy in India, I decided to mix my pumpkin seeds up with ghee and a few different spices – garam masala, turmeric and chili powder and then bake them.
Print
Masala Roasted Pumpkin Seeds
These spiced pumpkin seeds are great as a snack or sprinkled on salads, soups, tacos and yogurt.
Author:

Chitra Agrawal

Prep Time:

15 mins

Cook Time:

15 mins

Total Time:

30 minutes

Yield:

4

1

x
1 cup

pumpkin seeds

3 tablespoons

ghee or melted butter

2 teaspoons

garam masala

1/3 teaspoon

chili powder

1/4 teaspoon

turmeric

1/4 teaspoon

salt
squeeze of lemon (optional)
Instructions
Take seeds out of pumpkin and remove as much pulp as possible.
Wash the seeds in a colander to remove more access pulp and then lay them out on a paper towel to dry.
You can make them same day by just letting them dry for about 20 minutes and patting them dry, or make them another day and store them overnight so that they completely dry on their own.
Preheat oven to 350 degrees fahrenheit.
In a bowl, mix the seeds well with ghee, garam masala, chili powder, turmeric and salt.
Lay the seeds on a cookie sheet and place in the oven at 350 degrees fahrenheit. Roast for about 20 minutes, occasionally turn the seeds over so that they are evenly roasted. (Also, if they start to pop, just lower the heat a bit.)
Take them out when they are golden brown or browned, whatever your preference.
Lay them out to cool. They will get crunchier as they sit out and add more salt to taste or even a squeeze of lemon.
Chitra Agrawal
Chitra writes the food blog, The ABCD's of Cooking, which chronicles her adventures cooking American Born Confused Desi recipes. When she is not recipe blogging, Chitra can be found hosting her online cooking show and a supper club featuring Indian-inspired, vegetarian cuisine. She also teaches cooking classes and sells Indian street foods (sometimes yummy Indian tacos!) at events and artisanal markets in Brooklyn. Her cooking has appeared in the New York Times Dining Journal and she is a contributor to The Huffington Post, Gojee, The Daily Meal and Brooklyn Based.