Eleanor Jones serves up a sweet and sugary treat loaded with crunchy pecans.
By Eleanor Jones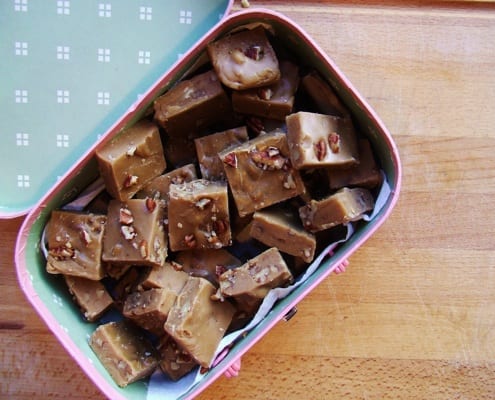 In my house, we have a special occasion breakfast tradition – but it's not the kind you'd expect. We don't go in for plates loaded with eggs or dainty French pastries, and as a vegetarian I certainly don't go in for big meaty masterpieces loaded with bacon and sausage. No, in the Jones household, we buy big boxes of cheap and syrupy maple pecan crisp cereal, and sit and gorge ourselves silly on this twice-yearly treat. There's something about this flavour combination that makes my tastebuds weep with joy – which is why I was so thrilled to stumble across FakeGinger's recipe for maple pecan fudge.
One of the main selling points of this recipe is that it doesn't require a candy thermometer, but it's also surprisingly low maintenance in terms of attention (the most effort you'll have to put in is a ten minute long stirring session). This is the easiest candy recipe I've made in a very long time, and the results were mind blowingly delicious. It would look great stacked up in cellophane bags as a Christmas gift – after all, 'tis (nearly) the season!
Print
Maple Pecan Fudge
A sweet and sugary treat loaded with crunchy pecans.
Author:

Eleanor Jones

Prep Time:

15 mins

Cook Time:

10 mins

Total Time:

25 minutes

Yield:

2

5

1

x
1 cup

(

225g

) unsalted butter

1 cup

(

100g

) pecans, roughly chopped

2 cups

(

440g

) packed brown sugar

2 cups

(

250g

) fondant sugar

5oz

(

150g

) evaporated milk

1 tbsp

maple syrup

1/2 tsp

vanilla extract
Instructions
Line a buttered baking tin with parchment paper or clingfilm, and set aside.
Add the brown sugar, evaporated milk and butter to a heavy bottomed saucepan, and stir over a gentle heat until the butter melts and the sugar dissolves.
Bring the mixture to a boil, and continue to boil over a medium-low heat for 10 minutes, stirring constantly to prevent burning.
Take the pan off of the heat and add the fondant sugar, maple syrup and vanilla extract.
Use an electric hand whisk or standing mixer on a low setting to whip the mixture for three minutes, until smooth and shiny.
Add 80g of the chopped pecans and fold through until distributed evenly.
Pour the mixture into the pre-lined pan, even out with a rubber spatula, and then sprinkle with the remaining pecans.
Allow the fudge to come to room temperature, and then refrigerate for 2+ hours until set.
Cut up into bite size pieces and serve!
Notes
The cooking time does not include chilling. You'll need to allow at least two hours for your mixture to become firm and fudgy – sadly, it cannot be eating straight from the pan (unless you want burnt fingers!)
Looking for the best way to make fondant at home? Read more here.

Eleanor Jones
Eleanor Jones is an editorial assistant and writer by day, and a serial sugar junkie by night. A committed vegetarian, her posts are a mostly a mixture of tasty veggie treats and seriously decadent bakes. When she's not cooking, Eleanor can be found watching old movies, cooing over expensive dresses, and searching the internet for pictures of animals in hilarious costumes. Her blog, mademoisellie, revolves around life, love and most importantly, food, in London.