In order to make sushi you need time, patience, a flair for subterfuge and ideally an accomplice.
By Jess Lacey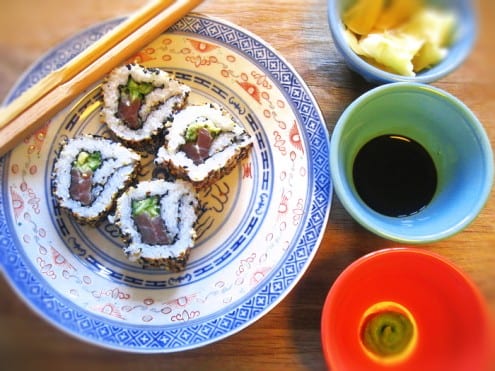 Since the introduction of EU Regulation (EC) No 853/2004. you are not allowed to buy raw fish in order to make sushi, but rather have to use fish which has been frozen no less than 24 hours in order to kill off any potential parasites. I can see the logic in this, but having spent most of my life co-existing with mice, the idea of food parasites strikes less fear into my heart than it probably should. I lead a relatively quiet life, flirting with food safety rules is the closest I come to an extreme sport.
Print
Maki and Uramaki Sushi Rolls
In order to make sushi you need time, patience, a flair for subterfuge and ideally an accomplice.
Author:

Jess Lacey

Prep Time:

2 hours

Cook Time:

20 mins

Total Time:

2 hours 20 mins

Yield:

4

1

x
Category:

Side
320g

sushi rice

100

ml rice vinegar

2 tbsp

sugar

1 teaspoon

salt

200g

raw fish , cut into thin finger length strips with about half the width of your finger

3 tablespoons

each black sesame seeds and toasted sesame seeds

4

nori sheets

1/2

cucumber, julienned

2

avocados, thinly sliced

4

spring onions, julienned
Japanese soy sauce
Pickled ginger
Wasabi
Sushi mat (optional, you could just use clingfilm instead)
Instructions
First wash the rice by placing in a large bowl of water and gently rubbing it together.
You will need a few changes of water until it runs clear and is ready to go.
Add the sushi rice with an equal volume of water to a large saucepan.
Bring to the boil, then reduce the heat and cook for 10 minutes with the lid on.
Leave to rest for 10 minutes.
Meanwhile make the sushi vinegar by heating the vinegar, sugar and salt until all melted together.
Leave to cool.
Spread the rice out on a ceramic baking tray, drizzle with the vinegar and then gently mix it in using a spatula while fanning the rice with some cardboard so that it cools to room temperature.
Maki (the roll with the seaweed on the outside) is the easier sushi roll to make.
Put the nori down on the rolling mat with the rough side facing up
Spread the nori with a 1/2cm smoothed out layer of sushi rice
In the middle of the sheet, put three or six pieces of fish in a line.
Add some cucumber, spring onion and avocado
Sprinkle some sesame seeds, and add a little wasabi
Using the mat, roll it up tightly and then roll it back and forth like a rolling pin to round it out.
For the uramaki, spread the rice on the nori sheet as above.
Sprinkle the rice with sesame seeds and press in to coat.
Cover the sesame seed side with a layer of cling film.
Flip it over so the nori is now facing up.
Put your filling in the middle of the nori and roll up as before.
Thinly slice the rolls using the thinnest, lightest, sharpest knife you have (a filleting knife is good) into either 6 or 8 pieces depending on your preference.
Serve at room temperature.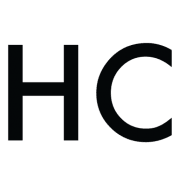 Jess Lacey
Jess Lacey is an Irish food blogger and soon to be lawyer. She has found a home in London, Dublin, Leiden, Melbourne and Aarhus. After a brief foray into the world of Michelin starred cooking, she decided to keep cooking and food as relationships based purely on passion rather than income. She travels frequently, and justifies this by writing about it. More of her musings and recipes are available on her blog, Canal Cook.