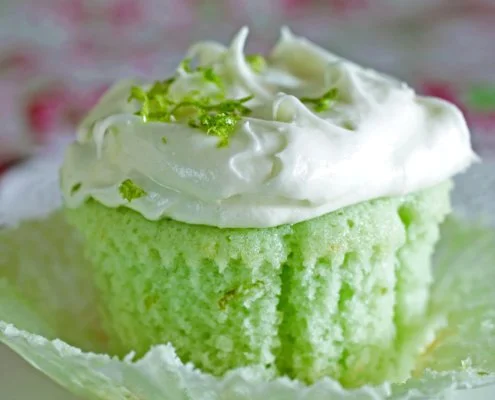 Sara Schewe finds a recipe that quenches her thirst for anything lime.
Text And Photo By Sara Schewe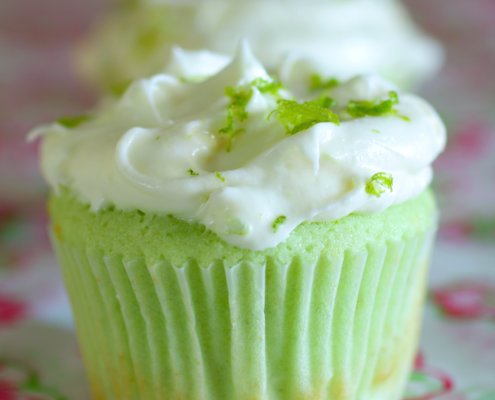 I adore lime flavored…well, anything, really. So when I flipped through the pages of an old issue of Bon Appetit last year and spied these lime confections, I knew it was only a matter of time before I made them.
They're named Key Lime Cupcakes, though the printed recipe called for standard Persian limes. I decided to be true to the name and use key limes, which are lighter in color, smaller,  a bit more tart, slightly more bitter. I suspected their unique flavor would pair amazingly well with a sweet, rich cream cheese icing; I was not disappointed.
Though it took a little more time to zest and juice those tiny little fruits, they tend to produce more juice than their larger counterpart, and the finished cupcake now has a place in my favorite dessert recipes; they're fun, they're colorful, and most important – they're delicious!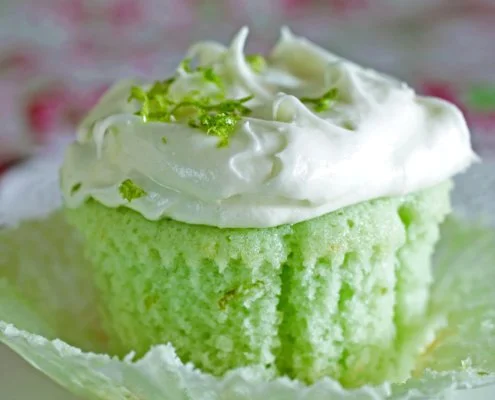 Bright and fun, key lime cupcakes topped with a mound of cream cheese icing are perfect for summer!
Author:
adapted from Buttersweet Bakery via Bon Appetit magazine
Ingredients
1 ¾ cups (165 grams) cake flour
½ teaspoon baking powder
½ teaspoon baking soda
½ teaspoon salt
½ cup (115 grams) cool unsalted butter, cut into 8 pieces
1 ¼ cups (280 grams) granulated sugar
2 large eggs (room temperature)
2 ½ tablespoons (37 mL) key lime juice
1 tablespoon key lime zest
1 drop green food coloring paste
cup (177 mL) buttermilk (room temperature)
Icing
1 stick cool unsalted butter, cut into 8 pieces
8 ounces (225g) cream cheese (room temperature), cut into 8 pieces
2 ¼ cups (5.3dl) powdered sugar, sifted
1 tablespoon key lime zest
Instructions
Preheat oven to 350*F/177*C. Line a muffin tin with 12 paper liners.
Sift the cake flour, baking powder, baking soda, and salt three times, set aside.
Using a mixer fitted with the paddle attachment, beat the butter on low until it's softened a bit. Add the sugar and increase the speed to medium. Beat until fluffy, about four minutes. Add one egg at a time, beating well after each addition. Add the lime juice, zest, and food coloring and beat until mixed. (The mixture will look curdled.)
Add the flour in three additions, alternating with the buttermilk, beginning and ending with the flour, scraping down the bowl as necessary. Mix on low until just combined. Fill each cupcake liner ⅔ full.
Bake 20-25 minutes, until cupcakes spring back when touched. Cool completely and frost with cream cheese icing.
Icing
Using a mixer fitted with the paddle attachment, beat the butter on low until it's softened a bit. Increase speed to medium and add the cream cheese one piece at a time. Reduce speed to low and slowly add powdered sugar until combined. Beat in zest.
Notes
For cool butter, remove from refrigerator 20-30 minutes prior to using.
Sara Schewe
Sara Schewe blogs about her cooking life at My Madison Bistro, focusing on simple, earthy, soul-satisfying food. She firmly believes the secret to happiness is to first satisfy both body and soul through cooking and baking.