Kala Chana Salad – Black Chickpea Salad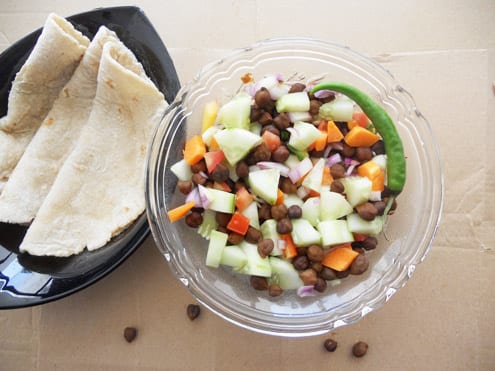 Black chickpea salad is an easy low calorie, oil free vegan salad. It is a super simple and easy salad with a tinge of spice.
By Nisa Homey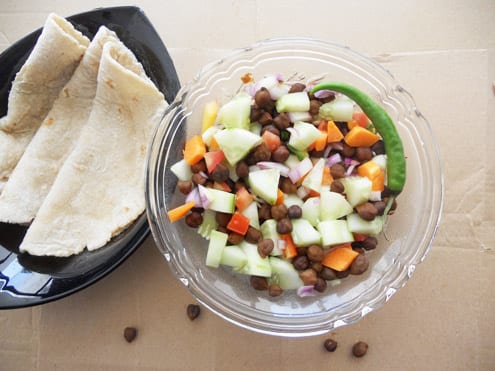 Black chickpea salad is an easy low calorie, oil free vegan salad. This is a super simple and easy salad with a tinge of spice. If you are on a diet this salad can be had with roti / Indian flat bread. You can also find this being sold in front of the famous Mysore Palace, railway stations etc. If you have cooked chickpeas, all it takes is to chop the vegetables and mix in.
Ingredients
½ cup dried black chickpeas.
1 onion, chopped.
1 tomato, chopped.
1 green chilly, finely chopped.
½ carrot, chopped or grated.
1 tsp lemon juice.
Salt to taste.
Coriander leaves to garnish (optional)
Instructions
Soak the dry chickpea overnight or about 5 to 6 hours.
Wash and drain the chickpea.
Put it in a pressure cooker with enough water.
Pressure cook for about 10 to 15 minutes or until the chickpeas are cooked.
Allow the chickpea to cool down.
In a large bowl add the chickpea and all the other ingredients and mix well.
Add more salt if needed.
Notes
If you have cooked chickpea, then all you have to do is chop the vegetables and mix it, ready in about 5 to 10 minutes. Reduce green chilly by half if you cannot tolerate. You can chill the salad and serve. You can also make this recipe with white chickpea known as kabuli chana.
Nisa Homey
Nisa Homey is a lawyer by profession, now a full time stay-at-home mom. Cooking is Nisa's passion but blogging about food just happened. Nisa loves cooking for her family and kids, and her focus is to let everyone know just how easy cooking can actually be.