Learn how to make a traditional Milano sandwich with fresh pesto, mortadella, and artichokes.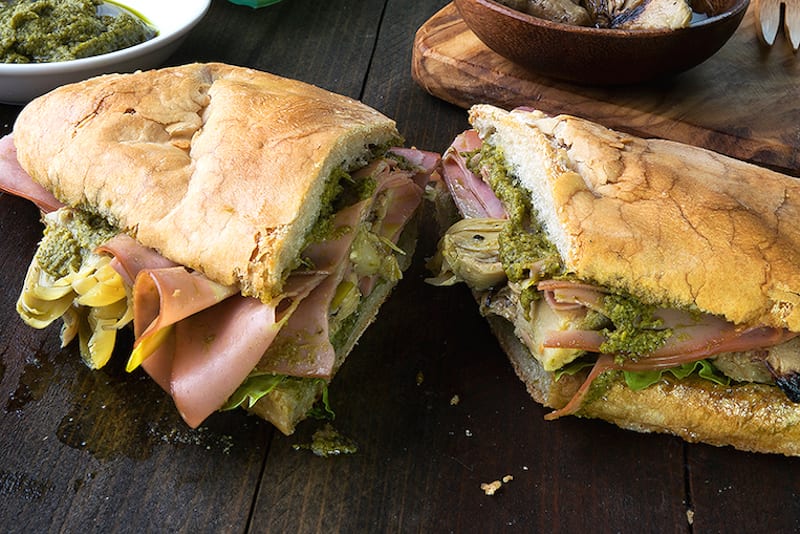 Italian legend says that the gourmet sandwich or the "panino" was born in Milan, the city of fashion and quick lunches.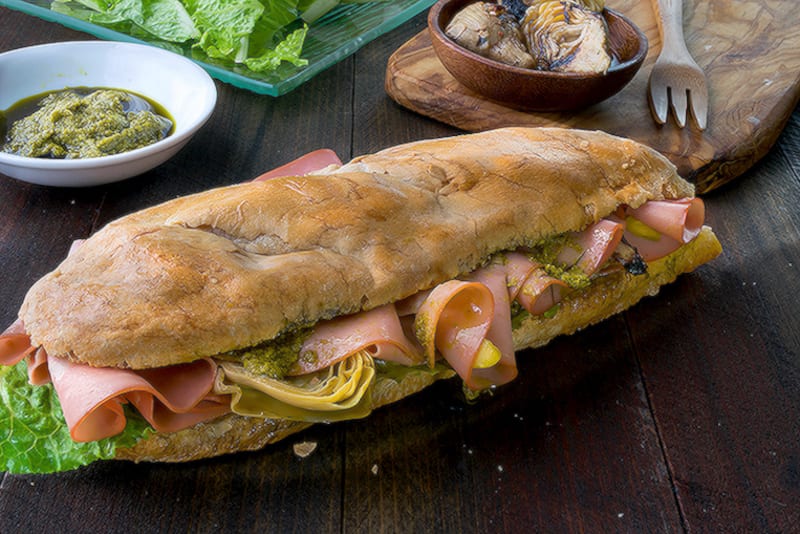 Some days before school, my Mama would stop in a panini shop, called "Triglia" and buy me a panino for that day's lunch, which was always my favorite. I got my inspiration for this recipe from the delicious panino's I would have when I was a young student.
My panino is made with fresh pesto, mortadella imported from Bologna, and artichokes packed in olive oil, which are true flavors of Italy. If you love cheese in your panino, you can add some provolone or mozzarella.
Find my recipe for fresh baked ciabatta bread here.
Francesco Romano
Ingredients
1

flat ciabatta bread

sliced in half

4

slices

fresh Mortadella

3

artichoke hearts packed in olive oil

sliced

2

tablespoon

fresh or store-bought pesto

2

fresh Romaine lettuce leaves

1

pinch

of salt

1

pinch

of pepper
Instructions
Brush the inside of both sides of the Italian ciabatta bread with pesto. Start building the sandwich with 1 lettuce leaf, 4 slices of Mortadella, the artichokes and a light drizzle of their oil, sprinkle with salt and pepper and the other lettuce leaf.

Top with the other slice of ciabatta, cut in half and enjoy!
Francesco Romano
Francesco Romano was born in Italy and has been living in America for 25 years. As he was growing up, he didn't realize how spoiled he was! He had two of the best chefs under one roof, his Grandmother Nonna Sara and his Mama Francesca, who made every meal from scratch and with love. As a kid, he would sit in the kitchen for hours while these women were hard at work, enjoying the smells, tasting when he was allowed to, and later being put to work to help make fresh pasta. It wasn't until he was a grown up, moved away from home, and later to America, that he understood how much of his heritage and family centered on food. It was always made from fresh seasonal ingredients and was a way of bringing the family together to savor, to bond and to enjoy. On his site you WILL find mouth-watering food that is fresh, easy and authentic Italian, straight from my Mama's kitchen to yours.