Irish Soda Bread made with Sour Cream and Rosemary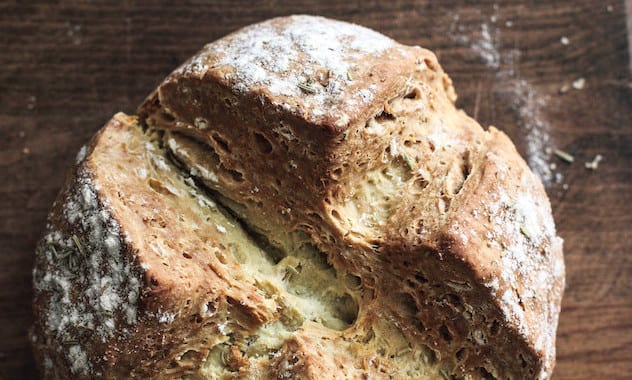 This bread goes from an idea to beautiful side to soup in an hour. Similar to a biscuit, the dense dough has subtle rosemary flavors perfect with berry jam.
By Kristin Rosenau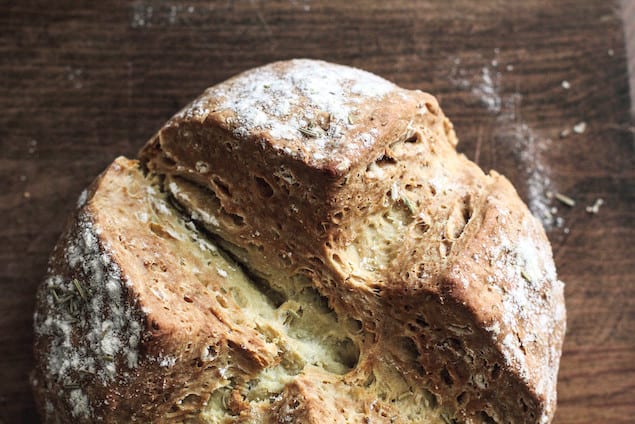 During winter in the Midwest, Sundays are for rich, hearty soups. When the weekend comes to a close, I try to make a large pot to last a few meals. My mother did this while I was growing up, and I am certain her mother did it for her as well. Soup is a comfort food, a way to squeeze in extra vegetables and keep our bodies warm.
As experience has revealed, fresh bread tops the list as the perfect side to soup. This quick bread recipe takes as long to bake as the soup takes to stew, making them an inseparable duo.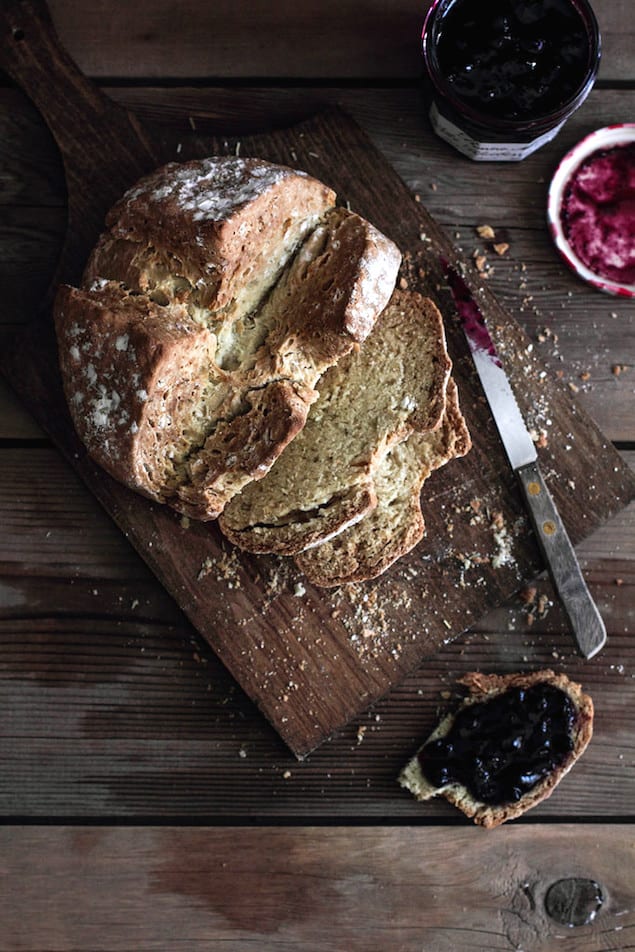 Rosemary Soda Bread is a quick bread that can go from an idea to a loaf in an hour. The bread is on the denser side, risen through baking soda alone, but the quality reminds me of a good biscuit. Seasoned with dried rosemary, the bread takes on a subtle flavor, but still pairs well with flavors both sweet and savory. While this bread works well to soak up hearty soups and gravies, I also find it at home with a spread of dark berry preserves.
For another great recipe, try this whole wheat Irish soda bread.
Irish Soda Bread made with Sour Cream and Rosemary
This bread goes from an idea to beautiful side to soup in an hour. Similar to a biscuit, the dense dough has subtle rosemary flavors perfect with berry jam.
Recipe Type:
Baking, Bread
Ingredients
3½ cups (440 grams) bread or all-purpose flour
1 teaspoon baking soda
1 teaspoon dried rosemary
1 teaspoon salt
¼ cup (57 grams) butter, melted
½ cup (115 grams) sour cream
1 cup (237 ml) milk
Instructions
Preheat oven to 400 degrees F (205 degree C).
In a large mixing bowl, whisk together the flour, baking soda, rosemary, and salt. Add in melted butter, sour cream, and milk, stirring with a spatula to bring dough together.
Turn out on a lightly floured surface and knead dough until it forms a ball. Place onto baking sheet and flatten the top. Using a sharp knife, cut a ¼-inch deep cross into the top of the loaf. Dust lightly with flour and dried rosemary. Bake for 45-55 minutes, or until lightly browned.
Serve with a spread of butter and jam (I used wild blueberry preserves from Bonne Maman), or use it to soak up a hearty broth.
Kristin Rosenau
Kristin Rosenau is a baker and science teacher with a serious sweet tooth. She began an affair with butter and sugar fresh out of college and her love for baking has only matured since.The voice behind the blog Pastry Affair, Kristin develops recipes for the home cook, combining classic recipes and homespun flavors with a dash of honesty.