This Kolkata-style chicken is wrapped in an egg paratha and very similar to street food you would find in India. But each is different! Here is one take on the favorite bite.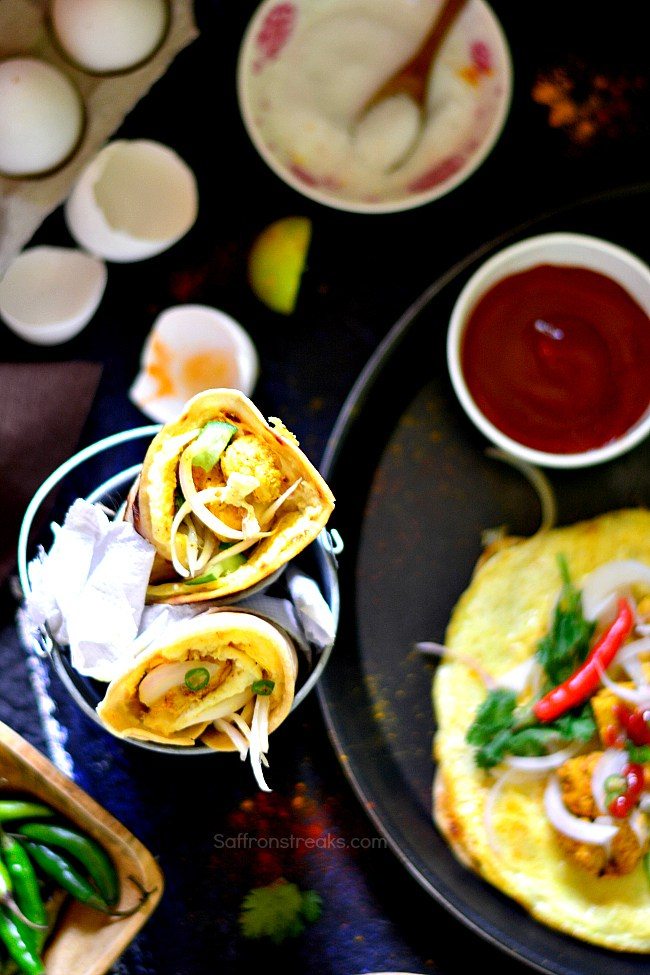 The roll was on roll since the day of it's inception in 1930's, at Nizam's kitchen, it has tasted many waters since then, absorbed local flavors wherever it goes, but somewhere down the line it has lost its very own soul. All rolls that you devour in the name of original one, who claims to be more authentic than its neighbor are not Kolkata rolls. And in Kolkata too, all rolls are not created equal. There are specific corners in the city where you will find the best ones.
But who added kathi in my roll? Years back when I had moved to southern part of the country, I had stumbled upon this unique and interesting thing called "kathi roll". I had no idea then what on earth these were. So I had eagerly waited at the cash counter to hand me over that interesting piece, and when someone mentioned it's kathi roll, that famous Kolkata roll, I couldn't stop laughing at that poor thing. Bland chicken pieces with spikes of chili powder hidden beneath wrapped in paratha could not be my beloved Kolkata roll. Kolkata roll is simply different. The flavours are unparalleled, that flakiness which is their hologram is almost impossible to duplicate, those generous shower of green chillies, that red sauce called tomato sauce and the kasundi, the beloved mustard sauce of Bengalis, those countless drizzles of lemon juices over it, that stick of green cucumber, slices of onions and if you throw the eggs out of it, you have literally make the rolls lifeless and soulless.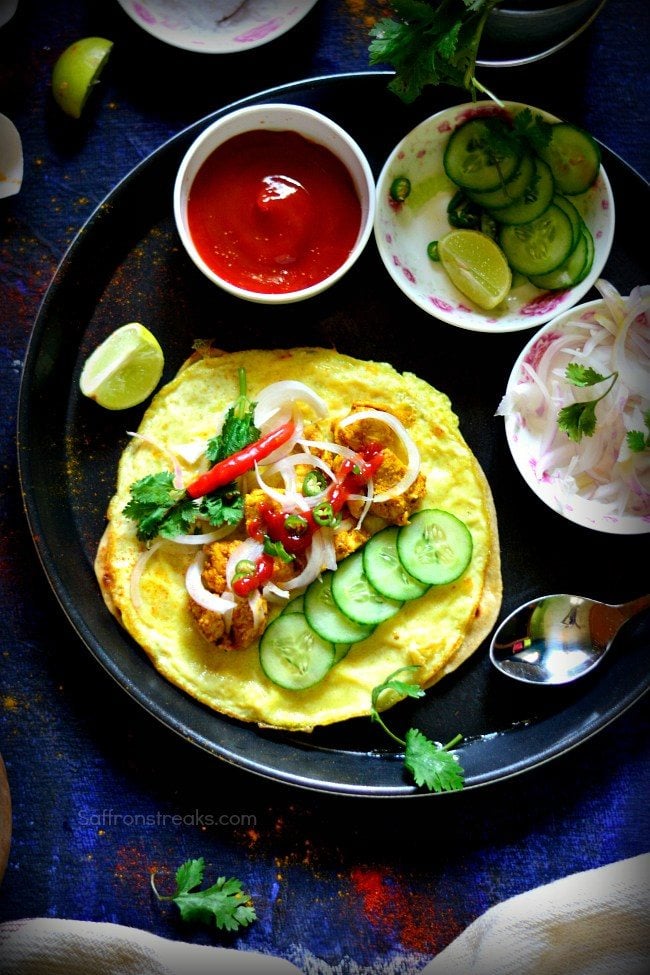 When Nizam's started using the bamboo skewers instead of iron ones, the ones in my neighborhood still uses iron skewers, the word "kathi which means bamboo skewers in Bengali, a poor translation though" is added as prefix to roll. I do not know much about this Kolkata, but the one I used to know in 90's, the word "kathi" roll was almost alien to any true Calcuttan. It was simply called as roll. Egg roll, egg chicken roll, double egg chicken roll, egg tikka roll, egg mutton roll and so on. And yes those rolls were greasy, real greasy but they were also our daily evening snacks, after the college hours. Those rolls were our soul food, comfort food and I sometimes think that without them we could not have survived our academic years.
Kolkata rolls are truly a phenomenon in itself.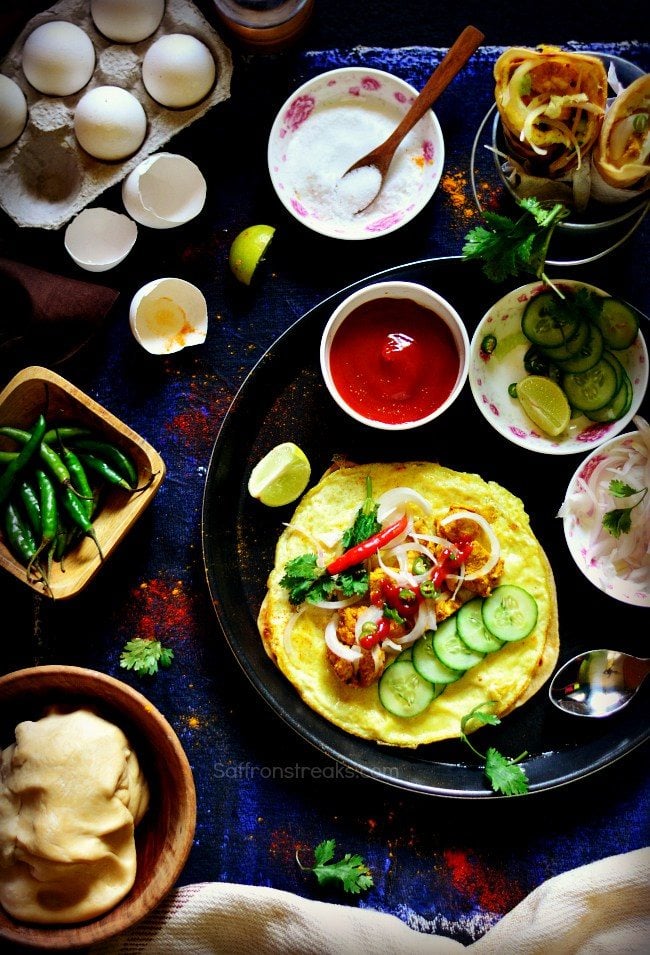 Print

Indian Street Food: Chicken Egg Rolls
---
For the paratha dough
Maida : 2 cups
Oil : 2 tbsp (you can use melted ghee too)
Salt : ½ tsp
Sugar : a pinch (optional)
Baking powder : 1 tsp (optional)
Cold water to knead
Chicken filling (you can use leftover curried chicken pieces too)
Chicken breast : 500 gm
Ginger garlic paste : 2 tbsp
Turmeric powder : 1 tsp
Red chilli powder : 1 tsp
Salt : 2 tsp
Black pepper as per taste
Green chillies (chopped : 2 tsp)
Lemon juice :juice of one lemon
Oil for frying
For Egg roll paratha
Egg : 4 (one egg per paratha)
Milk : ¼ cup
Green chillies (finely chopped : 2-3 tsp)
Cilantro (finely chopped : 3-4 tbsp)
Onions (thinly sliced : 1 cup or more)
Cucumber (cut into julienne : 1 cup)
Lime :1
Tomato sauce and mustard sauce as required
---
Instructions
Make the paratha
Sift the flour, mix in salt, baling powder and sugar. Rub the oil or fat into the dough till it resembles bread crumbs.
Add cold water gradually to the dough and start kneading it. Knead the dough till it become soft and smooth.
Cover with damp kitchen towel and let it stand for 30 min-1 hour.
Prepare the chicken stuffing
Marinate the boneless chicken pieces in ginger garlic paste, salt, turmeric powder, chilli powder, green chillies, salt, pepper and lemon juice for one hour. You can marinate overnight in fridge too.
Heat enough oil in a pan and stir fry the chicken pieces (along with the marinade if any) on medium low heat till soft and cooked through.
Reserve them for later use.
How to make the kolkata egg roll
Beat one egg at a time with salt and pepper. Add 1 tbsp milk and whisk it till fluffy. keep it ready
Knead the dough little, divide it into individual portions. Take a small portion and roll out like a regular paratha or roti on a flour dusted surface with little flour .
Heat a griddle or tawa, add one teaspoon oil and place one paratha in the center and cook on medoum heat for few seconds till bubble appears. Flip it over and cook the other side.
While that is going on, heat a small fry pan (that you use for making regular omelette), heat some oil and add the beaten egg, swirl it over to cover the base of the pan. Keep the heat medium low as eggs get cooks very fast.
Once the egg started to settle a bit but still raw, place the paratha over it, and press it gently with the help of spatula. That will make the paratha stick to the omelette.
Apply oil or ghee over the paratha and let the eggs cook for 2-3 minutes, flip it over and fry the other side till desired crispness and brown spots begins to appear.
Flip it once again for the last time and dump the paratha on a plate.
Repeat the steps with all the paratha.
To assemble
Place one paratha on a butter paper strip or kitchen tissue.
Arrange the chicken pieces (5-6 pieces) lengthwise on the paratha.
Add green chillies, sliced onions, cucumber pieces and chopped cilantro leaves.
A generous shower of lime juices as per taste.
Sprinkle black salt and pepper over it.
A dash of tomato sauce or mustard sauce as per liking.
Wrap the roll with the stuffing along the butter paper and tuck it in at the bottom to seal neatly.
Serve immediately
Sukanya Ghosh
Sukanya writes the blog Saffronstreaks, a food and travel blog where she experiments in the kitchen spiced up with interesting food stories and gourmet travelogues. She loves to cook with fresh produce, enjoy both spicy and sweet and her many dining out experiences become cherished memories. Sukanya is from India but now lives in North Carolina, USA.