An everyday Indian style cabbage and potato curry.
By Sara Clevering
It's funny to think that I never had Indian food until I went away to college–growing up in Oklahoma, there wasn't the widest variety of options.  My town was probably better than most though:  International fare included Italian food, Mexican (the most popular being El Chico in the mall and Chili's) and Chinese.  Perhaps more exotically, there was even Korean and German:  thanks to the fact that our town was connected to a rather large army base, GI's brought back brides looking for a taste of home.  I hear there may be a sushi place there now, but I'm not sure such reports can be believed.
Suffice it to say I was probably at least 20 the first time I had Indian food–which is funny to think about, because I later found myself eating almost too much of it when we lived in London for a few years (almost–but it was just so good!)  Now we'll occasionally order it for take-out, and I keep saying that one day I'm really going to dig in to my Julie Sahni cookbook, Classic Indian Cooking, and learn the basics of Indian food.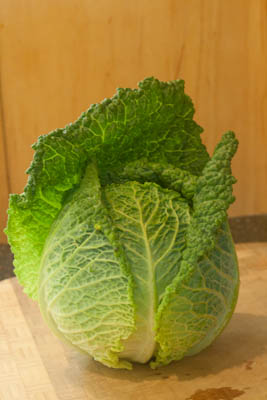 Meanwhile, best intentions aside, there is food in the fridge that needs to be cooked.  I'm always buying savoy cabbage (since it keeps well) and then always struggling to figure out what to do with it (since it does eventually go bad).  There's a million recipes out there, but at the end of a workday I am not in the mood for anything requiring me to stuff or roll a filling (that has to be separately cooked!) into cabbage leaves.  I want one of those meals where I can dump all the ingredients in a pot, set it on a low burner, stir a few times, and eat.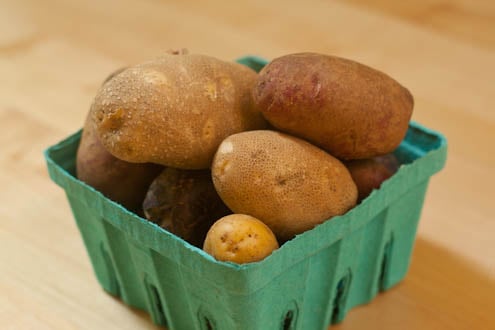 And it wasn't out of any particular yearning for Indian food that I came up with this recipe–but rather that all the recipes that came up by googling "cabbage and potatoes"   hailed from the subcontinent.   See, for example, over at Curry in Kadai or Alison's Lunch (whose recipe I adapted).
See Also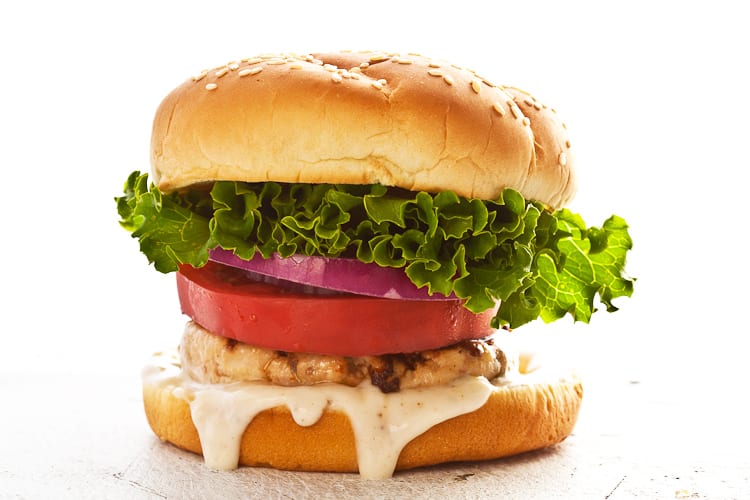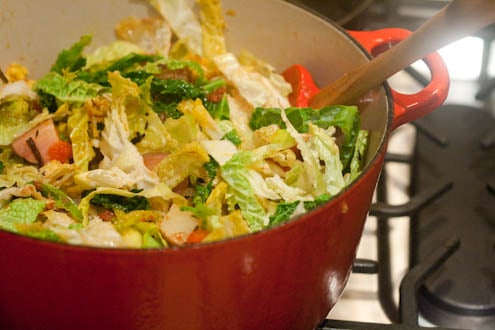 Well.  You already know that, per my first criteria, this is easy to throw together.  (I was googling up a storm as I was on the commuter rail home, after all).  And of course I'm only writing it up here because it turned out just as I'd hoped.  A medley of textures–ruffles of Savoy cabbage and waxy chunks of potatoes in a fragrant, complex sauce.  A meatless option that is sturdy enough to stand on its own.  (And with a bit more planning than I managed you'd have some Indian bread or rice to enjoy it with).
It's not the most intrepid foray into Indian cooking, but it's a pantry-friendly, workday-workable start.  Maybe I'll muster up the courage to try a Julie Sahni menu yet!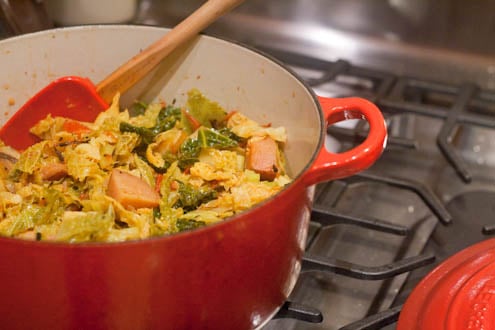 Indian-inspired Cabbage and Potato Curry
Author:
Sara Clevering, adapted from Alford and Duguid's Seductions of Rice
Ingredients
Indian Style Cabbage and Potato Curry (Based on Jeffrey Alford and Naomi Duguid's Seductions of Rice via Alison's Lunch).
1 to 1 ½ pounds (500 g) savoy cabbage
1 tablespoon olive oil
teaspoon red chile flakes
1 teaspon cumin seed
2 bay leaves
2 cloves
1 inch (2.5cm) cinnamon stick, broken into several pieces
2 green cardamom pods, smashed, OR ¼ teaspoon whole cardamom seeds, crushed lightly
3 shallots, OR 1 small onion 2 garlic cloves, minced
1lb (500g) potatoes, cut into ½-inch pieces
1 small can diced tomatoes (with juice)
1 teaspoon sea salt or kosher salt
teaspoon turmeric
2 tablespoons minced ginger
cup (120mL) water
Instructions
Quarter, core, and shred the cabbage. Heat the oil in a large pot over medium heat. Add the chile or chile flakes, cumin, bay leaves cloves, cinnamon stick, and cardamom. (If you have an herb sachet, you could use this so that you can easily remove the whole spices at the end of cooking--take it from me who got a bit of cinnamon bark caught in the back of my throat!). Saute about 30 seconds, until the cumin is fragrant, then add the shallot (or onion/garlic mixture). Cook over medium heat, stirring occasionally, for 5 minutes.
Stir in the potatoes, tomato, and salt. After a minute, add the cabbage, turmeric, and ginger and stir so that the cabbage evenly covered in the mixture. Cook for one minute.
Add the water, bring it to a boil, and cook, covered, for about 15 minutes, stirring occasionally. The potatoes and cabbage should be tender and the flavors blended. Adjust for salt and cook uncovered to reduce the liquid another 5 minutes. Remove the whole spices as best you can, and serve
Sara Clevering
Sara sees cooking and baking as a delicious way to connect with the past and travel the world from her kitchen. She is commited to preparing homemade, unprocessed meals for her family and is always looking for tricks to fit this into a busy schedule. Sara is currently in the Boston area after several years living in London, Spain, and the Czech Republic, and travelling extensively in Eastern and Western Europe, always making sure to experience local culture through food. She also blogs with her sisters at www.threecleversisters.com