Homemade Strawberry Soda with Kefir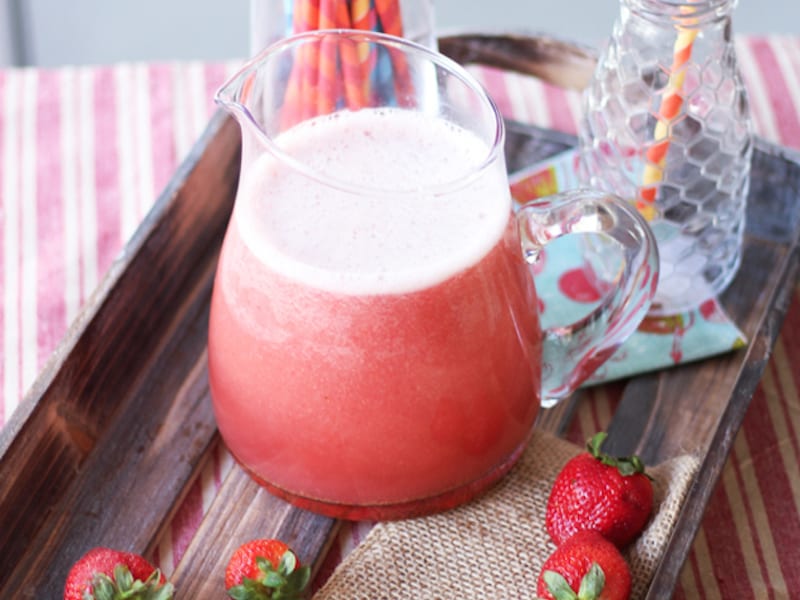 Fresh strawberry puree and honey makes this refreshing drink sweet with a fizz from a probiotic kefir water. This is a soda anyone can feel good about.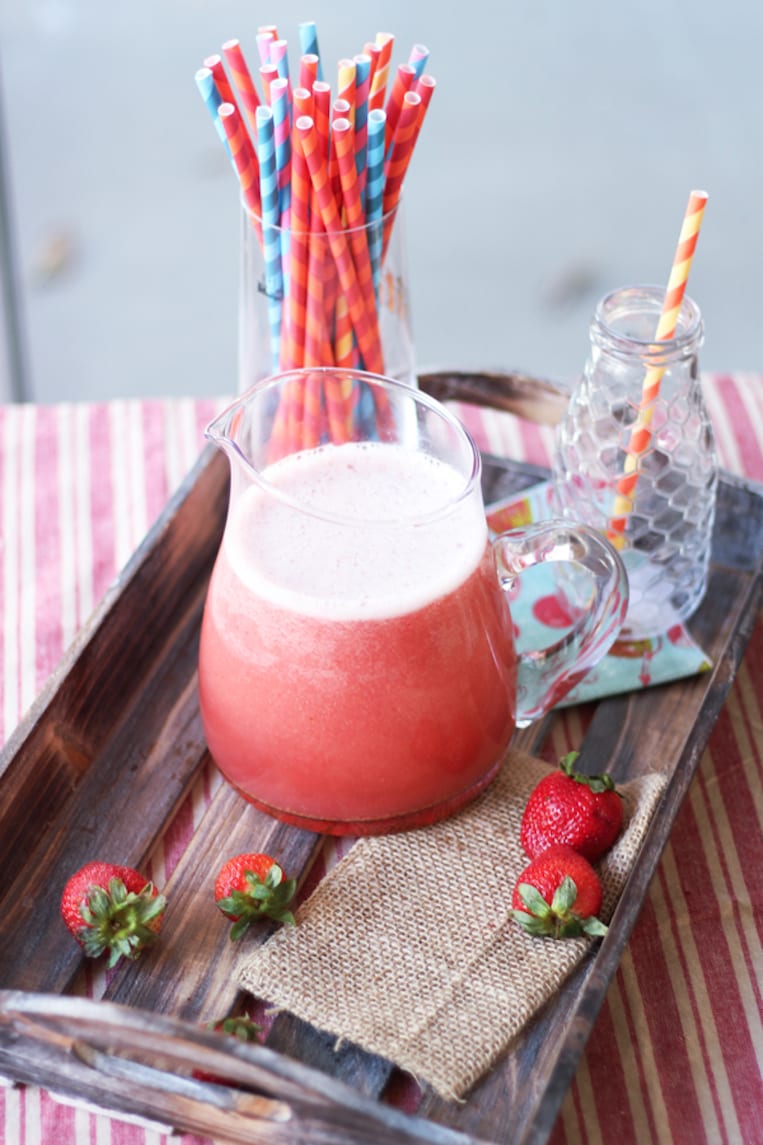 Who doesn't love the juicy, sweet taste of strawberries? I've been messing around with making strawberry puree to flavor drinks for a few months. I know you will love Probiotic Strawberry Soda just as much as I do. This soda is made with probiotic rich water kefir, fresh strawberry puree and sweetened with honey.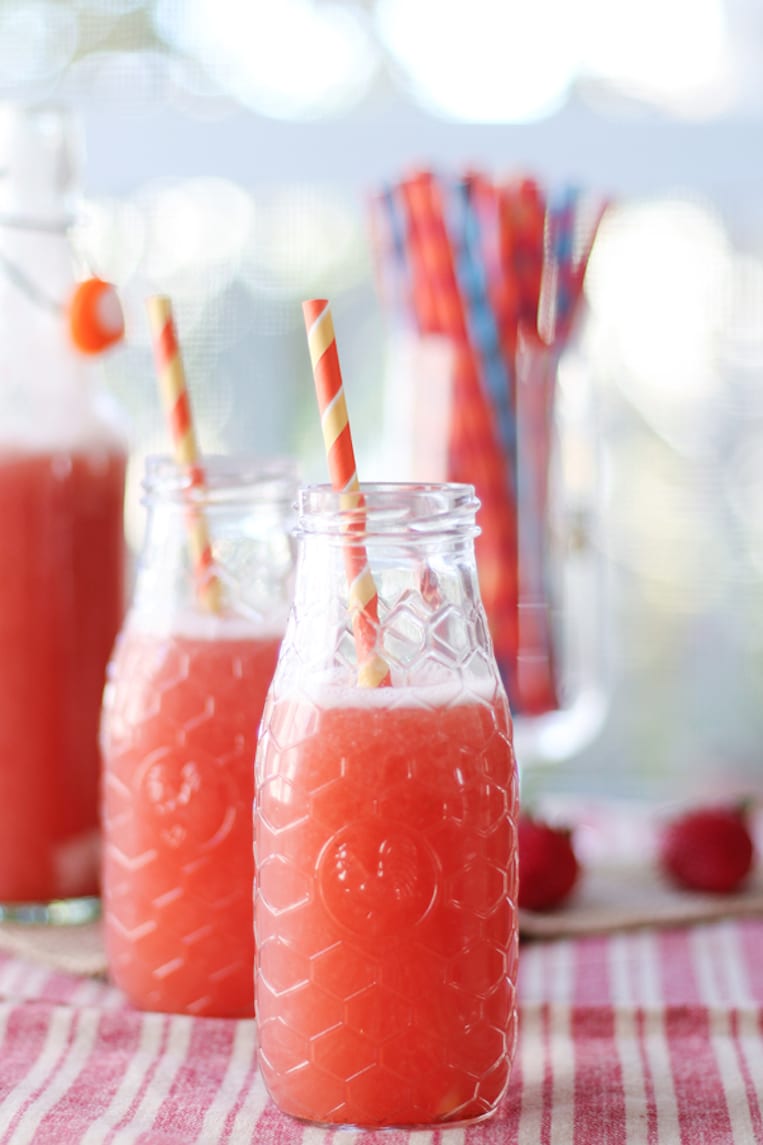 Since then I've rid my life of health-robbing soda and instead make nourishing, vitality-giving drinks. They taste delicious and keep me youthful so I can continue to enjoy life and play in the sunshine on a lake or beach.
My Probiotic Strawberry Soda is made with water kefir, fresh strawberries and sweetened with honey. It's fresh, sweet, bubbly and will make your skin glow and give you energy.
WHAT IS WATER KEFIR?
Water kefir is a probiotic rich drink made by fermenting sugar water with water kefir grains. The bacteria from the water kefir grains consume the sugar leaving a bubbly, mild tasting drink. You can make this soda using coconut water kefir or kombucha too. Don't worry about the sugar content. As the water kefir grains sit in the sugar water, they consume most of the sugar and turn it into a bubbly, probiotic drink. Check out my guide to making kefir here.
WHAT TO EXPECT
First you will need to make water kefir or coconut water kefir as your base. You will add the strawberry puree to the water kefir and bottle it for up to 24 hours to build up pressure and get bubbly. The strawberry puree kicks off secondary fermentation which causes a lot of bubbles. Be really careful when you open the bottle, because it can build up so much pressure that the soda could explode all over you, the counters and walls. It's the same effect if you were to shake up a soda can and then open it. Trust me on this, it's happened to me several times. I've had to mop the ceiling twice now.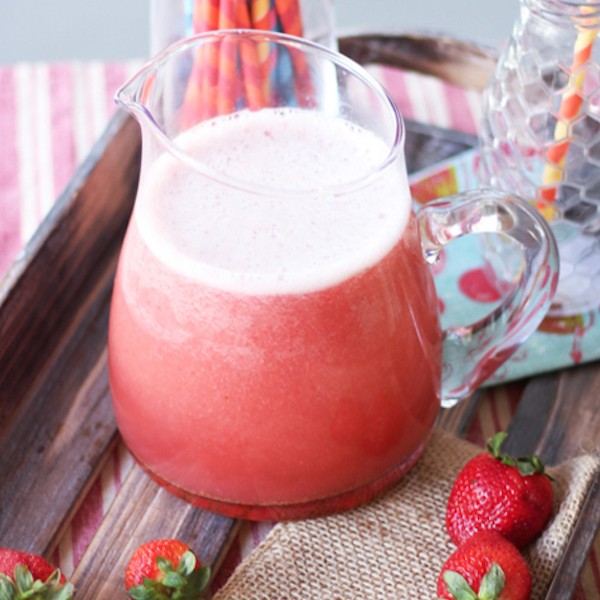 Danielle Johnson
Course
Beverage, Soda, Virgin
Ingredients
3

cups

Water Kefir or Coconut Water Kefir

see the link above to learn how to make kefir

2

cups

strawberries

¼

cup

apple juice

honey
Instructions
First make a batch of water kefir or coconut water kefir by following the directions in the links.

Add strawberries and apple juice to a blender and blend on high until liquified or pureed. Make sure there are no chunks of strawberries.

Add the water kefir and strawberry puree to a pitcher and mix well.

Taste the strawberry water kefir. If it is too sour, add honey or other sweetener to taste. Do not use artificial sweeteners. I use either honey or organic sugar. The amount you need depends on how sweet the strawberries are and your taste.

Pour the strawberry soda into flip-top bottles or other bottle of choice and seal tightly.

Place the bottles on the counter, out of direct sunlight for up to 24 hours to get bubbly.

Place in the fridge and serve cold.
Notes
Don't leave the soda out on the counter for more than 24 hours, because too much pressure can build up and cause a big mess when opened.
You can strain the Probiotic Strawberry Soda before serving too if you prefer the soda to have less pulp.
Danielle Johnson
Hi! I'm Danielle, I started Fermented Food Lab to educate and bring awareness of the health benefits of eating traditionally fermented foods. My goal is to get more people to try fermentation and love it. It's also a place where I can share what I invent in my kitchen, which I call, "the lab", because I always have something unique and new fermenting on my counters.