These homemade dark chocolate peanut butter cups are serisouly so much more satisfying than anything you will find in the candy aisle at the store.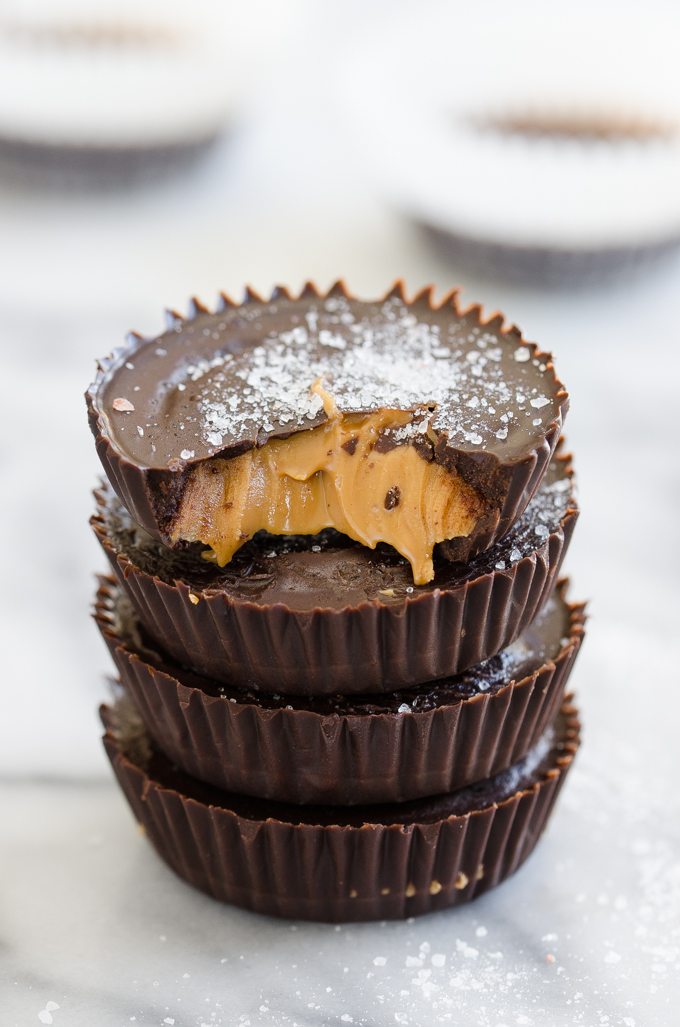 If you know me well, you eventually learn that I despise most candy. A mouth full of sugar just isn't appealing to me. BUT one of the few sugary confections that actually tempt me is a peanut butter cup. Unlike most candy, they at least have a bit of fat and protein mixed in with the sugar. But almost all store-bought peanut butter cups are still sickeningly sweet for my tastes. Even some of the organic ones are still SO sweet.
My solution? Homemade dark chocolate peanut butter cups!
I have to admit that before I made the first batch of these, I didn't think they would be as good as they are. Perhaps they'll be a good low-sugar substitute for store-bought peanut butter cups, I thought. But lo, they are much better. Much, much better.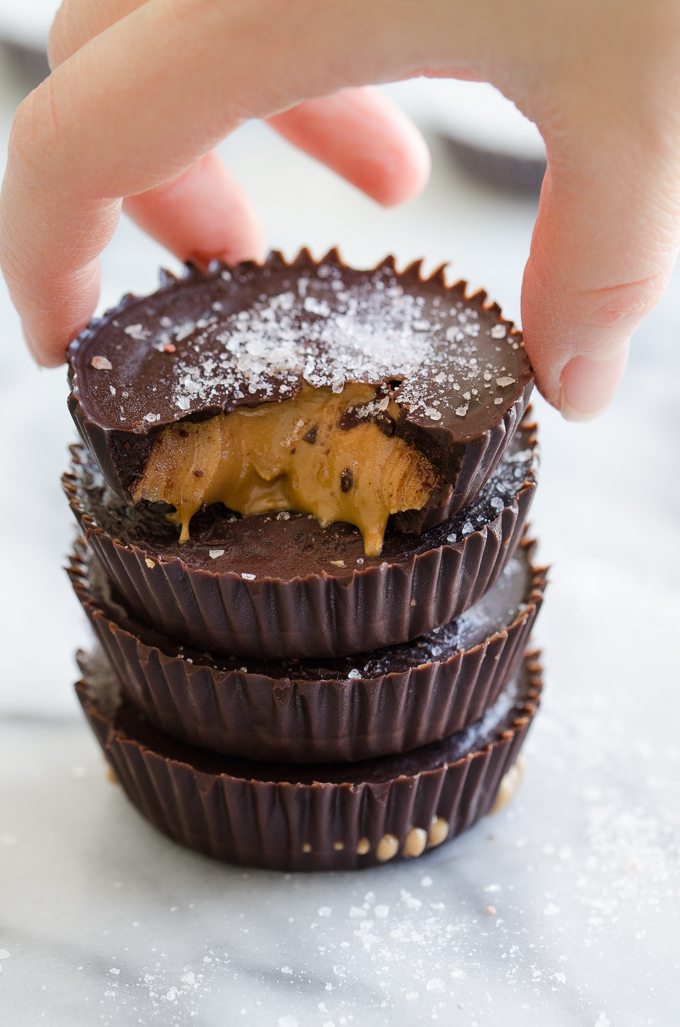 The coarse sea salt on top is just a lovely addition. But if you don't have any on hand these homemade peanut butter cups will still be delicious!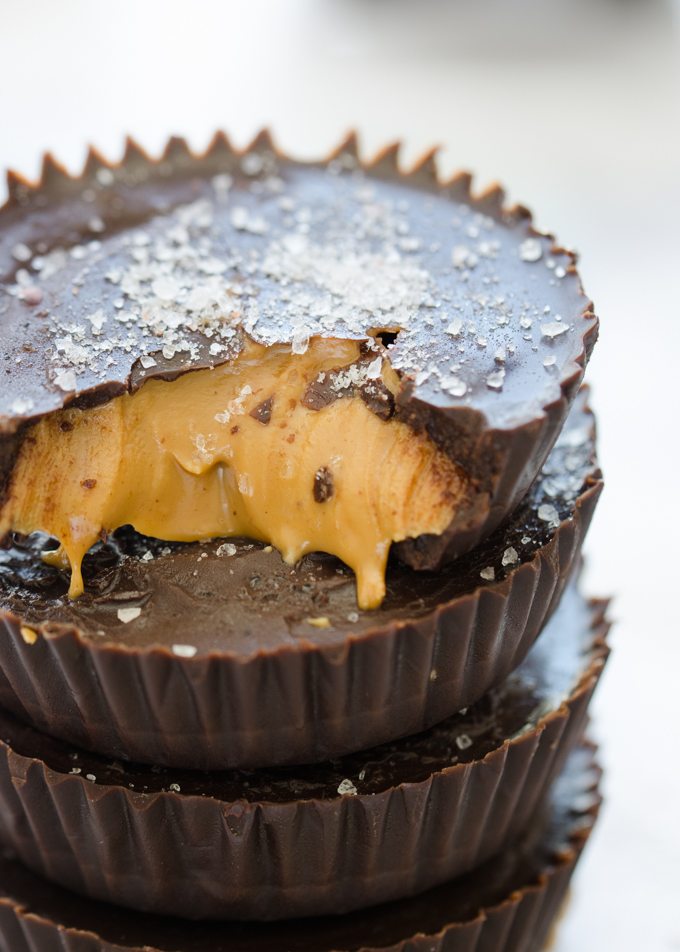 Because coconut oil melts more easily than cocoa butter, you want to store these in the refrigerator, especially if your house is warm.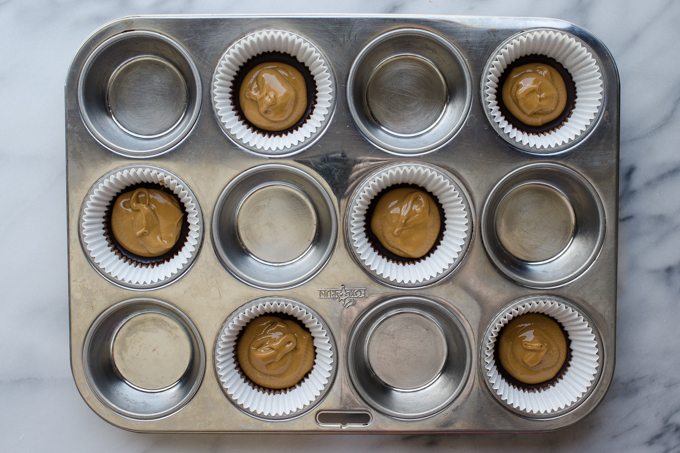 See Also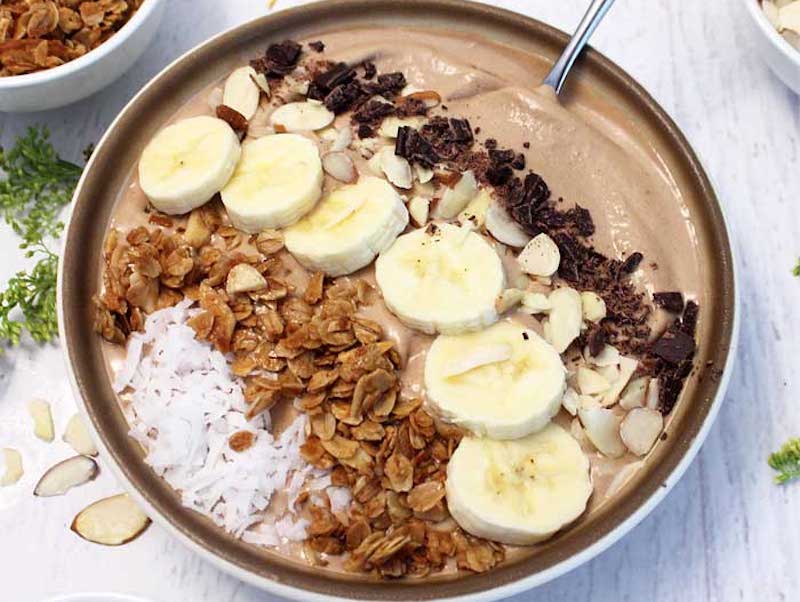 So if you find yourself craving that chocolate + peanut buttery goodness, do yourself a favor and make these homemade peanut butter cups! Not only will you be sparing yourself loads of sugar, the taste and texture will be so far above a cheap store-bought cup. They're so rich and melty.
Be prepared to get your fingers messy! ???
P.S. – Check out my Homemade section for more better-for-you recipes!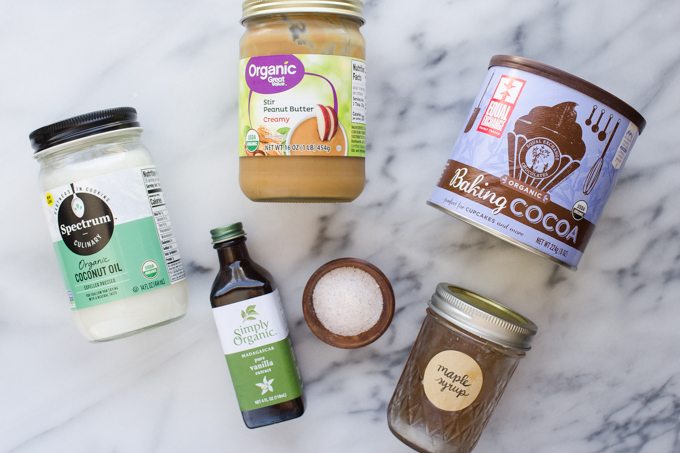 Print

Homemade Dark Chocolate Peanut Butter Cups
---
Author:

Erica Lea

Total Time:

1 hour 7 minutes

Yield:

12 cups

1

x
3/4 cup

expeller pressed coconut oil

1/2 cup

unsweetened cocoa powder

2 tablespoons

maple syrup more or less to taste

1

pinch unrefined sea salt

1/2 teaspoon

pure vanilla extract

1/2

–

3/4

cup natural peanut butter
coarse sea salt for topping
---
Instructions
Line a 12-cup muffin tin with 12 muffin/cupcake liners.
Gently melt the coconut oil over low heat. Remove from heat and whisk in the cocoa powder, maple syrup, pinch of salt, and vanilla until completely smooth.
Pour a small amount of chocolate into the bottom of each muffin liner. Put in the freezer for 3-5 minutes, or until solid.
Add a good dollop of peanut butter in the middle of each muffin liner, trying to keep a small ring of chocolate around the edge
Pour the rest of the chocolate over the top of the peanut to cover. Smooth the peanut butter under the chocolate by tapping it with a spatula.
Put back in the freezer for about 3-5 minutes, or until the tops of the peanut butter cups are semi-solid. Sprinkle with coarse sea salt.
Put the whole tin back in the freezer until the peanut butter cups are solid, about 1 hour. Store in the refrigerator until ready to eat.
Notes
My favorite natural peanut butter is the Walmart brand organic peanut butter. It's really smooth for being a natural peanut butter!
You can use any nut butter in place of the peanut butter if you want.
Adapted from Pinch of Yum
Prep Time:

1 hour 5 minutes

Cook Time:

2 minutes

Category:

Dessert
Erica Kastner
Hello! I'm Erica Lea. I'm a 20-something Christian living in northern Minnesota with a desire to cook quality food for my husband, Reuben, my little girl, Helen, and (eventually) my little boy, James. On Buttered Side Up I share recipes I have tried & modified (to be a tad healthier) and found to be delicious. My main focus is recipes with a healthy touch.