This is better than anything you will find in the store. We guarantee you will fall in love all over again with this cream, rich homemade chocolate hazelnut butter.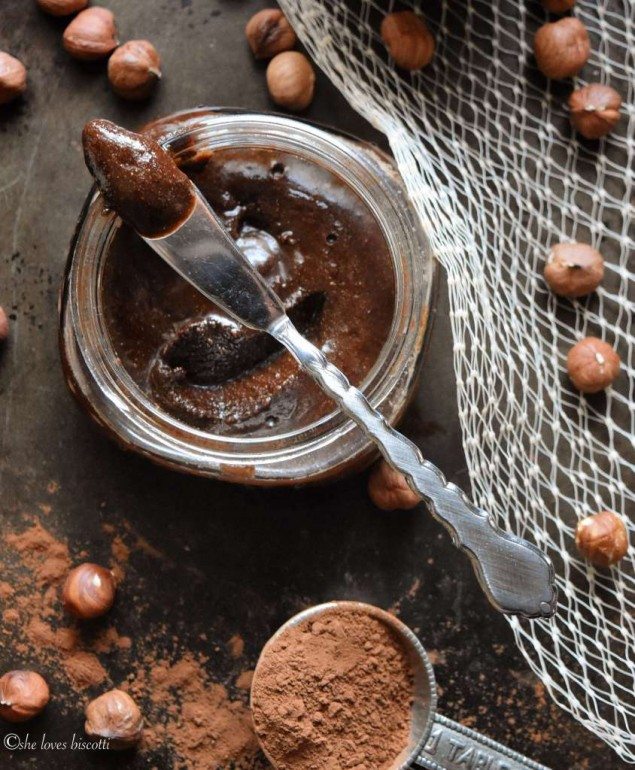 Here's a recipe for an Easy Homemade Cocoa Hazelnut Butter which is guaranteed to elevate your opinion of the humble nut butter. How could you possibly go wrong with cocoa and hazelnuts, right?
I know what you're thinking… Nutella®! Well, sorry to disappoint you but this is not a copycat recipe for Nutella®. Although this spread is also made with hazelnuts, the rest of the ingredients are slightly healthier. Let me explain.
When you look at the list of ingredients in any label, they are written in order of the weight. So, the first ingredient is usually the one that is present in the largest amount. Let's take a look at the ingredient list of Nutella® -the first ingredient is sugar, followed by palm oil, hazelnuts, cocoa, skim milk, etc… So there is more sugar and oil than any other ingredient.
Don't get me wrong, I love Nutella® just as much as the next person. In fact, I don't trust anyone who tells me they don't like the stuff ???? , but it's January and we need to keep those New Year's resolutions going — you know, the ones we all made about eating healthier. So instead of reaching for that jar of you-know-what, consider this Easy Homemade Cocoa Hazelnut Butter. There's less sugar, less fat and as a result, less calories per teaspoon. But remember, everything in moderation.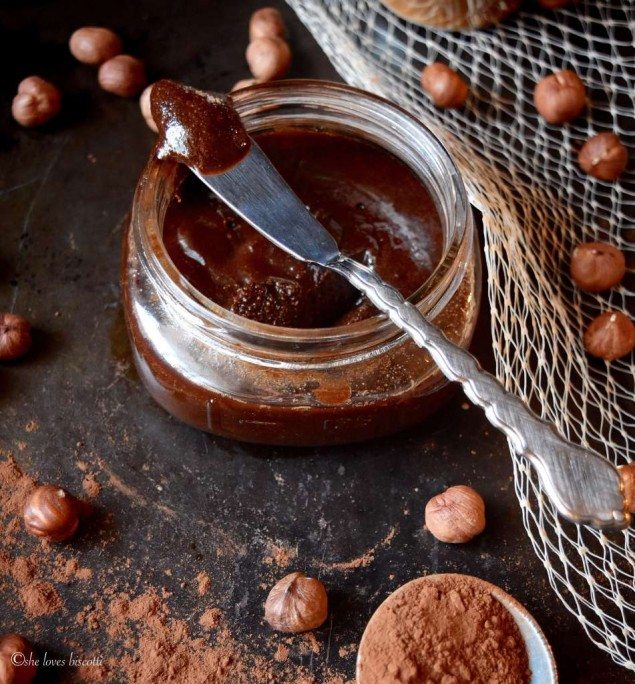 The first thing you need to do is toast the hazelnuts in an oven in order to loosen the skins. We don't want any of the skins in our nut butter, as they are known to provide a bitter aftertaste.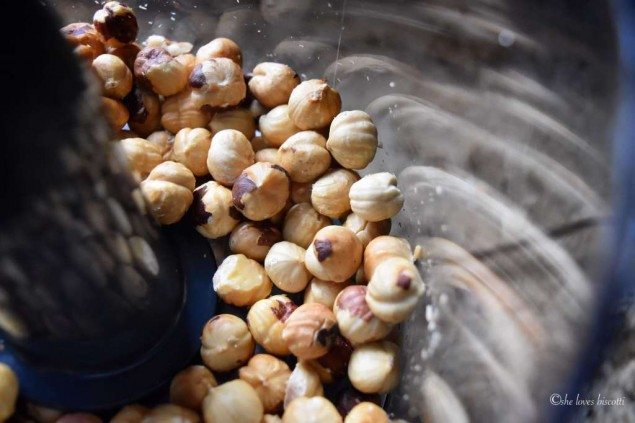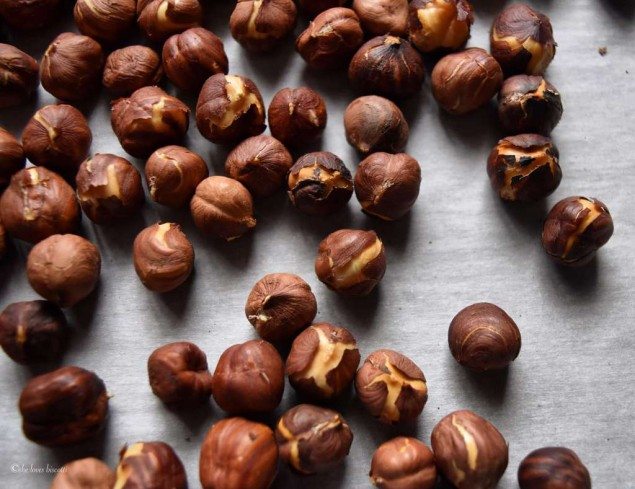 Once the skins have darkened and have started to crack, remove the nuts from the oven and wrap them in a kitchen towel; rub the hazelnuts together to easily remove the skin. Another method is to place the hazelnuts in a bowl, invert another bowl over the nuts and shake. The shaking action will loosen the skins. As you can see, the removal of the skins is not always 100% and that's okay. If you are purchasing nuts without the skin, you should still roast them in order to bring out that nutty taste.
Before you know it, the natural oils will be released and the hazelnuts will be transformed into a nut butter. This can take up to 10 minutes. If interested, I have already shared with you how easy it is to make your own Homemade Almond Butter. It is the same process, only we are going to be making this nut butter a little more decadent.
See Also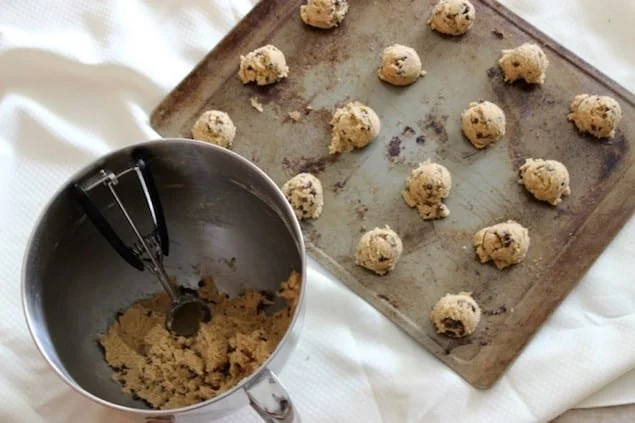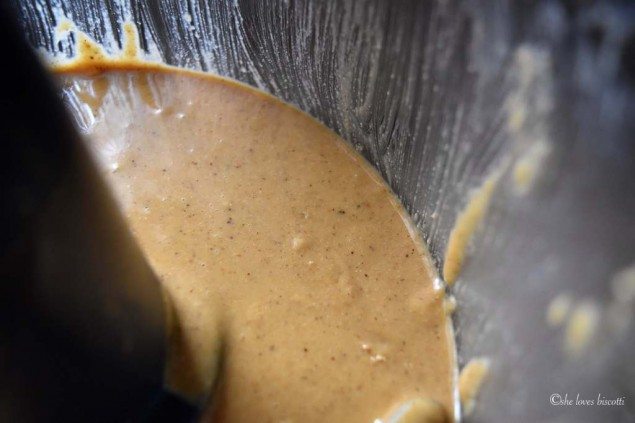 Add the rest of the ingredients and you're done! You have just made Easy Homemade Cocoa Hazelnut Butter!
The spread can be kept at room temperature or refrigerated for one month. Please note that the spread will harden slightly once refrigerated.
Nut butters are great to spread on toast, swirl into your breakfast bowl, blend into your smoothie, or enjoy as is.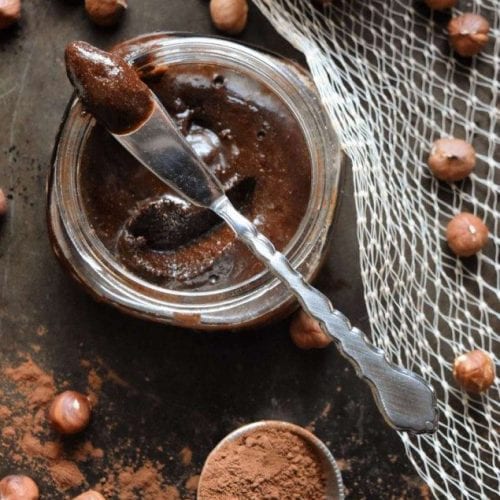 Maria Vee
Ingredients
2

cups

hazelnuts

2

tablespoons

hazelnut oil

can also use vegetable oil

3

tablespoons

honey

1/3

cup

cocoa powder

1

teaspoon

pure vanilla extract

pinch

salt
Instructions
Preheat oven to 325° F. Position rack in the center.

Line baking sheet with parchment paper.

Spread hazelnuts on a baking sheet and toast in oven for about 12-15 minutes, or until skins have browned and begin to crack.

Wrap hazelnuts in a kitchen towel and rub together to remove the skins. Another method is to place the hazelnuts in a bowl; cover with another bowl and shake.

Add warm skinless hazelnuts to a food processor and process on low speed until creamy and smooth (about 10 minutes). You will need to scrape down the sides of your bowl every few minutes or so.

Add the rest of the ingredients and process until smooth.

Pour mixture into jars.

It can be kept at room temperature or refrigerated for one month. Please note that the spread will harden once refrigerated.
Maria Vee
Hello! My name is Maria, Canadian-born and Italian-raised. By day, I work in a health institution, but by night, I cook, bake, and blog. I guess I get it from my mom, who I truly believe spent most of her adult life in the kitchen (and loved every second of it)! Recently it became important to me to fix up, document, and post some of her treasured recipes; I wanted my own kids to get a taste for the legacy she left behind and to continue to honour the traditions she set up when she was alive. I crave the simple things in life, most of all enjoying some good food with my beloved family and friends.