When the holiday pressure is on, Marissa Sertich turns to an old pastry chef party trick – soufflés.
By Marissa Sertich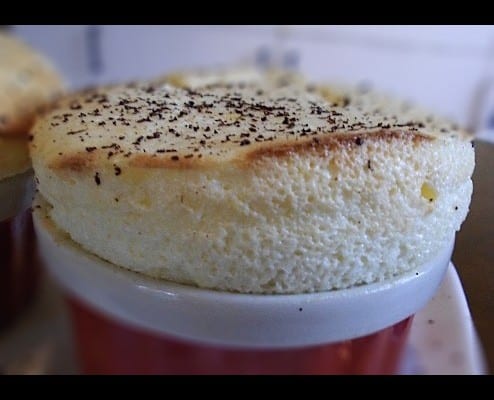 Since becoming a pastry chef, bringing store-bought cakes to a holiday party is forbidden and box-brownies are a one-way ticket to the naughty list. Even homemade Christmas cookies receive slightly deflated looks because when a pastry chef is invited to a party, people expect a Bouche de Noel, or artisanal chocolates, or life-sized sculpted cakes of Santa Claus. To say the least, expectations are high.
When the holiday pressure is on, I turn to an old pastry chef party trick – soufflés.
Despite the soufflé's reputation for being difficult to prepare, it is a reliable and stress-free dessert that requires just a few simple ingredients and a little bit of aeration. Still, because of people's preconceptions about soufflés, they offer a feeling of extravagance and celebration that is perfect for any holiday party.
The soufflé base can be prepared ahead of time, so that all you need to do when the party comes is mix up the meringue, fold it into the base and bake. Various flavors can be added to the base to give your soufflé more character. Adding a tablespoon of Crème de Menthe and folding in chocolate chips with your meringue is always a holiday crowd-pleaser.
Among the most delicately textured desserts, soufflés are simple to prepare and they bases can be made hours, even days in advance.
Ingredients
1 cup milk + ⅓ cup milk
1 vanilla bean
⅓ cup sugar
⅓ cup all-purpose flour
1 tbsp melted butter
4 egg whites
4 egg yolks
2 tbsp sugar
Instructions
Preheat the oven to 350F.
Grease four individual ramekins with pan spray or butter. Dust the greased ramekins with an even coating of sugar.
Using a small bowl, whisk together ⅓ cup milk, ⅓ cup sugar, flour, melted butter and egg yolks.
Split the vanilla bean lengthwise and scrape out its seeds using the back of a paring knife.
In a small saucepan, bring the 1 cup of milk and the vanilla bean seeds to a boil.
Using a whisk, add half of the hot milk into the egg mixture, stirring constantly so not to cook the yolks.
Return the entire yolk mixture back into the saucepan and whisk constantly over medium heat for about 3-5 minutes until it thickens. This is your soufflé base.
Remove the soufflé base from the hot pan and reserve in a medium bowl.
Using a standing mixer and whip attachment, begin whipping you egg whites on high speed. Slowly add your sugar until the whites double in volume and hold a medium peak.
Using a rubber spatula, gently fold the whites into you base until they are fully combined.
Portion your soufflés in you prepared ramekins and bake for about fifteen minutes and serve immediately