A concassé is not a strange jungle recipe. Neither is it a small South American instrument. Alisha Randell knows more.
By Alisha Randell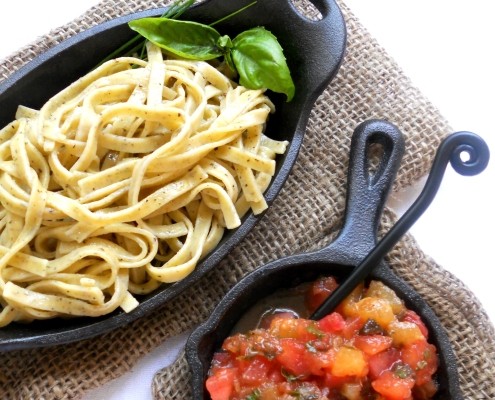 Concassé if you are not already familiar does not refer to a specific dish or recipe. Concassé  pronounced (kon-kah-SAY) is actually a French culinary term meaning to roughly chop an ingredient.
Although the term Concassé can apply to most any ingredient, it is normally associated with tomatoes. We are going to utilize this technique with both tomatoes and pluots here.
Last summer I prepared a marinara using these two ingredients and it quickly became a favorite. The pluots add just the right touch of tangy and sweet adding a bit of playfulness to our fresh garden tomatoes.
Before we get on to our dish I would like to mention one of our stars here. Black Garlic which probably should have earned the title "Black Gold", is one of the most delightful culinary treats I have encountered thus far.
It is a fermented garlic that has a rich sweet flavor that brings up thoughts of molasses, yet not overly sweet. It is similar to roasted garlic in many ways, such as being spreadable and adding that well loved garlic feel without the bite of fresh garlic. However unlike roasted garlic it is quite sticky so I recommend when chopping, lightly brushing your knife with a grape seed oil or other light oil.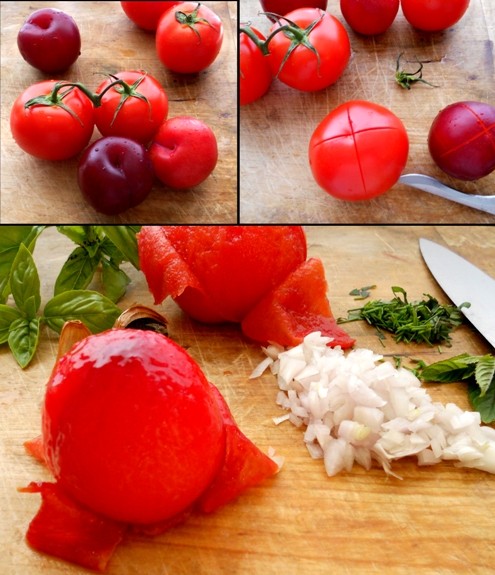 The term  Concassé neither requires nor implies anything further than roughly chopping. However, you will typically find a few more steps involved in the preparation. The purpose of this extended process is to not only enhance the color, texture and flavor  of our tomatoes and pluots, but to also remove the seeds and skins. This allowing a far more palatable experience and adding a bit more Wow factor as well.  These steps will generally consist of four primary steps along with coring and seeding where applicable.
1. Scoring
2. Blanching
3. Peeling
See Also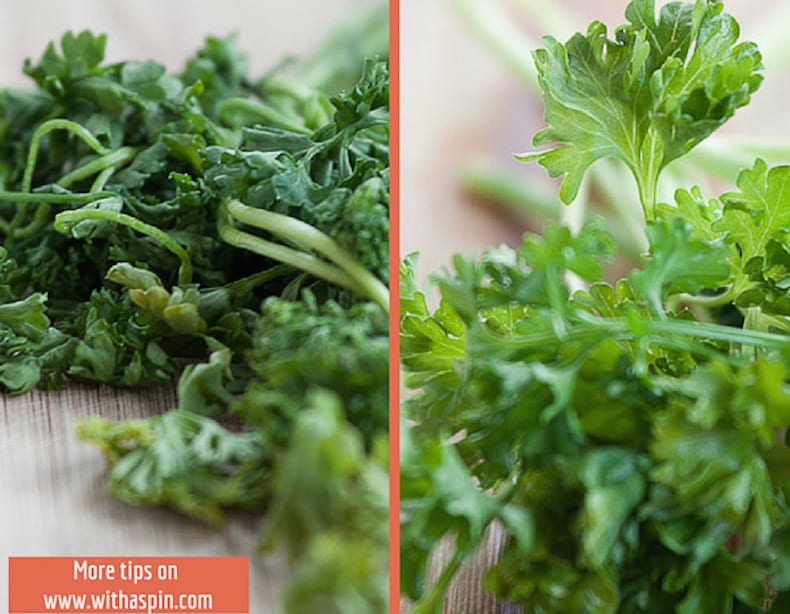 4. Chopping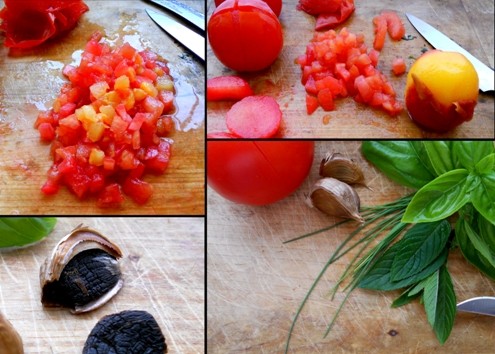 Today we will be folding our concassé into a light oil, fresh herb and black garlic sauce. This can be served alone with warm crusty bread, as a topping for a lovely crostini appetizer or just about anything you wish. We will be serving it today however with some fresh basil linguine drizzled with a bit of olive oil and fresh lemon juice.
Print
Tomato and Pluot Concassé with Black Garlic
---
Author:

Alisha Randell

Total Time:

1 hour 5 minutes

Yield:

4

1

x
Description
This dish serves well as either and entrée for a multi-course meal, or as an slightly elegant accompaniment side to any main dish.
---
For the concassé:

4

large ripe tomatoes

3

ripe pluots
Large stock pot
Ice bath
For the sauce:

2

Tbs (30 ml) olive oil

1

medium shallot, chopped

3

–

4

cloves black garlic, chopped

2

Tbs (30 ml)cream sherry
a pinch ground white pepper

4

large fresh basil leaves, chopped

2

–

3

fresh mint leaves, chopped
Small bunch fresh chives, chopped
Sauté pan
For the pasta:

6 oz

(

170 g

)fresh linguine, or pasta of choice

1/2

fresh lemon, quartered
Olive oil for drizzle, salt and pepper to taste
---
Instructions
Begin by removing any stems from your tomatoes and pluots. Place tomatoes and pluots bottom side up on a cutting board. Score the bottom of each with a sharp pairing knife to just below the skins in an X pattern.
Bring a large stock pot of water to a rapid boil. In the meantime you can set up your ice bath by placing a large bowl filled with ice water within easy reach of your cooking station.
If you are using various sizes, ripeness or types of fruits, it is best to blanch them separably. For example we have our tomatoes here all of a similar ripeness and size, so we will start with these. Gently place your tomatoes in the boiling water from 10-30 seconds depending on ripeness. You will begin to see your X on the fruits start to deepen or the skin begin to loosen just slightly when the are ready.
Next you will want to immediately submerge them into the ice bath then set aside. Now repeat this process with your pluots. Note that they should require less time than the tomatoes being they have a thinner skin.
Now we are ready to remove the skins from our fruits by simply grabbing the cut edges and gently sliding the skins off.
For the tomatoes you can now cut them into quarters then remove the core area and seeds. For the pluots or any stone fruits simply slice each side up to the pit area, then do the same on remaining edge pieces. Now you can simply roughly chop them and set aside.
In a heated sauté pan on a medium/high heat add oil and shallot, gently cooking until just golden. Now add your black garlic, gently moving it around in the pan for just a moment or so to get the flavors working. Reduce heat to medium, adding herbs and sherry, continuing to sauté for about 10 minutes.
Now prepare your pasta. If you are using fresh pasta merely bring a large pot of water to a boil. Place pasta into the boiling water and cook on high for 5-6 minutes for al dente.
Now gently fold your tomatoes and pluots into your sauce until just incorporated.
To serve I placed the tomato and pluot concassé into individual mini cast iron skillets and arranged the pasted into their own mini cast iron baking dishes.
Then drizzle the pasta with a bit of olive oil and and squeeze of fresh lemon. Note: I find it best with this dish to allow each person the salt and pepper at their own taste.
Notes
If you have never prepared a dish concassé style, the primary thing to watch for is the blanching time. We are not trying to cook our ingredients here but rather wanting to enhance the raw fruits as well as simplify the peeling process.
On another note, you can prepare your concassé ahead of time or the day before and keep chilled.
Prep Time:

45 mins

Cook Time:

20 mins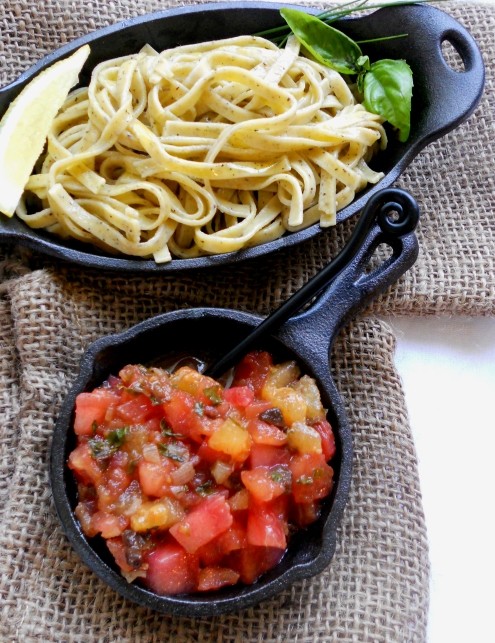 Alisha Randell
Alisha Randell is a former Executive Chef turned Private Chef and Culinary Instructor. She is the Co-Creator/Author of The Ardent Epicure blog "An Ode to the Pleasures of Food". Growing up with a dad as a culinary guide, whom was as well an executive chef, food and seeing food as an art form has been a lifelong passion and exploration.