When thinking about a big pot of goodness, this hearty Peruvian soup should be one to put in it.
By Nick Sandler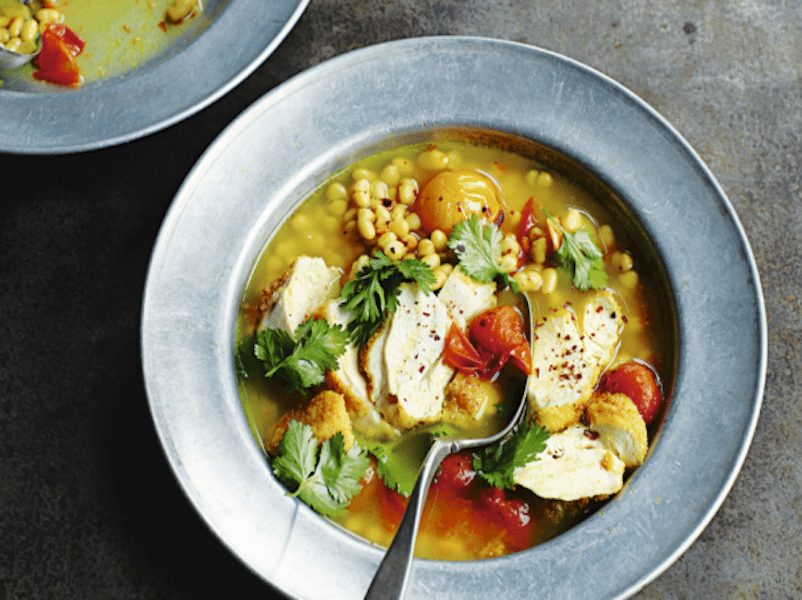 Ali Allen Copyright © 2015
Peru is known as the culinary capital of South America because their dishes are known for it's rich and fresh flavors. Try this hearty Peruvian soup with roasted tomatoes, cannellini beans, and polenta crusted chicken to top it off!
This article has been posted with permission and originally appeared as "Peruvian Chicken, Lime and Chile Soup" on Relish

Hearty Peruvian Soup with Chicken, Lime and Chile
Ingredients
1 small piece (approx. ½ ounce) of fresh turmeric, peeled and finely chopped (wear gloves while doing this to avoid the realistic nicotine stains)
¼teaspoon aji amarillo powder (Peruvian yellow chile), if available, or use 1 teaspoon finely chopped fresh hot red chile
1 lime, juiced
14ounces can small white beans, such as cannellini, drained
4cups chicken stock
2teaspoons turmeric powder
1tablespoon polenta
4 skinless chicken breasts
2tablespoons vegetable oil
A small bunch of fresh cilantro, leaves plucked from stalks, to garnish
Instructions
Preheat the oven to 350°F.
Place the tomatoes on a baking dish, season with salt and olive oil, and roast in the oven for 30 minutes.
Heat the stock. Add the tomatoes, turmeric, aji` amarillo, lime juice, beans, and a touch of salt, if needed. Simmer for 3 to 5 minutes.
Meanwhile, mix together the turmeric powder, polenta, and 1 teaspoon of salt. Use the mixture to coat the chicken breasts.
Heat a nonstick frying pan and add the vegetable oil. Cook the chicken breasts over medium heat for 8 minutes on each side until golden brown and cooked through.
Pour the broth into a serving dish and slice the chicken breasts on top. Garnish with the cilantro.