Sponsored Post: We've partnered with North Coast Organics, makers of delicious apple products, to bring you fun recipes ideas for the coming season. Their apple sauces, vinegars, juices and ciders are made with only U.S. grown apples. You're sure to taste the difference!
Halloween Pumpkin Spice and Applesauce Cupcakes are a fun, seasonal dessert that your kids will not only have fun making, but eating too. The secret to the flavor in the cupcakes comes from the applesauce.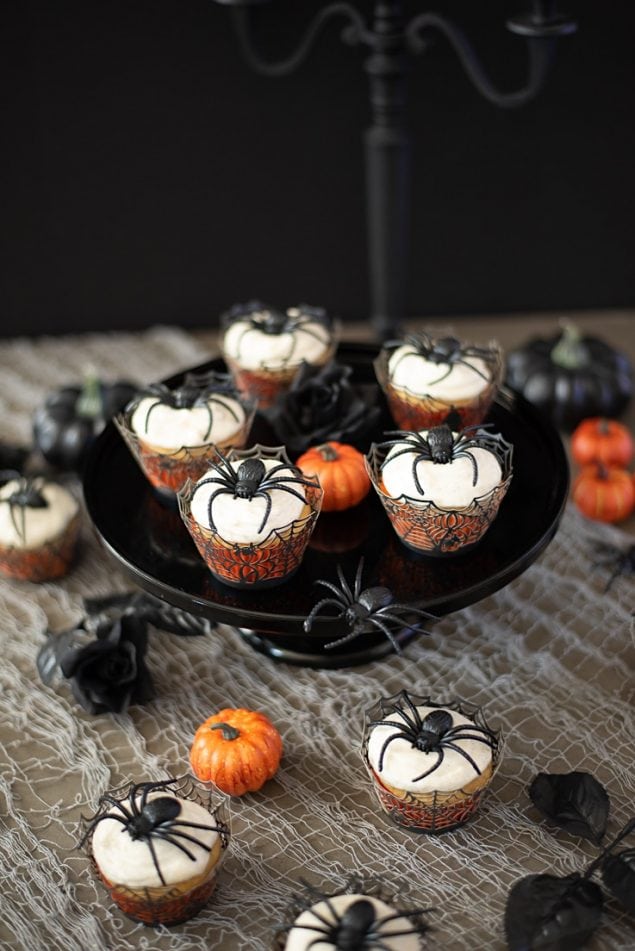 There is only one season I look forward to as much as Christmas and that is fall. What's not to love? The cooler weather (I live in the Arizona desert, you understand) pumpkins, Halloween and all of the fall produce, in particular the apples.
Different apple varieties peak at different times, but there's always something you can get year round and that is applesauce. Today I'm showcasing North Coast Certified Organic Pumpkin Spiced Applesauce. It doesn't get much more seasonal than that.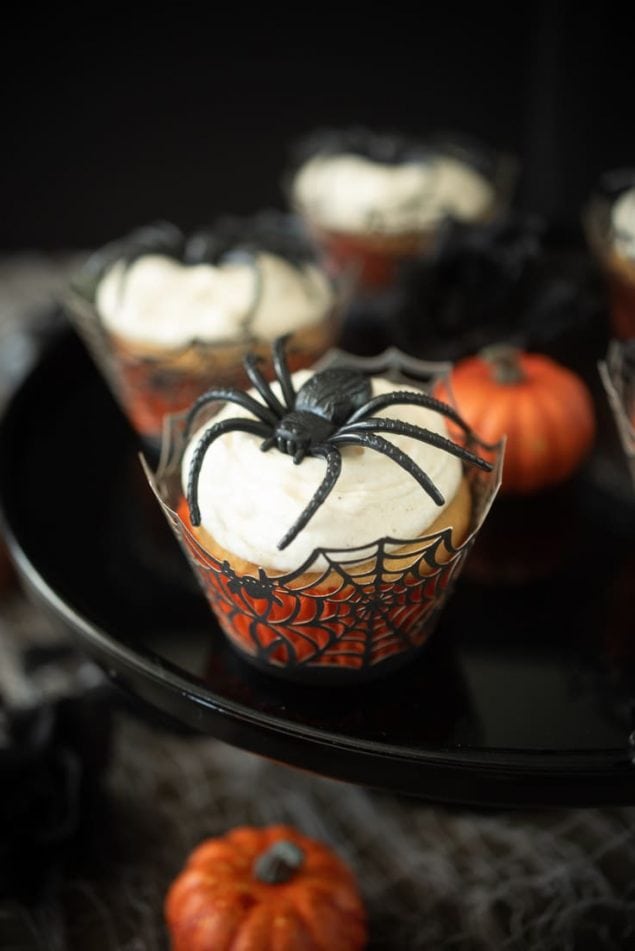 North Coast Organic Applesauce flavors range from traditional cinnamon to tangy apple apricot, apple with berries and strawberries. They come packaged in cups, jars and even convenient pouches that your kids would love in their lunch boxes or for a healthy snack on the go.
North Coast Organic have been perfecting their skill of organic farming and apple products for over 90 years. Their certified, KSA Kosher certified applesauce, apple juice and vinegar are made only with U.S. grown apples and are free of added sugar, preservatives and GMOs.
To learn more about North Coast Organic, visit their website and check out their new products. Click here > North Coast.
With Halloween, applesauce and pumpkins on my mind, all of these were factors that inspired me to come up with these cupcakes. Made with real ingredients, North Coast Organic Pumpkin Spiced Applesauce adds all the apple/pumpkin flavor you need.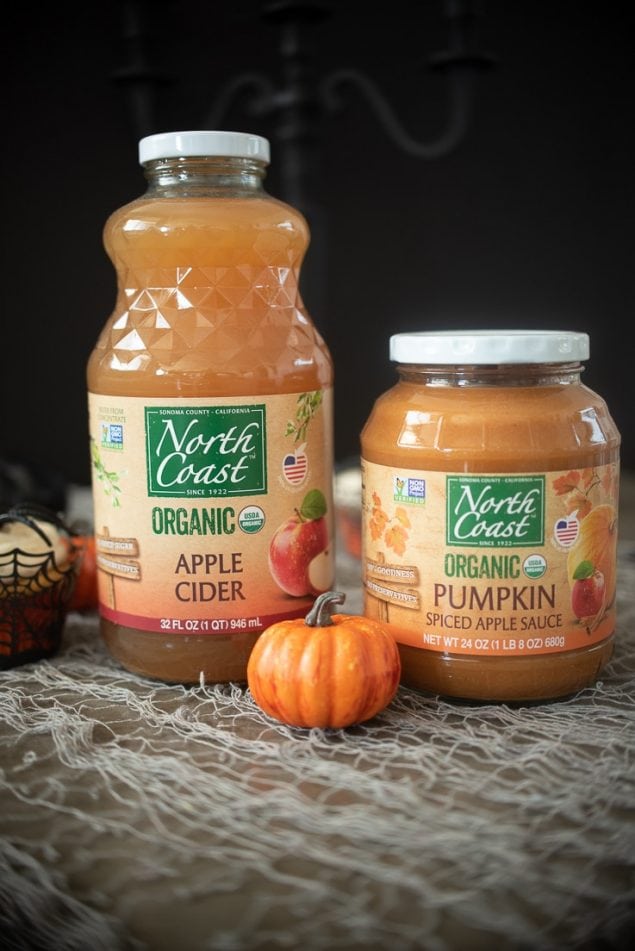 Want to win North Coast's apple product for a whole year?! Enter here.
Just as an aside, as you may need to fend off your neighbors, my kitchen smelled like pumpkin pie when the cupcakes were baking.
The frosting for the cupcakes is cream cheese with a little pumpkin pie spice to mirror the pumpkin spice in the applesauce and drive home the pumpkin/fall feeling.
I had a lot of fun with these cupcakes. I have many Halloween-themed recipes on my website from skulls to scorpions and now spiders.
See Also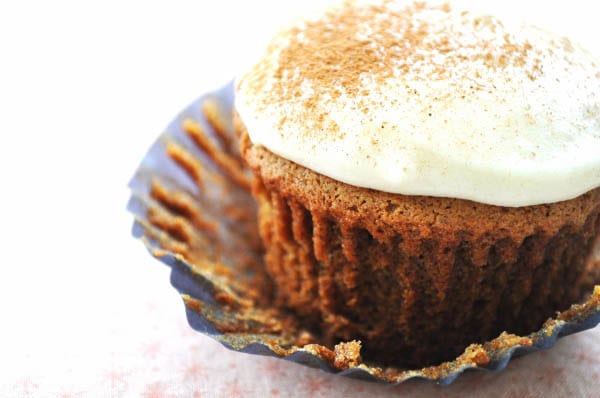 The web cupcake liners, large fake spiders and everything you see can be purchased from the internet.
North Coast products can be found here:
Boxed.com
VitaCost.com
Kroger.com
Walmart.com
Jet.com
Amazon.com
And you can check here to see if it is carried in a store near you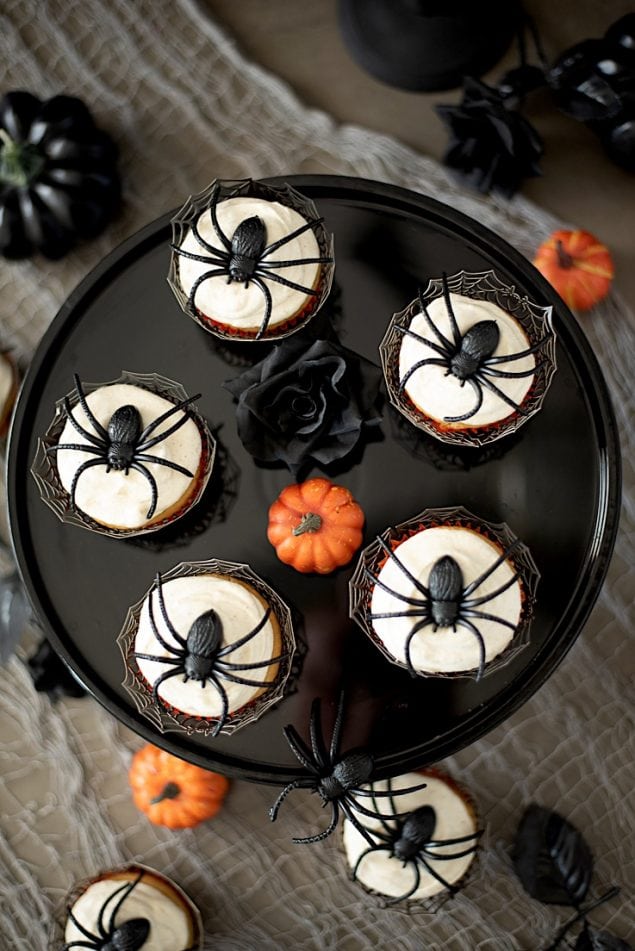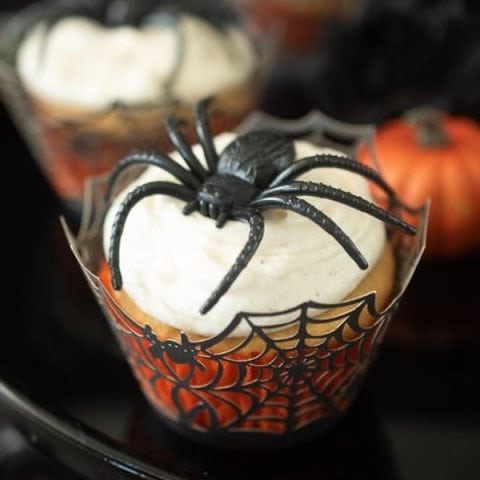 Halloween Pumpkin Spice and Applesauce Cupcakes
Janette
Ingredients
For the cupcakes:
1/2

cup

unsalted butter softened at room temperature for 1 hour

3/4

cup

granulated sugar

2

large eggs room temperature

3/4

cup

North Coast pumpkin spiced applesauce

1 3/4

cups

all-purpose flour

2 1/2

teaspoon

baking powder

1/2

teaspoon

salt

1/3

cup

whole milk room temperature
For the frosting:
8

ounces

cream cheese softened at room temperature for 1 hour

4

ounces

unsalted butter softened at room temperature for 1 hour

1

teaspoon

vanilla extract

2

cups

powdered sugar

1/2

teaspoon

pumpkin pie spice
Instructions
For the cupcakes:
Preheat oven to 350°F. Line a 12-muffin tin with liners.

To a bowl add the butter and sugar. Beat on high until light and pale using an electric mixer. Add the eggs, one at a time and beat until mixed. Mix in the pumpkin applesauce.

Add the flour, baking powder and salt to a separate bowl and mix well. With the mixer on low add little dry mix to the wet mix, alternate with a little milk until all the flour and milk are used. Mix until well-combined and smooth. Don't over mix.

Use an ice cream scoop and divide the batter between all the cups, a little over halfway filled.

Bake for 20-25 minutes until golden. When a toothpick inserted in the center it should come out clean.

Remove from the oven, remove the cupcakes from the pan and cool on a wire rack.
For the frosting:
Beat the cream cheese and butter with an electric mixer, add the vanilla, mix well. Slowly add powdered sugar while beating. Add the pumpkin pie spice and mix well.

Refrigerate for 30 minutes to make topping the cupcakes easier.

Top the cooled cupcakes with the frosting.
Janette Fuschi
Hi, my name is Janette, originally from England, currently living in Southern California. I'm the author, recipe developer, photographer and resident redhead behind Culinary Ginger. I grew up in a household with 4 siblings where my mother cooked a from scratch meal for us every night. I took an interest at an early age in cooking and learned a lot by helping and watching my mother in the kitchen. Today that tradition is carried on my household in that I also like to cook every night. I like to use only fresh ingredients, no processed or pre-packaged foods are allowed in my kitchen. I like to try new recipes and adapt current ones from all cuisines. In addition to all of this, I am fortunate that I get to travel with my husband for business and this allows me to explore and document my findings here for you to read and hopefully, take something with you.