Halftime Appetizer: Soft Pretzel Bites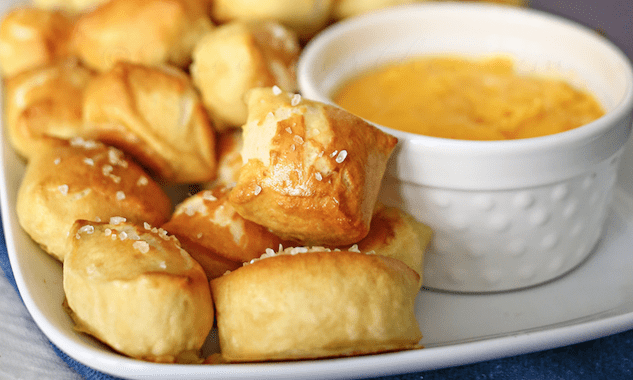 No matter what sporting event you are into, food is always a huge part of the day. Enjoy these snack-worthy pretzels bites for the Super Bowl and beyond.
By Gina Kleinworth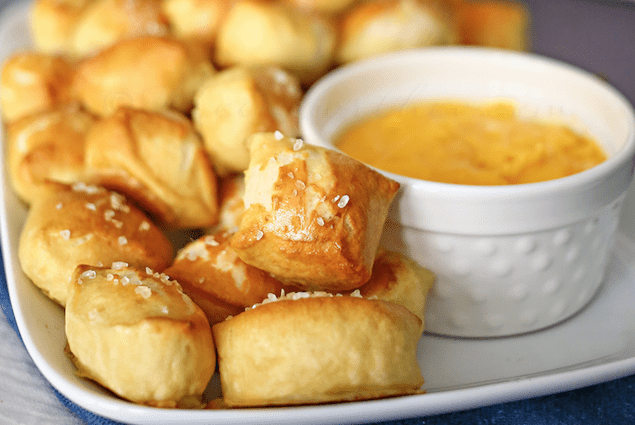 We take game days quite seriously in out house. With the playoffs happening now & the Super Bowl game coming up I am in full party food mode around here. You would think it all dies down once the season ends. Well, not exactly. We are also HUGE NASCAR fans. We make a huge homegating spread here & watch the races on the big screen with the surround sound going. The food is a huge part of making the experience great – starting with these Soft Pretzel Bites.

Halftime Appetizer: Soft Pretzel Bites
No matter what sporting event you are into, food is always a huge part of the day. Enjoy these snack-worthy pretzels bites for the Super Bowl and beyond.
Ingredients
2¼ teaspoons active dry yeast
1¼ cups warm milk (110°-120°F)
2 tablespoons corn syrup
3¼ cups all purpose flour
1 teaspoon salt
½ cup baking soda
1 large egg
coarse salt (or pretzel salt)
Instructions
Preheat oven to 450°F.
Line a baking sheet with parchment paper- set aside
Add milk into mixer bowl
Sprinkle yeast over top
Add honey and stir with a fork gently
Allow yeast to bloom for 5-10 minutes
Once it is nice and foamy, it is ready
Fill large stock pot with water and bring to a boil over medium high heat
In a small bowl beat egg and 2 tablespoons water with a fork -Set aside
Add flour and salt to mixer
Knead with dough hook until the dough comes together in one ball
Add more flour a tablespoon at a time as needed- Dough should be tacky- not sticky
Place dough on counter top and form dough into a ball
Using a pastry cutter or butter knife- cut this ball into 60-65 pieces
The easiest way to do this is to quarter the ball of dough
Roll each quarter into an 15-20" strand
Cut that into equal pieces
Carefully, add baking soda to boiling water just a little sprinkle at a time.
CAUTION: IT WILL BOIL RAPIDLY.
Place dough pieces into boiling water about 10-15 at a time
Remove with a slotted spoon after 30 seconds
Place on prepared baking sheet and repeat until all bites have been boiled
Arrange all pretzel bites so they are not touching
Brush each with egg wash
Sprinkle with course salt
Bake for 7-9 minutes until the tops are browned
Gina Kleinworth
Gina is the author & photographer behind Kleinworth & Co. She is a homeschooling mom to 3 and devoted wife with a passion for all things creative. Gina lives in Northern Idaho but is a So Cal native & spent 12 years living in various parts of the Nevada desert. Kleinworth & Co is a creative blog where Gina shares recipes, gift ideas, crafts, simple & cost effective ways to decorate your home, creative & fun projects for the kids & photography tips. Come visit to learn, share & get inspired on a budget.