This citrus marinated grilled salmon is served on a bed of wilted kale. Top with crunchy, spiced chickpeas, fresh radishes, beets, cucumbers, pistachios and a creamy basil mint avocado dressing. It's a perfect spring dinner.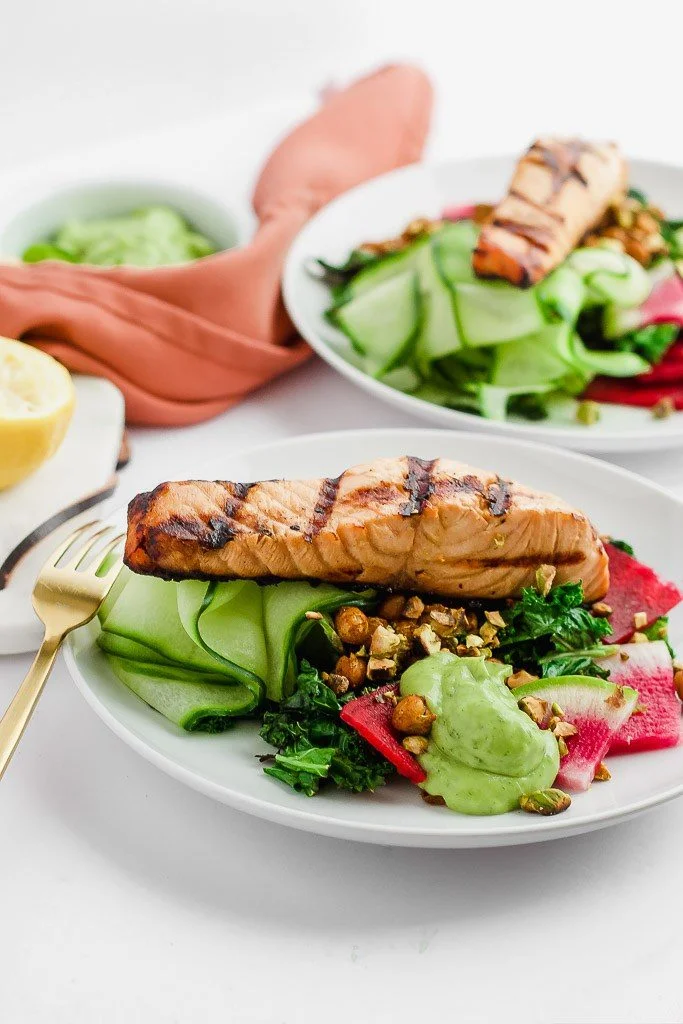 I am in love with this salad. The color and crunchy texture. The brilliant acid to fat ratio. Creating a salad that is truly balanced and bursting with flavor is an overlooked art. So much thought is necessary in creating a perfect salad. Is it any wonder that the salad section on restaurant menus are often underwhelming, usual suspects?
And maybe it's just because people love cobb salads (I mean seriously, blue cheese, bacon, avocado…). While part of me wants to explore the idea here that salads are seen as "woman's food" and therefore neglected, unimportant parts of a dinner menu, I have committed to efficiency in 2018. Which means less tangents. And more focus on giving you access to easy, healthy recipes.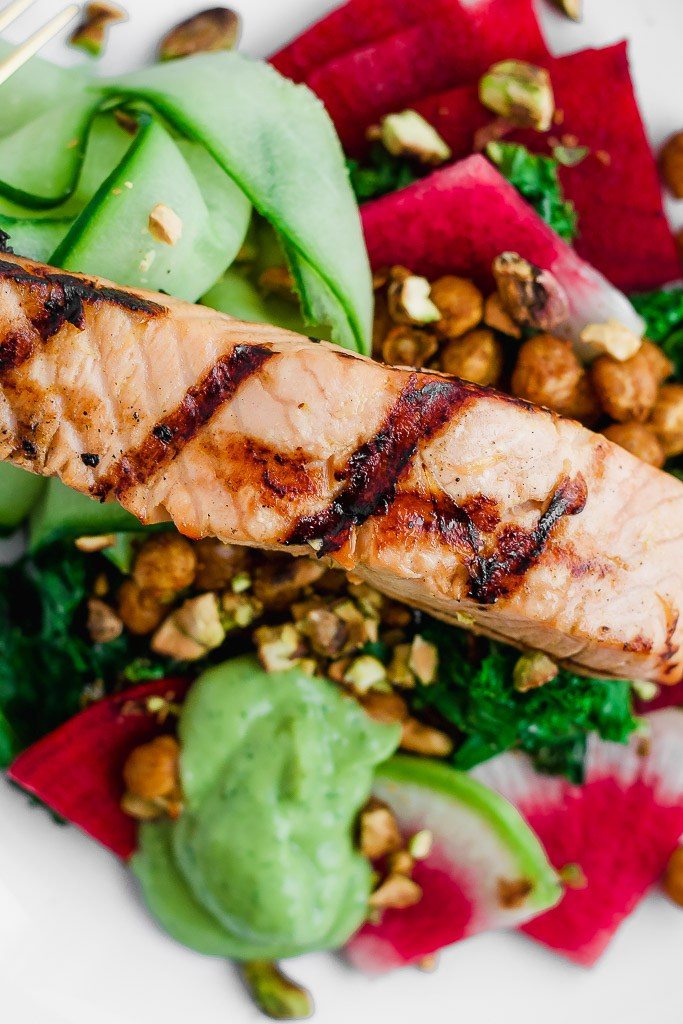 Let's say salads are "woman's food", which they're not but are often stereotyped that way. The salad section is frequently the most thoughtless, over looked portion of a menu. Listen up world! "Woman's food" deserves better. That means stop putting only female chefs in the garde manger (salad) section of the kitchen. It means putting the same time creating this section as the more "beefy" sections (because you charge the same price, bruh). It means listening to what women want. Which, clue in, is probably not salads and a man.
Woman want to be taken seriously and given respect. The same kind men receive in our culture. And that's why this grilled salmon salad has a more deserving place on the "woman's portion of a menu" than say, a cobb salad. Because it took a lot of thought, time, and creativity to come up with. The same as any other recipe I create here.
Men deserve this salad too. All of humanity deserve crispy, ras el hanout chickpeas and creamy avocado dressing. Because you are deserving. And this salad is boss.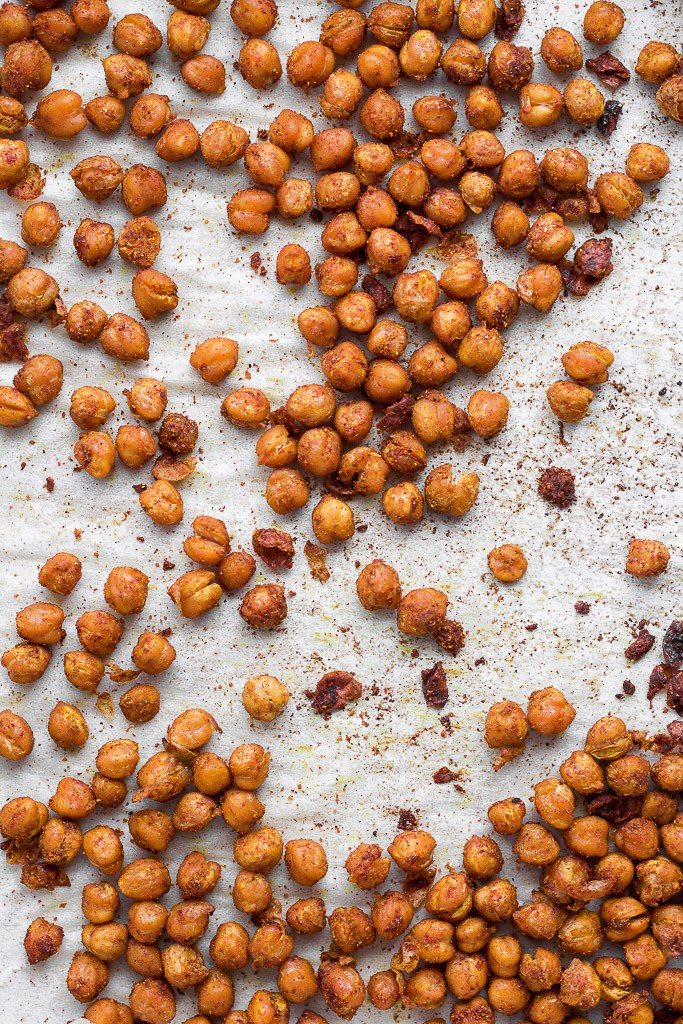 See Also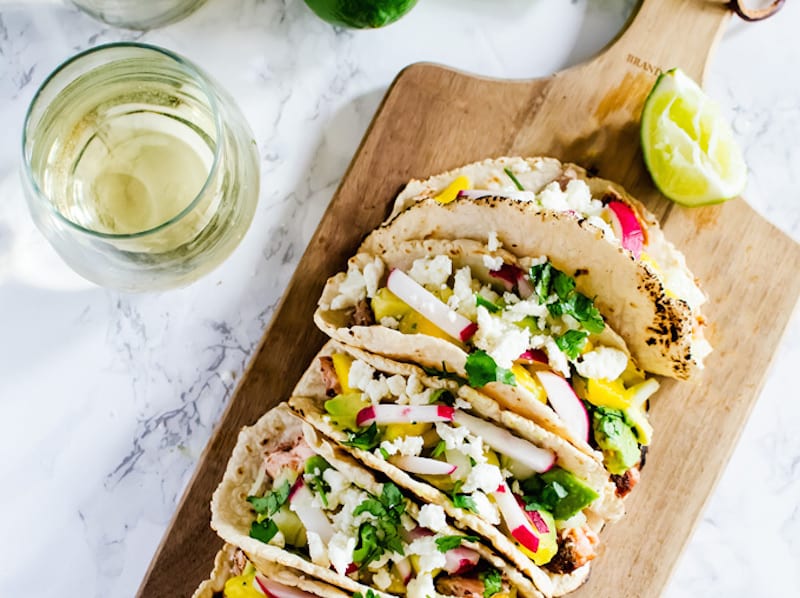 This delicious salad will only take 30 minutes, if you do things in the right order. Here are steps to 30 minute, grilled salmon salad success.
Toss the chickpeas with spices and oil and stick them in the oven for 25 mintues. (3 min)
Squeeze citrus juices along with olive oil, and salt over the salmon and let it sit for 10 minutes. (3 min)
Chop up your veg (beets, watermelon radish if you can find it, cucumber, and kale). (5 min)
Blitz your avocado dressing in a blender. (5 min)
Throw the salmon on the grill (or stove because winter). (2 min ~ cook for 10-15 min)
Sauté your kale. (4 min)
Put everything together!
Enjoy! Bask in your deservedness. And share the grilled salmon salad love with the people you love.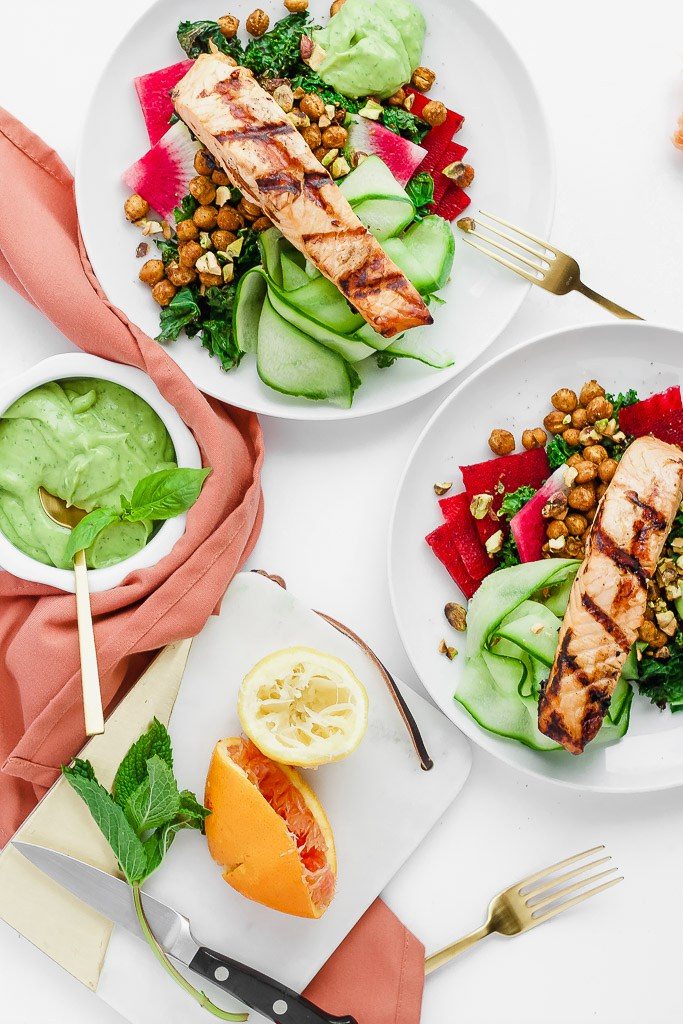 Click here for the avocado dressing recipe.
Print

Grilled Salmon Salad with Crispy Chickpeas and Avocado Dressing
---
Author:

Stacy Feyer-Salo

Total Time:

30 minutes

Yield:

2

servings

1

x
Chickpeas
1

15 oz can chickpeas (garbanzo beans, drained and patted dry)

2 tsp

oil (such as avocado oil, coconut oil, or pure olive)

2 tsp

ras el hanout (

1 tsp

cumin,

½ tsp

cinnamon,

½ tsp

paprika if you don't have it)

½ tsp

sea salt
Salmon
½

lb salmon (cut into

2

steaks)
Juice of

1

orange (about

¼ cup

, I used a cara cara but a navel is great too)
juice of

½

a lemon (

2 Tbsp

)

2 Tbsp

same oil as above

1 tsp

salt
Avocado Dressing
Click the link above for the recipe.
Salad Components:
4 cups

kale (stems removed and roughly chopped)

½

watermelon radish (cut in half and thinly sliced (or

¼ cup

salad radishes))

½

large beet (peeled, cut in half, and thinly sliced)
Seedless cucumber (peeled lengthwise with a vegetable peeler into long strips, about 4-6 stips)

2 Tbsp

pistachios (shelled, toasted, and roughly chopped)
---
Instructions
Moroccan Chickpeas
Heat the oven to 400 F and heat your grill on high (if it's too cold to grill you can also cook the salmon on the stove top). On a parchment paper or foil lined baking sheet, toss the chickpeas ingredients together and place in the oven. Bake for 25 minutes, giving the pan a good shake halfway through.
Salmon
Place the salmon into a small container. Sprinkle the salmon with salt, squeeze the citrus juices over top, and drizzle with oil. Allow to sit at room temperature for 10 minutes and continue prepping the veggies and making the avocado dressing while it sits.
Place the salmon skin side down on the grill and cover. Allow to sit about 5 minutes or until the skin is nice and crispy. Flip the salmon and grill for 2-5 minutes (until there is a solid mark) and then turn the salmon 90 degrees and cook another 2-5 minutes or until the salmon is firm, is expelling some of the white fat, and just barely darker pink in the middle.
Veggies
While the salmon marinates, chop your veggies and set aside. Keep the beets and radishes as thin as possible.
While the salmon is cooking, sauté and cover the chopped kale in a small amount of oil and salt over medium until wilted and a lighter shade of green.
Avocado Dressing
Click the link above for the recipe.
Prepare the salad
Place everything lovingly on your plate, starting with the wilted kale and finishing with the salmon and avocado dressing. The dressing with keep for 2-3 days.
Prep Time:

5 minutes

Cook Time:

25 minutes

Category:

Main
Stacy Feyer-Salo
Stacy is the creative director and photographer for the food blog POP KITCHEN. Creating accessible, vibrant, healthy and simple recipes while have fun doing it is her jam! As a trained chef, Stacy has worked as a meal planner and private chef for almost a decade and wants to share all her skills. She lives in Toronto with her family and enjoys listening to hip-hop and eating all the tacos.