PARTNER POST — Grilling season is here and it is time to explore Italian grilling with authentic ingredients from Colavita.
A lighter, grilled Italian salad tastes smokey like summer with marinated shrimp and grilled radicchio that is served with piadina, a grilled Italian flatbread.
By Taylor McBride
Click here to start grilling like an Italian and for a $1 off Colavita products or 15% off at their online store.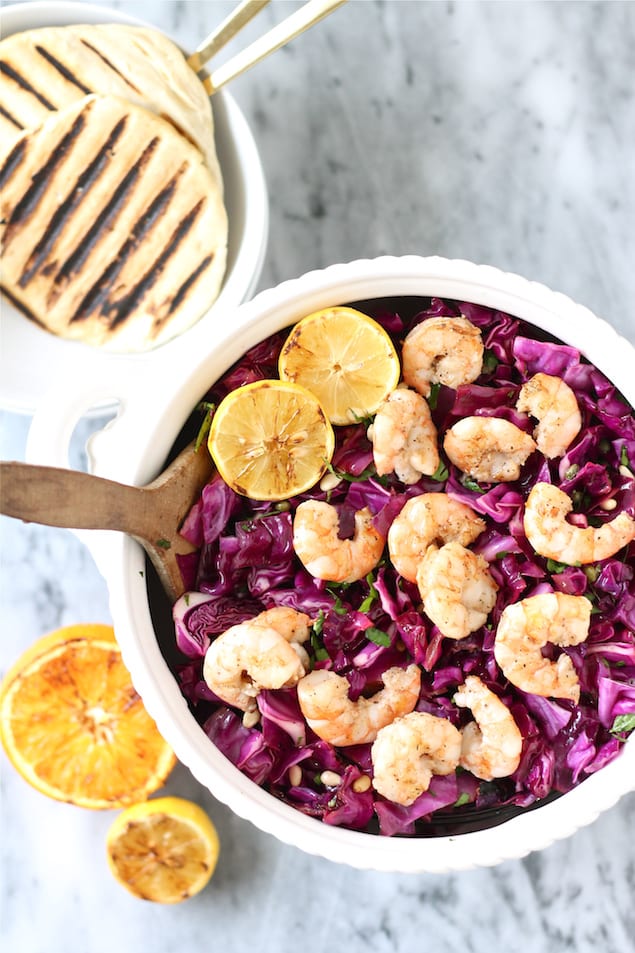 My dad's side of the family is Italian, so anything to do with that cuisine is right up my alley. While his family specialized in home made sauce, pasta, ravioli, and lots of polenta I've always loved the lighter side of Italian dishes. When I think of lighter Italian food, I immediately think of grilled fish and vegetables or even pizzas and a chilled glass of wine in the summer. I decided to go the first route and make a grilled shrimp and radicchio salad with a grilled citrus vinaigrette and my new favorite bread, piadina.
Piadina is essentially an Italian tortilla, and since I could grill it and put some of Colavita's Roasted Garlic Extra Virgin Olive Oil on it, it seemed like a great vehicle for this salad. Every component of this salad has something that's grilled – the shrimp and radicchio are tossed in simple olive oil-based marinades and cooked to perfection on a hot grill. The vinaigrette is made with grilled citrus, which, if you've never had a grilled lemon or orange, you are seriously missing out. They become a little sweeter and have a great smoky flavor that makes the vinaigrette really special. Add in the capers, pine nuts, and fresh parsley and you've got a salad that would be welcome at any Italian Summer Grilling party.
This recipe uses quite a few different Colavita products all of which I absolutely love (The roasted garlic olive oil? Get out of town, it's so good); but I have to tell you, the Colavita flour is a game changer – I've used it in everything from pasta dough, to piadina, and to pizzas – it's just amazing.
Grill Like an Italian with Colavita: Grilled Radicchio and Shrimp Salad with Grilled Citrus Vinaigrette
A lighter, grilled Italian salad tastes smokey like summer with marinated shrimp and grilled radicchio that is served with piadina, a grilled Italian flatbread.
Ingredients
Piadina
1¾ cup Colavita Fine Italian Flour, plus more for dusting
¼ tsp baking soda
¾ tsp of kosher salt
¼ cup unsalted butter, cold and diced
6-8 Tbsp ice cold water
Colavita Roasted Garlic Extra Virgin Olive Oil for brushing
For the radicchio:
1 Tbsp Colavita Extra Virgin Olive Oil
1 Tbsp Colavita Sweet Balsamic Vinegar of Modena IGP
Salt and pepper, to taste
1 head of radicchio, quartered
For the shrimp:
1 Tbsp Colavita Extra Virgin Olive Oil
Salt and pepper, to taste
1 lb of shrimp, peeled and deveined
For the dressing:
2 lemons
1 orange
2 Tbsp Colavita Extra Virgin Olive Oil, plus more for brushing
¼ tsp Colavita White Balsamic Vinegar
Salt and pepper, to taste
To assemble:
2 Tbsp parsley, chopped
1-2 Tbsp Colivita Capers
1-2 Tbsp pine nuts, toasted
Parmigiano cheese, for serving
Instructions
To make the piadina, place the flour, baking soda, and salt in the bowl of a stand mixer with the dough hook attachment. Mix to combine on low, then add the butter in slowly, about 4-5 pieces at a time. Mix until all of the butter has been added and the mixture is crumbly. Add the water, 1 Tbsp at a time, until a ball has formed around the dough hook. Once formed, knead in the mixer for about 5 minutes until smooth. Remove the dough from the mixer and place on a lightly floured surface. Divide the dough into 4 even pieces. Shape into a disc; about 4-5 inches across. Wrap the individual discs in plastic wrap and place in the fridge for at least 30 minutes.
Once chilled, roll the discs into flat circles on a lightly floured surface, about ⅛ of an inch thick. Brush both sides with the roasted garlic olive oil. Preheat your grill and place the dough on the grill and cook for 3-4 minutes a side, until grill marks appear and the bread is bubbly. Remove from the grill and wrap in a towel until ready to use.
For the radicchio, in a small bowl combine the olive oil, balsamic vinegar, and salt and pepper. Whisk to fully incorporate then pour into a shallow dish. Place the radicchio in, cut side down. Marinate for around 45 minutes room temperature, every so often flipping the radicchio to make sure all of the sides have been able to absorb the marinade. On a hot grill, cook the radicchio until slightly blackened, but not charred. Once it has cooked through, remove and coarsely chop and place in a large bowl.
For the shrimp, whisk together the olive oil and salt and pepper. Place the shrimp in and coat evenly. Place the shrimp on a grill pan (or use soaked bamboo skewers) and cook about 2-3 minutes a side until pink and tightly coiled. Remove from heat.
For the grilled citrus vinaigrette, cut the lemons and orange in half and brush with olive oil. Grill on high heat for 2-3 minutes. Remove and juice. You need about 1 Tbsp lemon juice and 1 Tbsp orange juice. Whisk in the extra virgin olive oil and white balsamic vinegar. Season with salt and pepper. Set aside.
To assemble the salad, fold the parsley, capers, and toasted pine nuts into the bowl with the radicchio. Pour in a little of the vinaigrette and toss. Add more as desired. Top with the grilled shrimp and serve with the piadina.
Taylor McBride
Taylor is a self-taught cook currently living in Charlotte, NC. Having grown up around a family of great cooks, Taylor has always had a passion for food, wine, and cocktails. She is a Mexican and Southern food enthusiast and has never met an avocado she hasn't liked. You can find her on her blog, Perpetually Hungry.