PARTNER POST: Dive into the 120 days of summer with Santa Rita wines that pair perfectly with the foods of the season, straight off the grill.
Crispy skin chicken with a side of carrots and buttery potatoes is served with a bright and tangy salsa verde and a cool glass of white Santa Rita wine.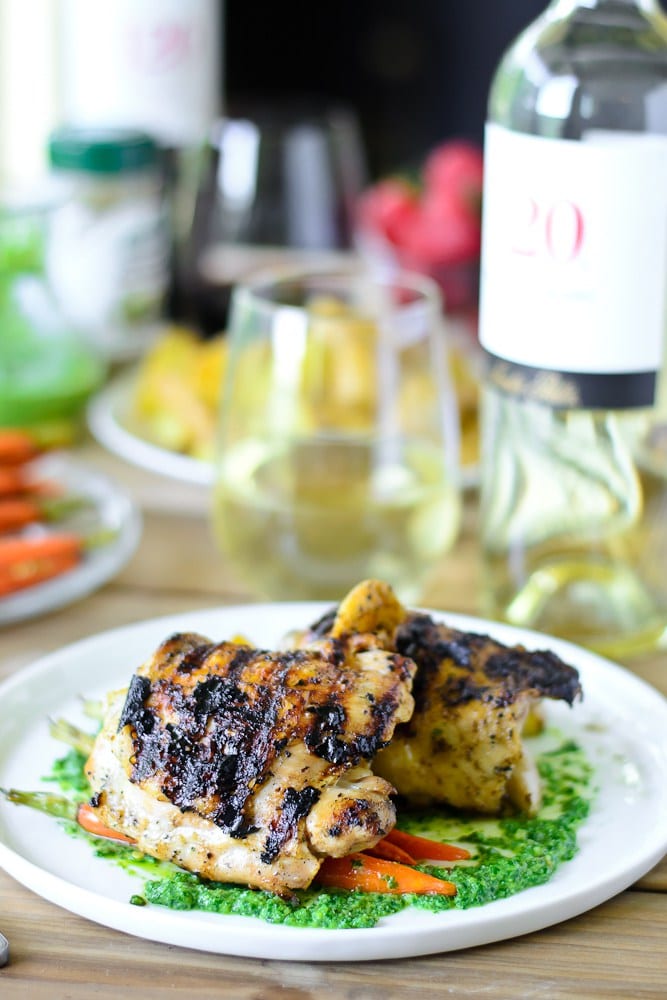 I recently traveled to Portland and we ate a lot of delectable and interesting food, but one of my favorite dishes from the trip was a simple roasted chicken thigh served with roasted carrots, fingerling potatoes, and an amazing green sauce (which we thought was pesto but actually turned out to be salsa verde). The skin on that chicken was golden-brown and crispy, the meat was juicy, the carrots and potatoes were roasted perfectly, and that salsa verde was bright and tangy and good enough to eat with a spoon. It was a riot of colors, flavors, and textures on one plate.
Such a simple dish, but so amazingly executed. We devoured every last scrap of food on the plate, and washed it all down with many glasses of chilled white wine.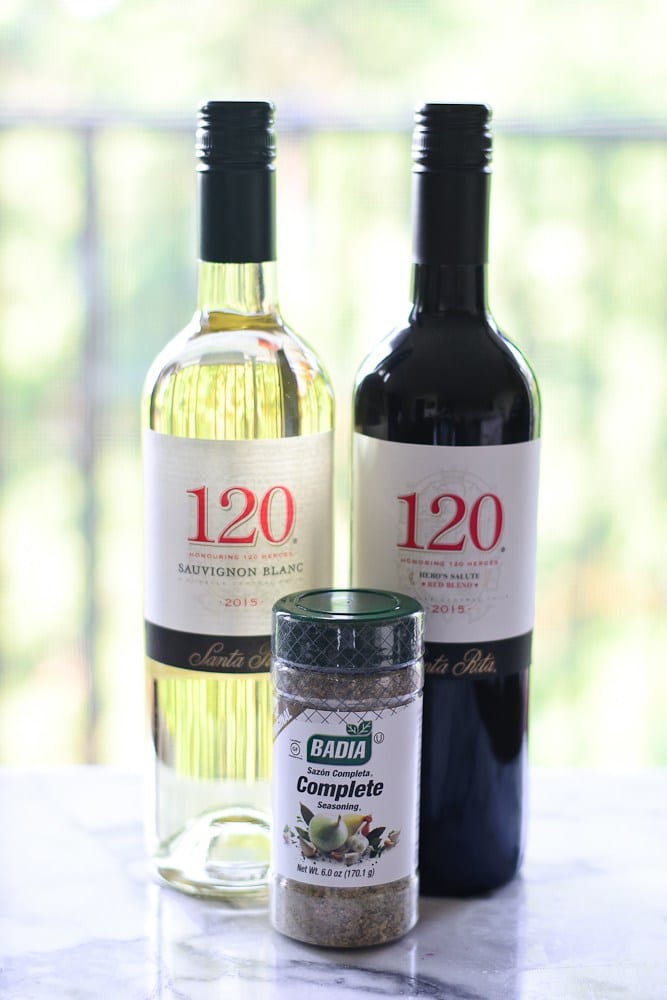 Not gonna lie – I've been dreaming about that chicken dish since we left Portland. Just thinking about it now makes my mouth water. So when Santa Rita asked me to come up with a summer-inspired recipe to pair with some of their wines (a Sauvignon Blanc and a Red Blend from their 120 line), I knew I was going to have to go with chicken.
Grilled instead of baked in honor of summer grilling season, and seasoned with a zesty Badia Complete spice blend (onion, cumin, garlic, and other herbs) for some punch, but otherwise true to the key elements of crispy skin, juicy meat, and complemented by fresh roasted veggies and a bright/herb-y/summer-y sauce. All of which, as it happens, go great with a nice fruity Sauvignon Blanc!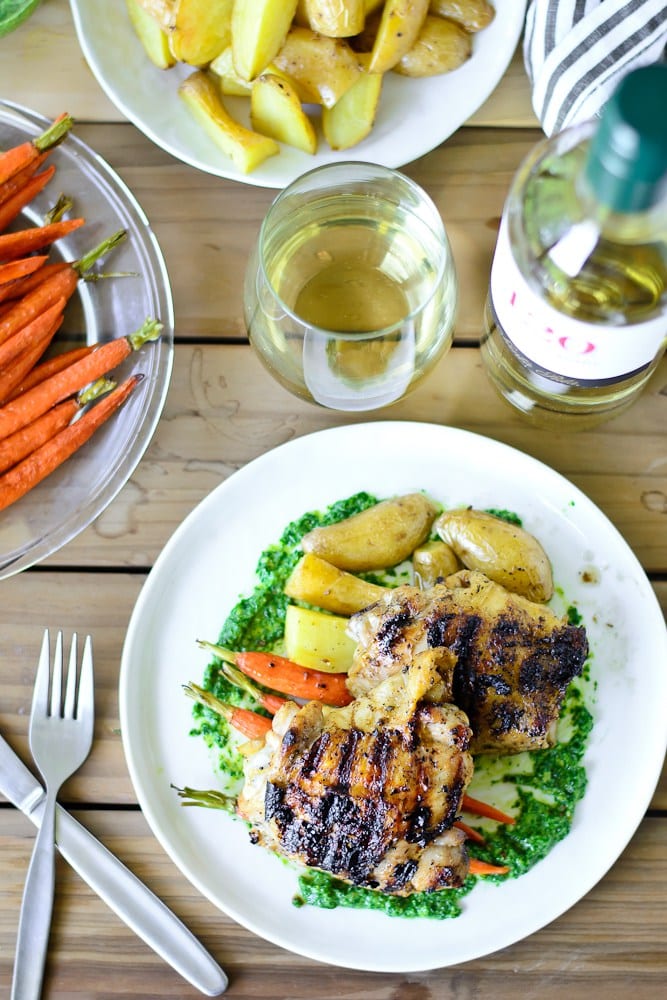 The skin took on a lovely char from the grill and crisped up beautifully (though maybe not quite as crisp as it would have gotten in the oven), while the meat underneath stayed juicy and tender. The Badia spices added a bit of Latin flair to the dish, and was the perfect complement to the earthy root veggies and sharp, tangy herbaceous sauce. Overall, it was hearty but not heavy, not over-rich, and simple yet satisfying.
The fruity, slightly acidic Sauvignon Blanc that we enjoyed with our meal also paired particularly well with the dish. The citrus-y notes of grapefruit, lime and lemon peel helped cut through the richness of the dark meat and fatty chicken skin, and were rounded out by a nice fruity (peachy) finish that lingered on the tongue. I'm generally not a fan of white wine, but I found myself enjoying this one a lot.
For more grilling inspiration with Santa Rita, check out this grilled Chilean chicken and pebre sauce.



d

Tina Hu
Ingredients
Grilled Chicken
4

chicken thighs

bone-in, skin-on

1

tbsp

olive oil

1

tbsp

Badia Complete Seasoning

Salt and pepper

to taste
Italian Salsa Verde
1

large bunch flat-leaf parsley

trimmed off the hard stems and roughly chopped.

1

large egg

hard boiled and peeled

1

garlic clove

peeled

2

tbsp

capers

drained

2

anchovy fillets

de-boned

5

tbsp

olive oil

1

tbsp

red wine vinegar

Salt and pepper

to taste
Instructions
To make your salsa verde:
Place your chopped parsley, egg, garlic, capers, anchovy, olive oil, and red wine vinegar into a blender or food processor and pulse until smooth and creamy.

Season with salt and pepper, to taste.

Pour mixture into a container and seal. Store in the fridge until ready to use.
To cook your chicken:
Preheat your grill to medium-high heat.

Drizzle the olive oil over your chicken thighs. Use your hands to rub the oil all over each piece of chicken so that everything is coated in a thin layer of oil.

Sprinkle Badia seasoning evenly on the top and bottom of each piece of chicken. Use hands to rub seasoning into the chicken.

Season each thigh with salt and pepper to taste.

Place thighs skin-side down on your hot grill. Cook uncoverefor about 10 minutes until skin is crisped and golden brown/charred.

Lower the heat on your grill to medium. Flip thighs over and continue to cook them uncovered for another 20 minutes.
To serve:
Spoon some salsa verde onto a plate.

Add some roasted carrots and potatoes to the plate.

Top with grilled chicken thighs.

Enjoy!
Notes
For my roasted carrots and potatoes, I usually just drizzle them with olive oil, season with salt/pepper, and then roast them at 400 degrees (F) for 25-30 minutes.
Tina Putzing
I am an attorney, a lover of reality television (esp if food is involved), a stress-eater, a voracious reader, and a shameless sci-fi/fantasy nerd. I love to eat, I love to cook, and I love to make other people eat what I cook.