Grillades and grits are one of the two most wonderful things to eat for brunch in New Orleans.
By Jennifer Abbott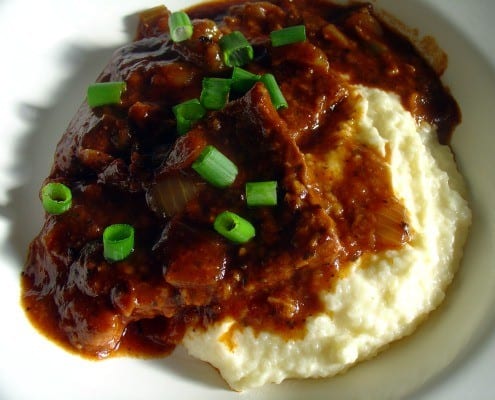 If you've never had or heard of grillades and grits, then I apologize for not mentioning them earlier.  They're one of the two most wonderful things to eat for brunch in New Orleans (shrimp and grits being the other).  I've never been to anyplace in town for brunch that didn't offer one or both of these goodies.  Grillades (gree'-awds) are made of beef, veal, or pork; I haven't encountered a rabbit version yet, but I won't be surprised when I do.  The beef is a thin, flat cut of top round or chuck–something that can withstand a long, slow cooking.  It simmers in a pot with the trinity (onion, celery, bell pepper), garlic, and a little jalapeno–not traditional, but I really like it–until the rich broth thickens and intensifies, so what you get is a powerfully flavored beef "stew" that is perfect over creamy cheese grits.  This is a great Louisiana recipe to try if you're hankering for some thick, rich goodness but you don't feel up to stirring a roux, because you don't have to.  The small amount of flour used in the browning of the beef will produce all the roux you need.
Another great thing about grillades is that they make the best leftovers.  If you're so lucky to have some left in the pot, you can use them to stuff a baked potato (yum), thin it out with stock and make soup (yes), add more tomato and use it as a super-rich pasta sauce (gawd), or serve it over or between some thick toasted bread (mercy).  They're so worth trying out.  If you can't find top round, you can use chuck roast cut into slices, then pounded, or just use pre-cut stew beef.  I've used that before and nobody was sad about it.
Heads up: this dish, like so many of our state's best pot foods, takes a while to cook: about 3 hours.  As Paul's Aunt Sue said, "Louisiana food isn't hard, it just takes all day." So unless you're an early riser, it might be best to make this the night before your pals come over to devour it.  Or just chuck the whole brunch thing and eat it for a cozy weekend dinner.  In fact, that's what we're doing tonight.
Print
Grillades and Grits, a classic New Orleans brunch
---
Author:

Jennifer Abbott Erwin

Total Time:

3 hours 20 minutes

Yield:

8

1

x
Description
Slow-cooked beef or veal in a rich sauce, traditionally served over cheese grits.
---
2

pounds beef top round, 1/4″ thick

1 cup

all purpose flour

5 Tablespoons

vegetable oil, plus more if necessary

1

large onion, diced

1

green bell pepper, diced

3

stalks celery, diced

1

jalapeno pepper, seeded and minced

3

cloves garlic, minced

1 teaspoon

dried oregano

1 teaspoon

dried thyme

1 teaspoon

dried basil

1 1/2 teaspoons

Creole seasoning (such as Tony Cachere's)

2 cups

beef stock

14 oz

. crushed tomatoes or tomato puree

2

bay leaves
dash of Worcestershire sauce, to taste
pinch of cayenne pepper, to taste
sliced green onion tops, for garnish

1 cup

old-fashioned grits

5 cups

milk (any kind)

1 1/2 cups

grated cheese (cheddar, pepper jack, goat, or a combination)
Tabasco sauce, to taste
sliced green onion tops, for garnish
---
Instructions
Cut the top round into pieces about 2″ square. Place the flour in a shallow dish, season well with salt and pepper (about 1 teaspoon each), and dredge the beef pieces in the flour to coat.
Heat a large (12″) skillet with deep sides over medium-high heat. Add the vegetable oil and brown the beef in batches, about 5 minutes on each side. This will probably take 3 batches. As the pieces are browned, remove them to a plate. It's okay if some of the coating sticks to the bottom of the pan; if the stuck on bits start burning too fast, add a little more oil to the pan with each batch.
When all the beef is browned, add the onion, bell pepper, and celery to the skillet, along with a few tablespoons of the beef stock, stirring up the burned-on bits. Saute for about 10 minutes, until softened. Add the garlic and jalapeno and saute a couple of minutes.
Add the oregano, thyme, basil, Creole seasoning, beef stock, crushed tomato, and bay leaves. Stir well and bring to a simmer over medium-high heat. When the liquid simmers, nestle the beef pieces back into the skillet, making sure each piece is covered with liquid. Reduce the heat to very low, cover the pan, and simmer slowly for two hours, stirring now and then.
Check the beef at this point for tenderness: the goal is fork-tender pieces that will break apart if pushed with a wooden spoon. Depending on the cut and thickness of your beef, you might need to simmer up to another hour. Leave the cover on for the final cooking unless you want a thicker gravy; in that case, leave it off for as long as you like. Taste the gravy for seasoning; I like to add a little Worcestershire and cayenne at the end.
Meanwhile, make the grits: In a 5-quart pot, bring the milk and 1 teaspoon of salt to a simmer over medium-high heat. Stir the milk from time to time to make sure it doesn't burn onto the bottom of the pot while it heats up. When it simmers, stir in the grits (whisking is best to prevent lumps). Reduce heat to low, cover the pot, and cook for 15 to 20 minutes, stirring occasionally, until the grits and thick and tender. Turn off the heat and stir in the cheese. Season with salt and black pepper. I like to add a little Tabasco because the vinegar in it sparks the grits a bit.
Serve grillades and gravy ladled over grits in shallow bowls, topped with green onions.
Prep Time:

20 mins

Cook Time:

3 hours
Jennifer Abbott
Jennifer Abbott is a writer, music teacher, Southern food enthusiast, and soup aficionado. She lives in New Orleans and blogs about cooking and dining at Food Orleans.