PARTNER POST — Grilling season is here and it is time to explore Italian grilling with authentic ingredients from Colavita.
Polenta takes on a whole new personality when grilled with truffle steaks and served with zucchini salad.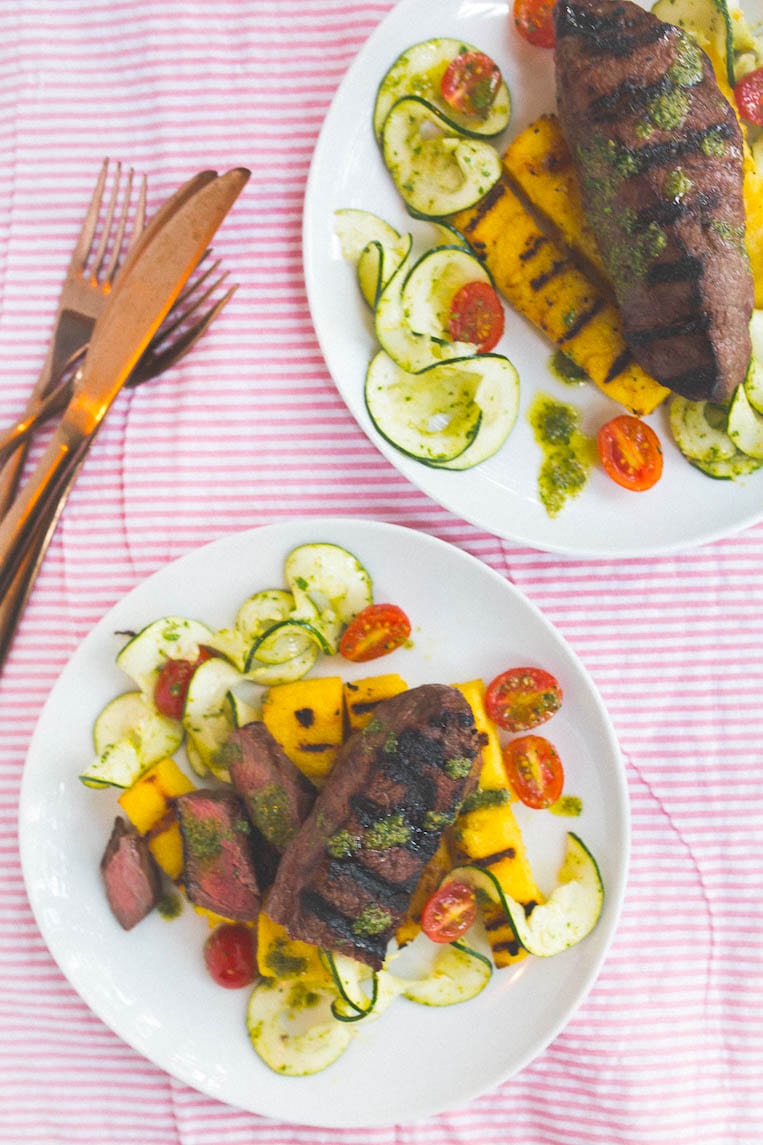 For an iconic dose of wet hot American summer, today's post is about the first time I fired up the grill this spring to make a couple of balsamic glazed grilled truffle steaks and polenta cakes over a bed of zucchini and grape tomato salad with Italian salsa verde. Last month, Colavita, makers of fine Italian ingredients, sent me a heap of their products to try out and use in our summer grilling.
The beauty of Colavita's products, as I've found in the weeks that I've been luxuriating in them, is their versatility and robust flavor. I've loved that I can use their products even when I'm not specifically making an Italian dish and that, on the nights that I am cooking Italian, Colavita's products allow me to really let the Italian influence sing.
The most work-intensive part of this balsamic glazed grilled truffle steak and polenta cakes is prepping the polenta to be grilled. You can do this in advance, preferably the morning of, and refrigerate the polenta to give it time to solidify. Letting the polenta solidify is not a process that can be rushed. Trust me on this — I popped my first batch of polenta cakes in the refrigerator for around 45 minutes, and they fell apart on the grill. It's not pretty. Give your polenta time to rest.
After chilling the polenta, remove it from the pan and slice it into thick hunks. The next step requires drying the polenta hunks out slightly in the oven. This phase is also important because it further solidifies the polenta, making it robust enough to stand up to the high heat on the grill.
Grilling the polenta is the final step, and boy, does it really kick these little cakes up a notch. The polenta gets charred crispy on the outside while remaining soft and mealy on the inside. Even with the added steps of refrigerating and baking the polenta, grilling them outside was still much more pleasant than standing over a hot stove on a warm spring day, stirring polenta.
See Also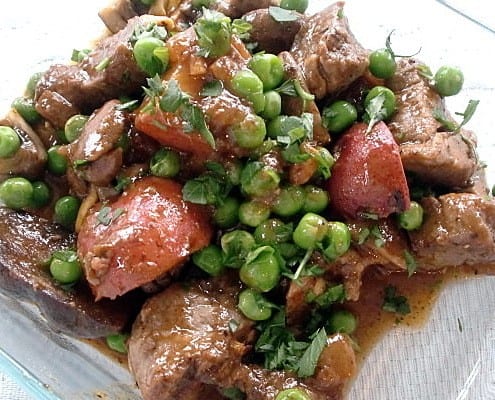 After I finished grilling my polenta and steaks, I let both rest for awhile under a loose tent of aluminum foil while I prepped a fresh zucchini salad with Italian salsa verde.
The end result was a bright, summery steak dish full of color, although I'm not sure this recipe is an easy weekday meal. Making both the salsa verde and the polenta in advance definitely helps cut down prep time as dinnertime gets near, requiring just grilling a few steaks and throwing together the zucchini and grape tomato salad as the final steps. The salsa verde, made mostly of parsley, capers, olive oil, garlic and lemon, is a zesty punch for the crunchy zucchini and juicy grape tomatoes. Colavita's white truffle balsamic glace, which I rubbed on each of my steaks, is other-wordly. The earthiness of the white truffles invades your nose and throat on first bite, with the sweet balsamic following a half-second later. I know there are a lot of great ways to eat steak, but eating a steak slathered in this glace makes you momentarily forget the others.
Print
Author:

Ann Kaufman

Category:

Main

Cuisine:

Italian
FOR THE STEAK:
1.5

lbs sirloin or ribeye (trimmed and cut into

4

steaks)

3 tablespoons

Colavita Original White Truffle Balsamic Glace

1 tablespoon

Colavita Organic Extra Virgin Olive Oil (divided)
Rachael Ray Salt from the Sea salt grinder (to taste)
Rachael Ray Black Peppercorns pepper grinder (to taste)
FOR THE POLENTA:
1 cup

Colavita Instant Polenta Cornmeal

2 cups

low-sodium chicken broth

1.5 cups

water

1/2 teaspoon

salt

1 tablespoon

Colavita Organic Extra Virgin Olive Oil
FOR THE SALSA VERDE AND ZUCCHINI SALAD
3

zucchini (washed and spiralized with a ribbon blade)

1.5 cups

grape tomatoes (halved lengthwise)

1.5 cups

parsley (loosely packed and chopped)

1 tablespoon

lemon juice (approximately the juice from

1/2

lemon, plus zest from

1/2

lemon)

1/2 cup

olive oil

2

cloves garlic

1/4 cup

Colavita capers (drained)

1 tablespoon

Colavita White Balsamic Vinegar
Instructions
Make ahead: prepare the polenta. Bring the water and broth to a boil, then add salt. Slowly add polenta, whisking the entire time to prevent clumping. Reduce heat to medium low and simmer, stirring frequently for approximately 5 minutes until polenta reaches a thick consistency (like grits). Remove from heat and season with salt and pepper to taste. Pour polenta into a lightly greased round cake pan and let cool, then cover and refrigerate at least 2 hours.
Make ahead, step 2: Prep the salsa verde. In a small food processor, blend parsley, lemon juice, lemon zest, garlic, capers and balsamic vinegar. While food processor is running, add olive oil in a slow stream until fully incorporated. Remove from food processor, transfer to a bowl and cover. Do not refrigerate.
Remove steaks from refrigerator approximately 30 minutes before grilling and spread olive oil and balsamic glace evenly over steaks (I use my hands to make sure an even coat is applied). Let sit and come to room temperature.
Preheat oven to 350 degrees and remove chilled polenta loaf from pan (invert onto a cutting board and rap sharply with the heel of your hand, or run a dull knife along the outside edge of the pan to loosen the polenta). The polenta should release from the pan in one solid shape.
Cut polenta into 1-inch strips, then arrange on a pan lined with Silpat (silicone baking sheet liner) or aluminum foil. Bake polenta strips in oven for 5-7 minutes, until the outside is just slightly dry to the touch. Remove from oven and brush strips lightly with olive oil.
Heat grill to high heat. Grill steaks, approximately 3-4 minutes per side for medium rare. Remove steaks from heat and place on a platter covered loosely with aluminum foil. If your grill is large enough, grill the polenta cakes at the same time, approximately 3-4 minutes per side. Remove polenta and transfer to a platter and also cover loosely with foil.
Toss zucchini and grape tomatoes in a large bowl with salsa verde. Serve with polenta and steak.
Ann Kaufman
Ann Kaufman is an emotional food enthusiast who writes about food at Grits & Chopsticks. When she's not writing about food, she's caring for her two young children, lawyering and thinking about her next meal.