PARTNER POST — Grilling season is here and it is time to explore Italian grilling with authentic ingredients from Colavita.
A vegan Italian menu made on the grill is possible. Seitan and vegetable kebabs, grilled pizza, salad, and an olive oil and strawberry cake with balsamic makes for a mouth-watering meal.
By Kelly Peloza
Click here to start grilling like an Italian and for a $1 off Colavita products or 15% off at their online store.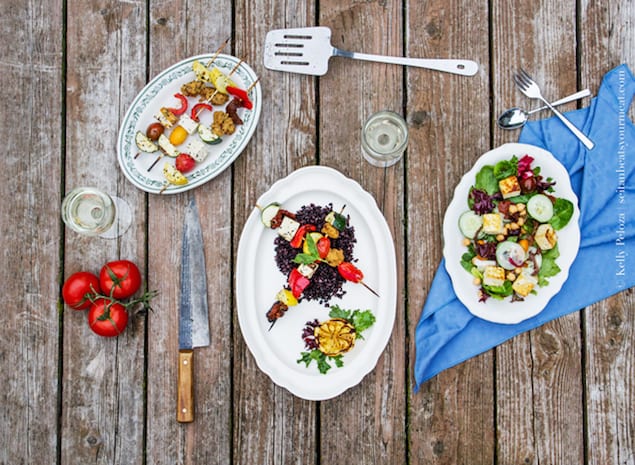 I love creating vegan spreads with all different cuisines, so I was excited to create a whole menu on the grill with Italian ingredients from Colavita.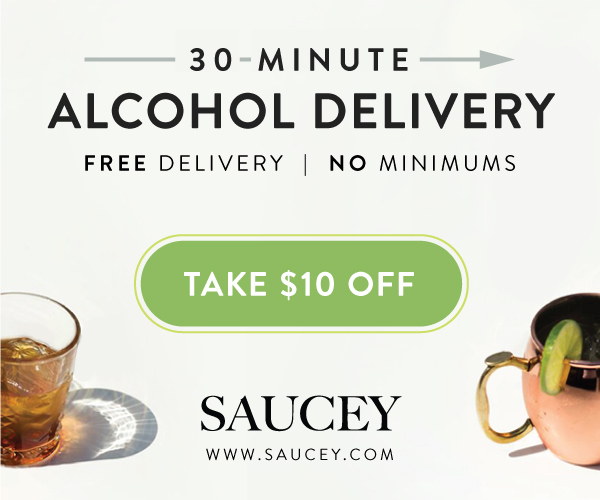 The first dish I made was antipasto kabobs with chick seitan, two kinds of tomatoes, tofu "cheese", zucchini, summer squash, and red peppers, marinated and grilled. These were an excellent main dish over rice, and can be made with any veggies you want.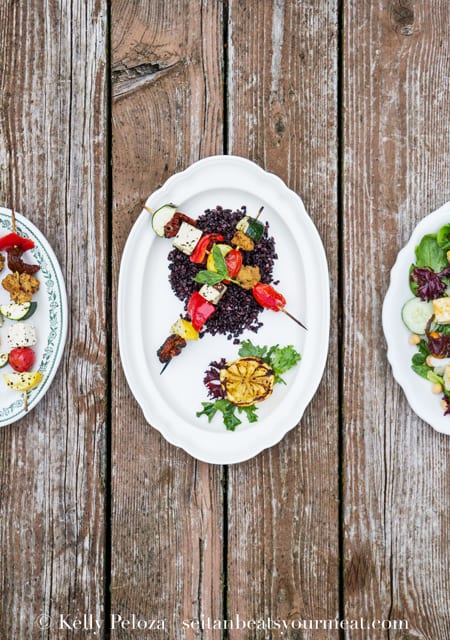 Grilled Antipasto Seitan Kabobs
I used Upton's Chick Seitan, but the texture of their Traditional Seitan would be more sturdy for kabobs.
Ingredients
Marinade:
½ cup Colavita Garlic Extra Virgin Olive Oil
¼ cup Colavita White Balsamic Vinegar
2 tablespoon lemon juice
1 teaspoon basil
Freshly ground black pepper
Seitan and veggies:
8 ounces seitan*
1 small zucchini
1 small summer squash
½ package tofu, pressed
½ red bell pepper
8 Colavita Sun-dried Tomatoes (in oil)
8 cherry tomatoes
Skewers
Cooked Scotti Black Rice or other grain, for serving
Instructions
Mix all of the marinade ingredients in a shallow, rectangular dish. There are going to be 7 pieces on each of the 8 skewers, so break the seitan into 8 pieces, chop the zucchini and summer squash into 8 pieces, slice the tofu into 8 cubes, and cut the red pepper into 8 pieces. The cherry tomatoes and sun-dried tomatoes can be used whole. Assemble your kabobs by spearing one of each item on each skewer.
Place the kabobs in the marinade dish and let marinate for at least 2 hours. I reused the leftover marinade with the rest of the tofu and throw in the salad below, so don't dump your marinade just yet.
Fire up and oil up your grill on medium-high heat, and grill each side for a few minutes, or until the vegetables are cooked and have grill marks. Cook time will vary, depending on your grill. Serve over rice.
I'm all about reusing ingredients and sauces in other dishes to create a comprehensive meal, so this salad includes tofu marinated in the kabob marinade. The tofu and a garlic sun-dried tomato raspberry vinaigrette make an otherwise simple salad into a salad you actually want to eat.

Italian Tofu Salad
Ingredients
Salad:
½ block tofu, pressed and cubed
5 ounces mixed greens
1 can chickpeas (save the liquid to make the cake recipe below!)
1 cup cherry tomatoes
1 cup cucumber slices
Dressing:
½ cup Colavita Raspberry Wine Vinegar
¼ cup Colavita Roasted Garlic Olive Oil
¼ cup Colavita Sun-dried Tomatoes (in oil), chopped
Freshly ground black pepper
Instructions
Marinate the tofu in the leftover kabob marinade, or in your marinade of choice. Grill or pan fry the tofu until it's crispy on all sides. Toss the tofu with the rest of the salad ingredients in a large bowl.
Mix all of the dressing ingredients in a small bowl and pour over the whole salad, tossing to coat, or set on the side and let people add dressing as they want.
Since I don't normally grill, this was my first time making grilled pizza, and the process was very trial and error (I'm glad I made two!). I kept this pizza simple, but you can add whatever toppings you'd like. The Kitchn has a good post on how to grill pizza, so check that out if this is your first time grilling pizza.

Grilled Vegan Pizza
Ingredients
1 batch prepared pizza dough (I used the Vegan with a Vengeance recipe)
¾ cup marinara
1 pint small heirloom tomatoes, sliced
½ onion, sliced into rings
1-2 cups vegan mozzarella cheese, as desired
Fresh herbs, as desired
Colavita Extra Virgin Olive Oil
Instructions
Preheat grill to 550-600°F. Divide your pizza dough into two pieces (one large pizza will be difficult to work with at the grill) and roll out into circles. Oil the pizza dough and the grill very well. Grill each of the rolled out doughs on one side for 2-3 minutes, then transfer to a baking sheet, uncooked side down.
Spread the marinara out on each crust (the grilled side) and arrange the toppings as you like. Transfer to the grill, and cook until the bottom is grilled and the veggies and cheese are cooked. If the cheese doesn't melt all the way (as vegan cheese sometimes behaves) and you're worried about burning the crust, pop the pizza under your oven's broiler for a few minutes.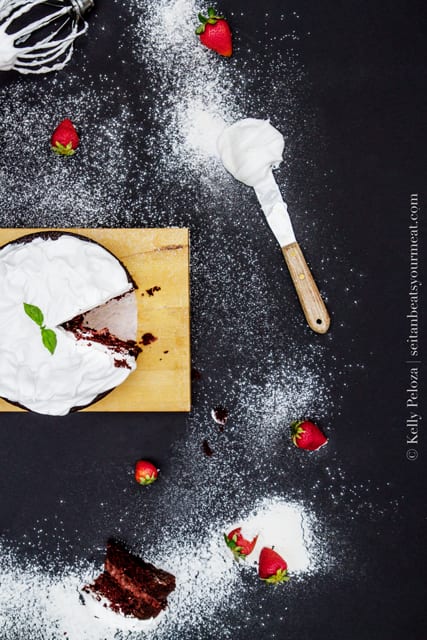 Because I can't just stop at making dinner, dessert was necessary. This cake is filled with balsamic-glazed strawberries, uses olive oil in place of vegan margarine or vegetable oil, and is topped with Italian meringue dollops and a sprig of fresh basil. You don't get more Italian than that. I've been using every opportunity I have to make aquafaba (made from chickpea liquid) meringue, and it was perfect on this cake. I didn't cook the meringue, but you could use a pastry torch to brown the dollops for a golden, crispy exterior.

Chocolate Olive Oil Cake with Strawberry Balsamic Filling and Meringue Topping
Recipe Type:
Dessert, Cake
Serves:
Makes a 2-layer 9-inch round cake
Ingredients
Cake:
2½ cups flour
⅔ cup cocoa powder
2 teaspoons baking soda
1½ cups sugar
½ teaspoon salt
¾ cup Colavita Extra Virgin Olive Oil
2⅓ cups non-dairy milk
2 teaspoons apple cider vinegar
2 teaspoons vanilla extract
Filling:
1½ cups sliced strawberries
1 tablespoon sugar
1 tablespoon Colavita Balsamic Glace
1 teaspoon cornstarch
Meringue topping:
½ cup aquafaba (liquid from a can of chickpeas)
⅔ cup sugar
¼ teaspoon cream of tartar
2 teaspoon vanilla
Instructions
Preheat oven to 350°F.
For the cake: Sift together the flour, cocoa powder, and baking soda in a mixing bowl. Add the sugar, salt, and cayenne and mix until combined.
Make a well in the middle of the dry ingredients and add the olive oil, non-dairy milk, apple cider vinegar, and vanilla extract. Mix all ingredients well.
Pour batter into two prepared 9-inch cake pans and bake for 28-30 minutes, or until a toothpick in the center of the cake comes out clean. Let cakes cool before proceeding.
For the filling: Combine the sliced strawberries, sugar, Balsamic Glace, and cornstarch in a small saucepan over medium heat. Stir frequently until the sugar and cornstarch dissolves, and thickens into a syrup, about 6-8 minutes. Remove from heat and let cool. Taste and add more Balsamic Glace if you want a stronger flavor.
For the meringue topping: Pour the liquid from the can of chickpeas into the bowl of a stand mixer (or use electric hand mixers…but you don't want to do this by hand!). Add the cream of tartar. Whip the bean juice with the whisk attachment until it starts to thicken. Gradually add the sugar and vanilla and continue whipping. This process should take 6-8 minutes, but it can take up to 15 or 20 minutes.
To assemble: Pour the strawberry filling over one cake layer and place the other layer on top. Top with dollops of meringue, then garnish with fresh basil and strawberries, if desired.