PARTNER POST — Grilling season is here and it is time to explore Italian grilling with authentic ingredients from Colavita.
A vegan Italian menu made on the grill is possible. Seitan and vegetable kebabs, grilled pizza, salad, and an olive oil and strawberry cake with balsamic makes for a mouth-watering meal.
By Kelly Peloza
Click here to start grilling like an Italian and for a $1 off Colavita products or 15% off at their online store.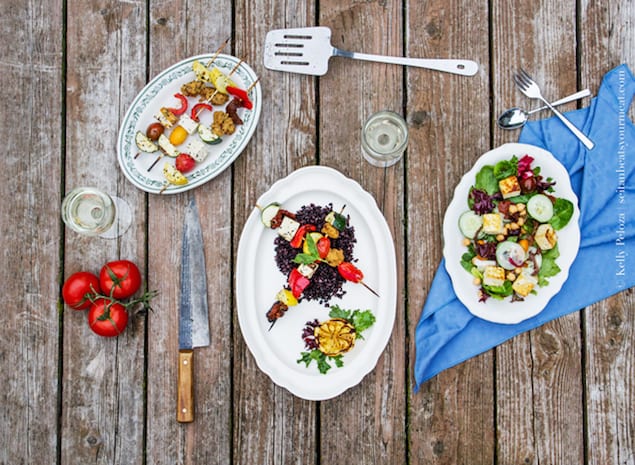 I love creating vegan spreads with all different cuisines, so I was excited to create a whole menu on the grill with Italian ingredients from Colavita.
The first dish I made was antipasto kabobs with chick seitan, two kinds of tomatoes, tofu "cheese", zucchini, summer squash, and red peppers, marinated and grilled. These were an excellent main dish over rice, and can be made with any veggies you want.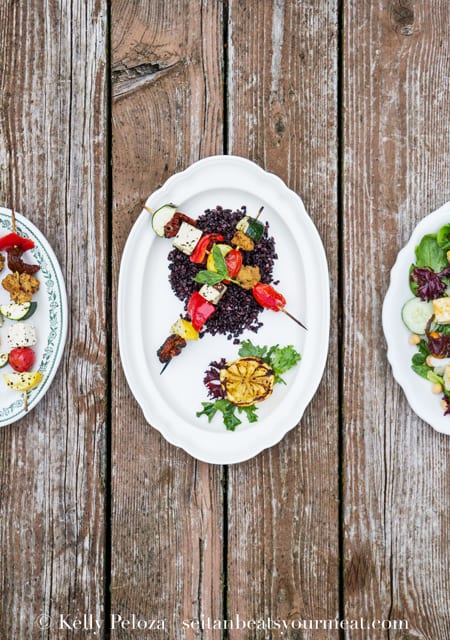 I'm all about reusing ingredients and sauces in other dishes to create a comprehensive meal, so this salad includes tofu marinated in the kabob marinade. The tofu and a garlic sun-dried tomato raspberry vinaigrette make an otherwise simple salad into a salad you actually want to eat.
Since I don't normally grill, this was my first time making grilled pizza, and the process was very trial and error (I'm glad I made two!). I kept this pizza simple, but you can add whatever toppings you'd like. The Kitchn has a good post on how to grill pizza, so check that out if this is your first time grilling pizza.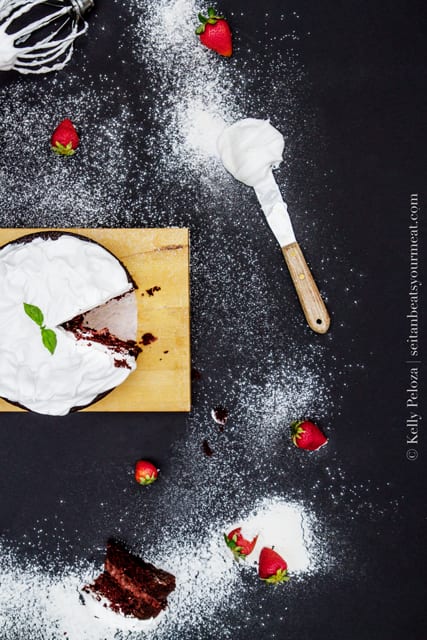 Because I can't just stop at making dinner, dessert was necessary. This cake is filled with balsamic-glazed strawberries, uses olive oil in place of vegan margarine or vegetable oil, and is topped with Italian meringue dollops and a sprig of fresh basil. You don't get more Italian than that. I've been using every opportunity I have to make aquafaba (made from chickpea liquid) meringue, and it was perfect on this cake. I didn't cook the meringue, but you could use a pastry torch to brown the dollops for a golden, crispy exterior.
Kelly Peloza
Kelly Peloza is a Chicago-based food stylist and photographer at Kelly Peloza Photo (kellypelozaphoto.com), and a vegan cookbook author. She runs a recipe and food photography blog called Seitan Beats Your Meat (seitanbeatsyourmeat.com).