A deliciously luscious chocolate chip cookie skillet is updated with butterscotch for an extra decadent dessert. Don't forget ice cream, too.
By Jocelyn Delk Adams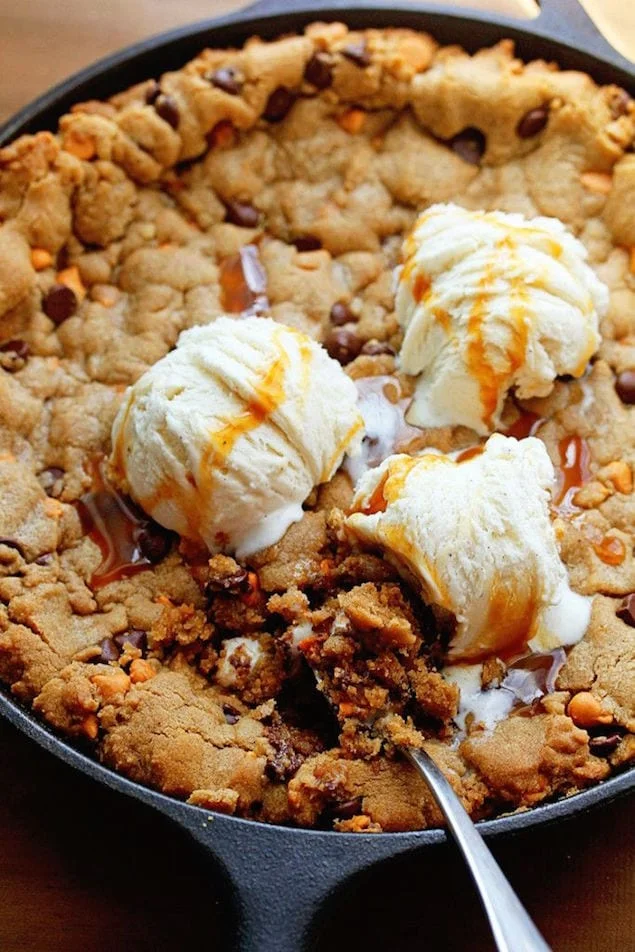 Give me one cookie, and I'm a happy gal. But give me a giant chocolate chip cookie skillet, and I'm in heaven.
Imagine a gooey, chewy chocolate chip cookie with bits of butterscotch baked until just soft in a cast iron skillet. Nice and warm right out of the oven, imagine topping it with big scoops of vanilla ice cream that melt along the surface. This is pure decadence. And you deserve it all!
See Also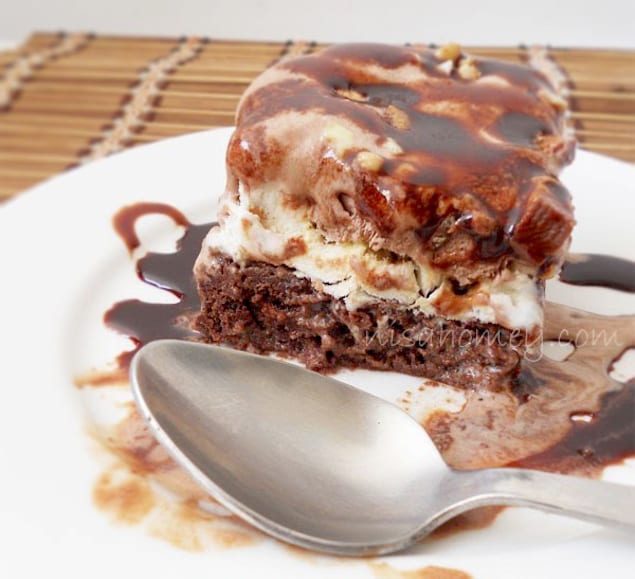 This chocolate chip cookie skillet isn't for those who want to half step in the cookie department. This is about having one of those desserts that completely satisfies every cookie craving and addiction inside of you with one single bite. To create the recipe, I started with my favorite chewy chocolate chip cookie recipe. I piled the dough into my cast iron skillet and baked it until just barely cooked. I prefer my cookie underdone but if you want a crispier cookie, you can certainly bake it longer.
I didn't let it cool long, added ice cream and dug right in.

Gooey Chocolate and Butterscotch Chip Skillet Cookie
A deliciously luscious chocolate chip cookie skillet is updated with butterscotch for an extra decadent dessert. Don't forget ice cream, too.
Author:
Jocelyn Delk Adams
Recipe Type:
Baking, Dessert
Ingredients
2½ cups all-purpose flour
2 teaspoons cornstarch
¾ teaspoon salt
1 teaspoon baking powder
1 teaspoon baking soda
1 cup unsalted butter, softened to room temperature
½ cup granulated sugar
1½ cups packed brown sugar
1 large egg plus 2 egg yolks at room temperature
1 tablespoon pure vanilla extract
1 cup chocolate chips
1 cup butterscotch chips
Instructions
In a medium sized bowl, whisk together flour, cornstarch, salt, baking powder and baking soda and put aside.
In the bowl of your mixer, add butter and both granulated and brown sugars and cream together for 3-4 minutes on high until light and fluffy.
Next add in eggs one at a time beating until incorporated. Then add in pure vanilla extract and beat until smooth.
Turn down your mixer to low and add in flour mixture in three intervals beating after each addition until well-combined. Lastly, stir in chocolate chips and butterscotch chips.
Place dough in the refrigerator for at least 1 hour. Two hours is even better.
Preheat oven to 350 degrees.
Spray a cast iron or deep dish skillet with non-stick baking spray.
Pat all of cookie dough into the pan then bake for 20-35 minutes depending on how well done you want the cookie to be.
Cookie may seem underdone but let it cool until warm to begin setting then serve.
Jocelyn Delk Adams
Jocelyn Delk Adams is the founder of Grandbaby Cakes, a food blog inspired by her grandmother devoted to classic desserts and savory recipes, modern trends and showcasing the pastry field in an accessible way. She is a brand ambassador and writer for top brands such as Pillsbury, Better Homes and Gardens, Parade Magazine, Safest Choice Eggs, KitchenAid, Dixie Crystals Sugar, Jif Peanut Butter, and many more. In the short span of 2 years, Grandbaby Cakes has been featured in Better Homes and Gardens, Ebony Magazine, The New York Times Online, Refinery 29, Cupcakes and Cashmere, The Kitchn, Fox News, WCIU, Chicago Social Magazine, the Chicago Sun-Times and Splash Magazine, among others. She is currently writing her first cookbook which will be published in Fall of 2015, and is the founder of A Charitable Confection, an annual anti-violence dessert fundraiser featuring the top bakeries in Chicago. Jocelyn hopes Grandbaby Cakes will inspire a new generation of dessert enthusiasts to learn to bake and not feel guilty about enjoying dessert.