A silky, cheesy pasta sauce gets a kick and an upgrade from goats cheese and chili flakes.
By Anita Mokashi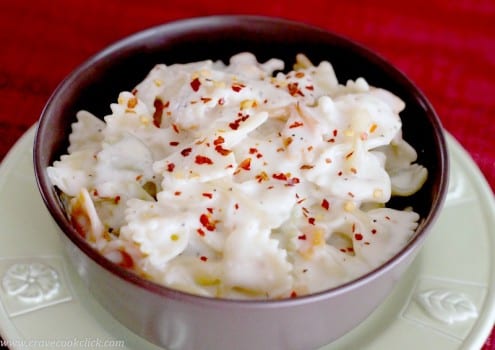 Goat Cheese and Parmiggano Farfalle with Chili Flakes
A silky, cheesy pasta sauce gets a kick and an upgrade from goats cheese and chili flakes.
Ingredients
2 cups of pasta
2 tbsp butter
3-4 garlic cloves chopped
3 tbsp all-purpose flour
1 cup milk
½ cup cream
½ cup goat cheese and parmesan cheese
1 tbsp chilli flakes
1 tbsp pepper powder
salt
Instructions
Cook pasta as per directions.
In a pan, heat butter.
Add chopped garlic.
Add flour and mix properly. Don't let the lumps form.
Now add cream and milk.
Mix everything well. Transfer the mixture to blender. Make a fine paste.
Again transfer the mixture to the pan. Add chilli flakes, pepper and salt.
Let it cook. The white sauce it ready.
In a pan, take white sauce. Add cheese and salt pepper as per taste.
Now add cooked pasta. Heat through, about 1 minute.
Serve it hot.
Anita Mokashi
Anita Mokashi is based in California, but born and brought up in Mumbai, India. Her blog Crave Cook Click is mostly about Indian cooking, but occasionally she shares recipes from other cultures and cuisines too. Anita is also the publisher of a popular photography blog.