These Giant German Chocolate Brownies are simple dark chocolate brownies topped with a thick layer of everyone's favorite coconut-pecan frosting.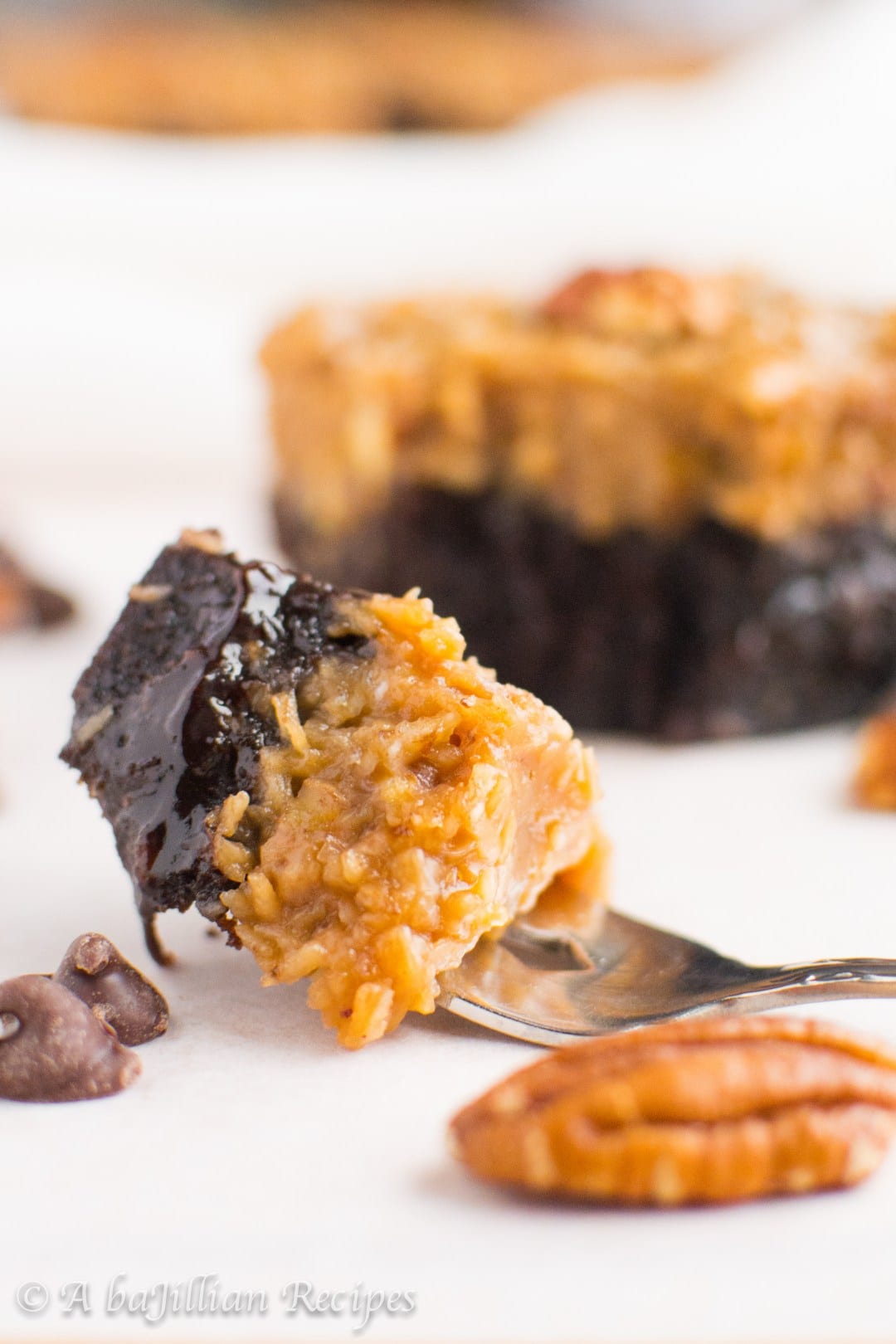 Ok, guys. Life-changing fact of the day: German Chocolate Cake didn't actually originate in Germany.
WHAT???
I know! I'm just as stunned and bewildered as you are!! Why do I feel like my entire life was a lie??
As history notes (AKA, Wikipedia), its roots trace back to the mid 1800's when an English-American chocolate maker named Samuel German created a type of dark baking chocolate for the Baker's Chocolate Company, which was then named after him–Baker's German's Sweet Chocolate. In the 1950's this very chocolate was used in a recipe for "German's Chocolate Cake", created by Mrs. George Clay, a homemaker from Dallas, TX. Eventually, the possessive form (German's) was dropped, making it "German Chocolate Cake".
BOOM! There's your history lesson of the day!
So now that all of you are likely questioning everything in life at this point, allow me to ease your worries with these German Chocolate Brownies…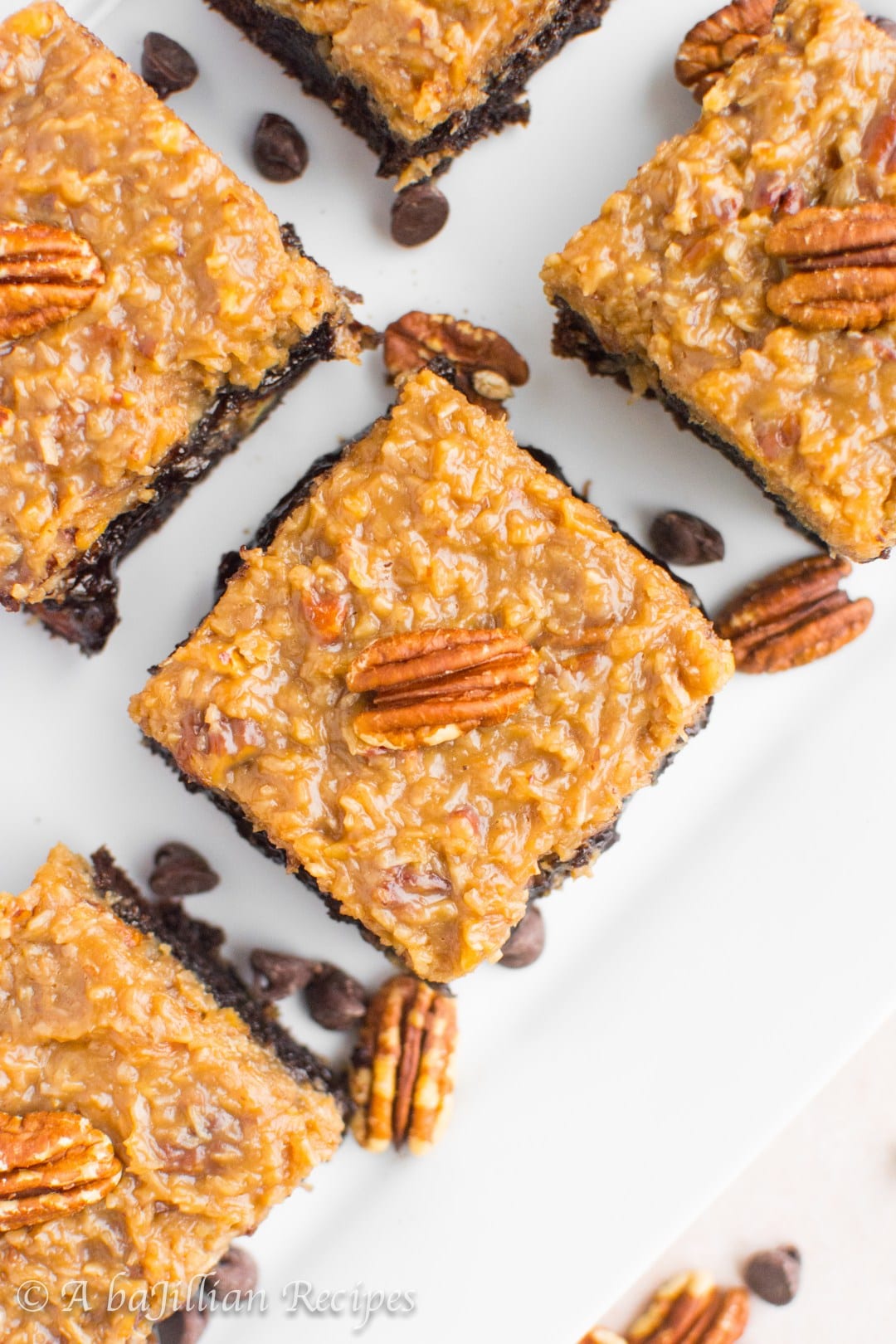 Along with pretty much every single male inhabitant on this planet, I can't get enough German Chocolate Cake in my life. However if I'm being honest, it's not the actual cake I'm into, but that rich and ultra gooey coconut-pecan frosting. AKA, better-than-pretty-much-everything-frosting.
Seriously, if someone just straight up served this stuff in a bowl, I'd chug it down in a millisecond. Oh, and it HAS to be homemade. None of that canned earwax sold by Better Crocker or Pillsbury. (If you've ever fallen victim to this horrendous can of slop, my thoughts and prayers go out to you.) When it comes to coconut-pecan frosting, you can't take any shortcuts. Homemade is the ONLY way to go!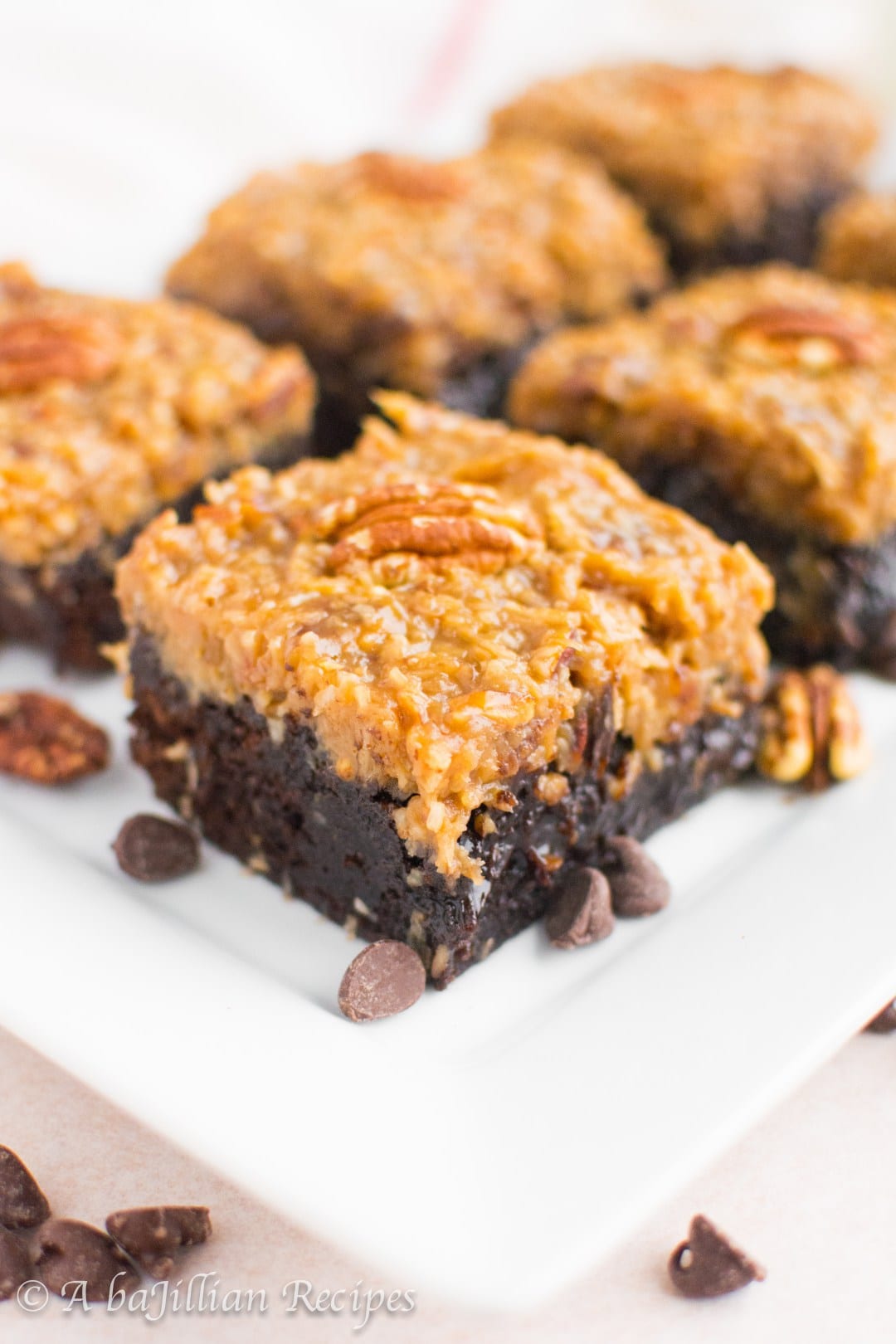 And don't let this frosting of the Goddesses intimidate you. Just because it's the most magical stuff in the entire universe doesn't mean it's difficult. Not only does it come together in less than 10 minutes, but it's probably the most ambrosial frosting you will ever put into your mouth. EVER.
See Also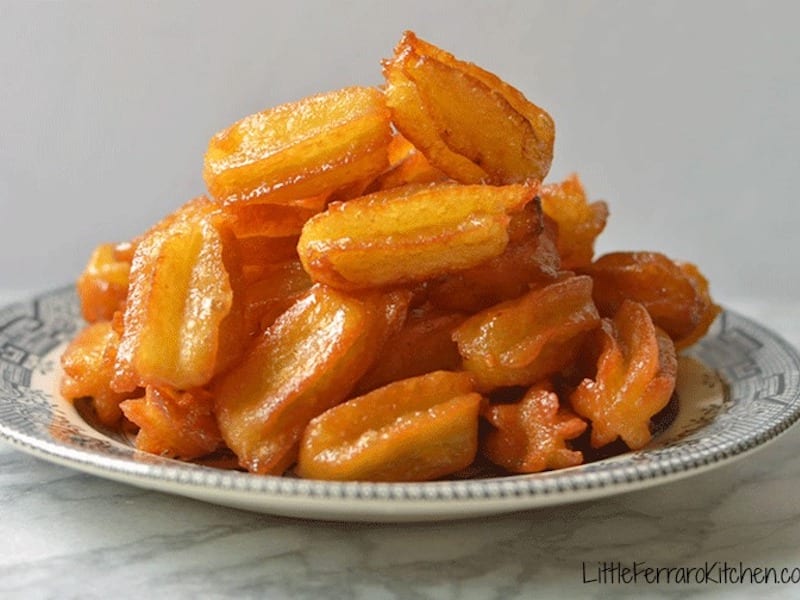 So how does one create this unicorn of a frosting? Well, first it starts out with a couple of egg yolks and some evaporated milk. Whisk that together and then stir in some brown sugar, butter, and salt. Cook over medium heat until boiling and thickened. Remove mixture from the heat, and add the vanilla, pecans, and coconut, mixing until combined. And that's all she wrote, folks!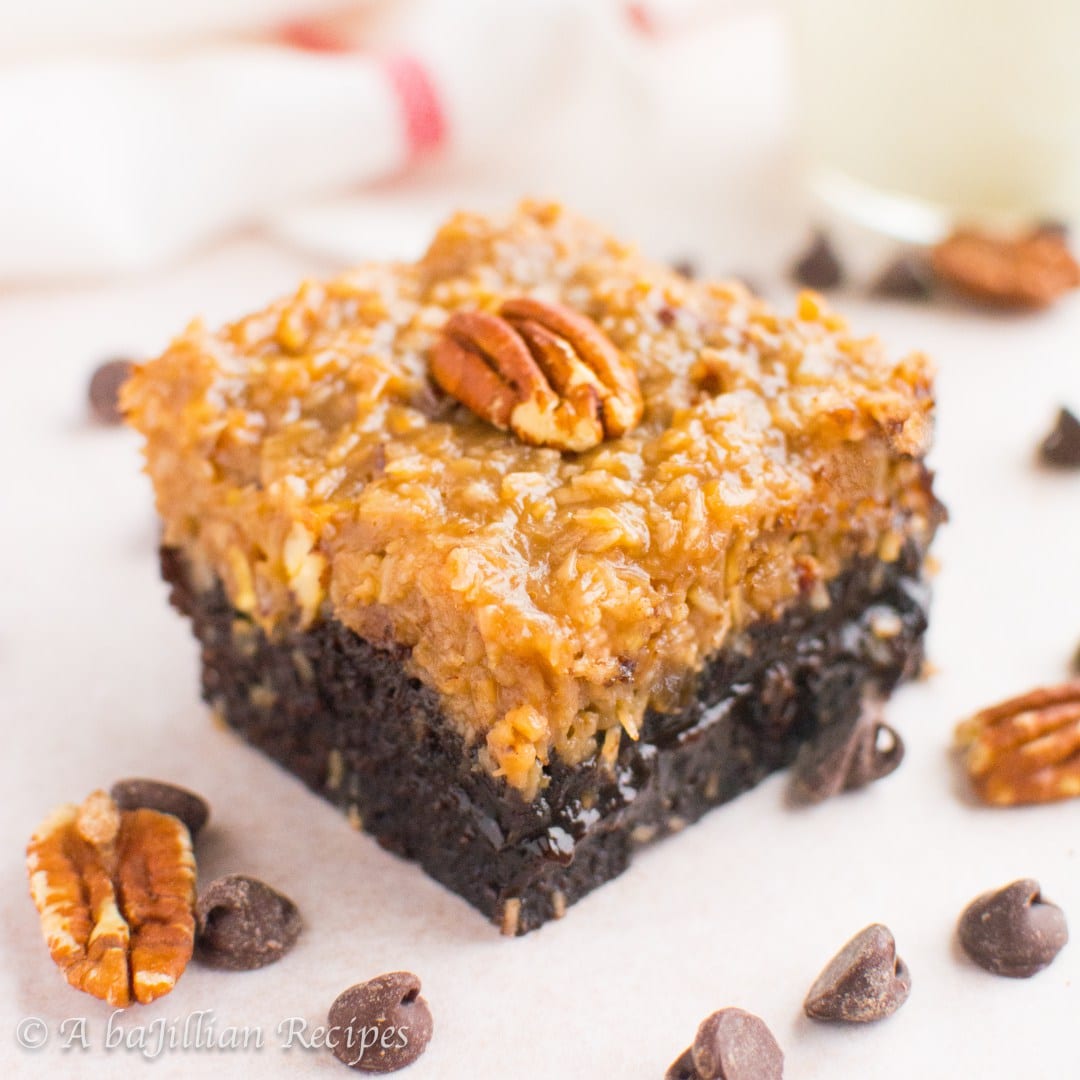 As you can tell, these brownies are NOT lacking in the fudgy department. Combined with the thick and gooey coconut-pecan frosting, this brownie is likely to be a crowd pleaser at any upcoming gathering.
Or in my case, Netflix-and-binge-by-yourself-a-thon.
Click here for the Coconut-Pecan Frosting recipe.
Print

Giant German Chocolate Brownies
---
Brownies:*
3/4 cup

all-purpose flour

1/2 teaspoon

salt

1/4 teaspoon

baking soda

1/2 cup

unsalted butter

1/2 cup

cocoa powder

1 cup

granulated sugar

1/2 cup

brown sugar

2

eggs

1 teaspoon

vanilla
Coconut-Pecan Frosting:
Click the link above for the recipe.
---
Instructions
Make The Brownies:
Preheat the oven to 350ºF and line an 8-inch square baking dish with parchment paper. In a small bowl, whisk together the flour, salt, and baking soda; set aside.
In a medium saucepan over medium heat, melt the butter. Remove from the heat and stir in the cocoa powder until smooth and glossy. Whisk in both sugars. Add the eggs and vanilla, stirring until fully incorporated. Switch to a wooden spoon and stir in the dry ingredients.
Pour batter into the prepared baking dish and bake for 25-28 minutes. Remove from the oven and allow to cool completely.
Make The Frosting:
Click the link above for the recipe.
Assemble:
Once brownies and frosting have cooled to room temperature, spread frosting evenly on top of brownies. Refrigerate for at least an hour or until frosting is fully set.
Notes
*If you're in a rush, you can also just use any regular-size box brownie mix!
**Finely shredded coconut can usually be found in the natural foods bulk section of most grocery stores. If you can't find any, the regular sweetened shredded kind will work too!
Category:

Baking, Brownies, Dessert
Jillian Hatsumi
I'm Jillian, the writer, baker, chef, recipe creator, and amateur (very amateur) photographer of A baJillian Recipes. Though I'm not a classically trained chef, I like to think I know my way around a kitchen pretty well. Aside from baking, cooking, and EATING, I also enjoy acting, couponing (I LOVE saving money!!), running, working out, photography, and playing with my little fluffernutter, Olivia. She's a dog, if you're wondering...