This version of fried rice balls is stuffed to the max with delicious meat and cheese.
By Rina Thee
I love Italian rice but rice this way is the bomb. Especially when it's stuffed with beef, sausage, pepperoni and cheese. Say what? Why would you just make them with plain old rice when you can add all that goodness. You can have them as a side to dinner, a snack or eat them all as a meal. You can even serve them to a crowd. They may look complicated to make but I can assure you they are not. There are many different versions. You can make them plain, with meat and peas, with mushrooms or like this.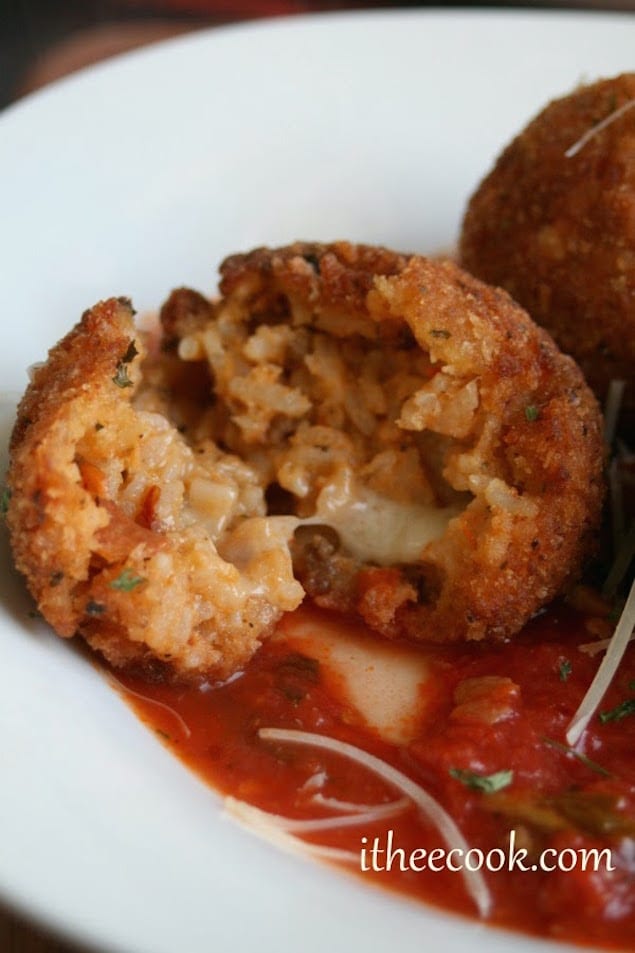 Fried Sicilian Arancini
This version of fried rice balls is stuffed to the max with delicious meat and cheese.
Ingredients
2 oz ground beef
2 sweet italian sausage links
2 oz pepperoni, chopped
4 cups arborio Rice
7½ cups low sodium chicken broth
1¼ cup grated parmesan cheese
12 ciliegine mozzarella balls (small size)
4 eggs
3 tablespoons milk
1 cup flour
3 cups Italian bread crumbs
salt and pepper to taste
canola oil for frying
marinara sauce for serving
Instructions
In a large pot, combine rice and chicken broth and bring to a boil. When water boils, lower heat to a simmer and cover. Cook for 18 minutes or until rice has almost absorbed all the chicken broth. Then let rice stand for an additional 15 minutes.
In a sauté pan, cook ground beef and sausage on medium high heat until well browned, breaking up the meat with a wooden spoon.
Then, in a mixing bowl, combine 2 raw scrambled eggs, cooked rice, ground beef, sausage, pepperoni, 1 cup of bread crumbs, and the parmesan cheese. Mix ingredients together so mixture is well combined. Add salt and pepper to taste.
To form the rice balls, take a baby mozzarella ball and roll 3 tablespoons worth of the rice mixture around it to form a ball, ensuring the cheese is fully covered. Form all rice balls and set aside.
Scramble the remaining eggs with the milk in a bowl. Place the remaining bread crumbs on a separate plate. Take each rice ball one at a time and roll in flour coating completely then dip it into the egg mixture to coat and then in the bread crumbs so they are coated thoroughly. Set aside.
Heat oil to medium high heat and fry the rice balls for about 4-5 minutes or until golden brown, turning as necessary. Remove the rice balls with a slotted spoon. Let stand for 3 minutes and serve with a side of marinara sauce.