Fresh Cranberry Orange and Walnut Muffins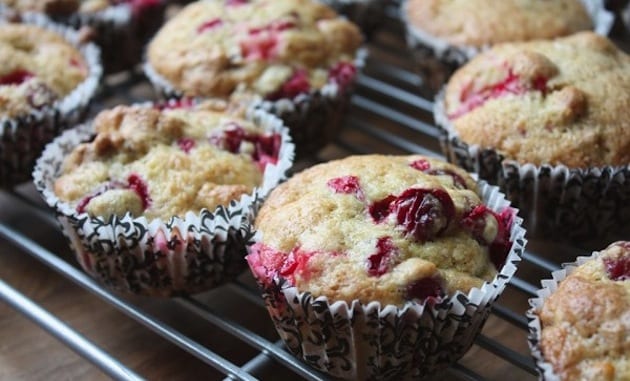 These muffins look like they have gems, dotted with gorgeous juicy cranberry rubies, the perfect snack for breakfast, dessert, and anytime in between.
By Abby Himes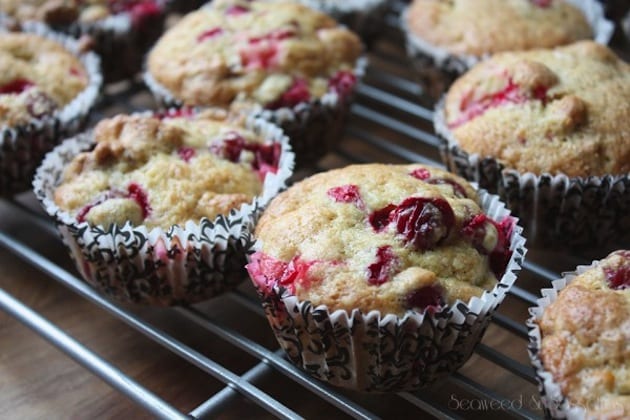 I tell myself they're healthy because there are only 2 Tablespoons of oil in the whole thing. Dressed up in chic little cupcake liners, these muffins make the perfect treat for any Valentine.

Fresh Cranberry Orange and Walnut Muffins
Ingredients
2 cups flour
¾ cup sugar
1½ teaspoons baking powder
1 teaspoon salt
½ teaspoon baking soda
½ teaspoon pumpkin pie spice (or just cinnamon)
1 teaspoon vanilla extract
1 Tablespoon orange zest
¾ cup orange juice
2 Tablespoons vegetable oil
1 egg
1½ cups fresh cranberries
½ cup chopped walnuts
Instructions
Preheat oven to 350 degrees
Mix together the flour, sugar, baking powder, salt, cinnamon or pumpkin pie spice, and baking soda in a large bowl.
In a separate bowl, mix together the OJ, zest, egg, oil, and vanilla. Slowly add this mixture to the flour mixture.
Add in the walnuts and cranberries. Mix well, be sure to get any bits off the bottom.
Place muffin liners in the pan and fill each ¾ to the top with batter.
Bake 17-20 minutes until golden brown and cooked through.
Abby Himes
Abby can be found cruising her local farmer's market and co-op looking for fresh, new, flavors and sustainable options. She sees food as an adventure, and is always excited to try something new. Abby is also the creator and voice behind the food blog, Seaweed & Sassafras.