Flavorful Pork Chops with Spicy Apple Chutney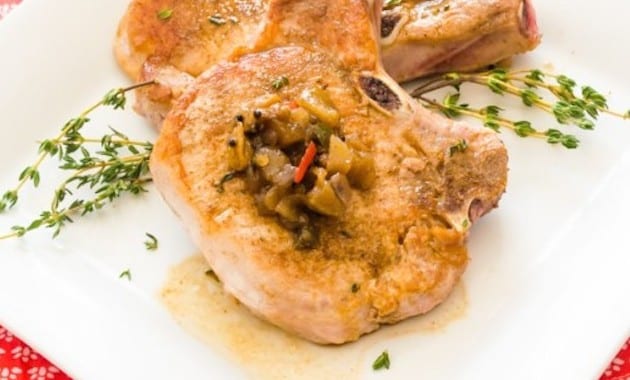 Pan Seared Pork Chops with Spicy Apple Chutney are thick, bone-in pork chops rubbed with coriander, cumin, and cardamom and pan seared until golden brown. They're served with a white wine pan sauce and spicy apple chutney. A perfect fall dish.
By Marcie Bidou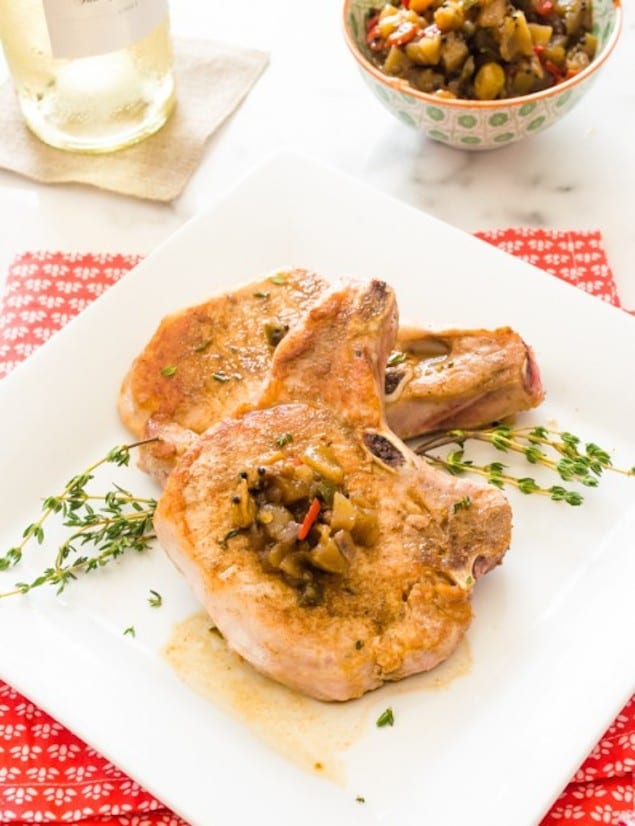 I used bone-in pork chops because they're less likely to become dry, and the bones impart a lot of flavor. I rubbed the chops with a spice mixture of cardamom, cumin, coriander, and garlic salt, and seared them until golden brown. I removed them from the pan and degreased it, then deglazed all of those flavorful bits with white wine. This sauce is more of a "jus", a very thin sauce, and when served over the chops, it made them nice and jus-y.
I realized I'm posting this recipe on the exact day that I started cooking school a year ago. A whole year! I'm amazed it's been that long, and this spicy apple chutney recipe was adapted from one that we made at school. I fell over heels for it. It has so many layers of flavor with sweet apples, kick of ginger, spice from the jalapeños, tanginess from the vinegar and wine…it's the perfect condiment for chicken, lamb, pork, and so much more.
See Also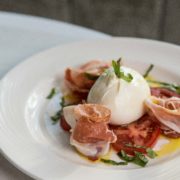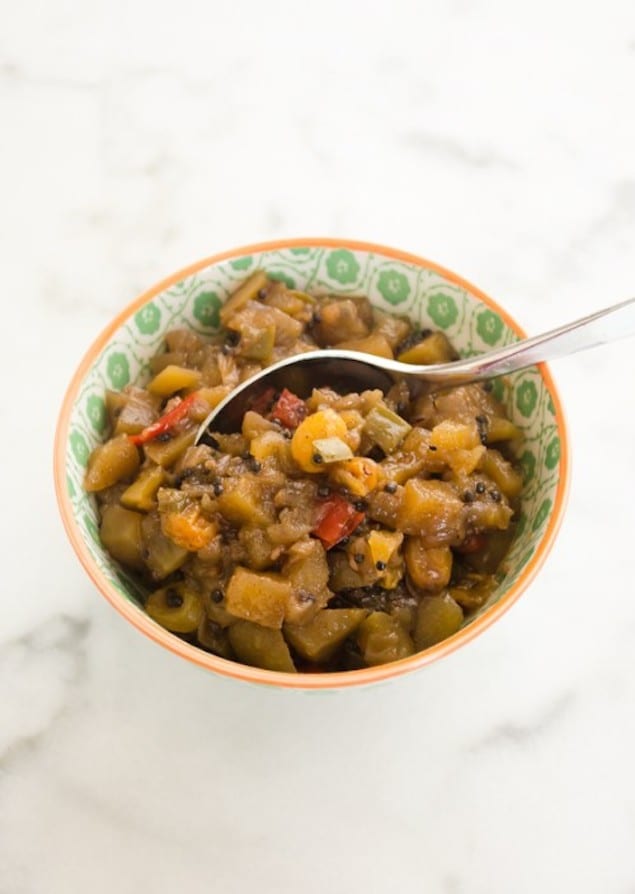 Flavorful Pork Chops with Spicy Apple Chutney
Thick, bone-in chops rubbed with coriander, cumin, and cardamom and pan seared until golden brown. Served with white wine pan sauce and chutney.
Serves:
2 chops, 3 cups of chutney
Ingredients
For the spicy apple chutney:
2 tablespoons extra virgin olive oil
1 tablespoon mustard seeds
1 medium onion, chopped
1 teaspoon salt
1 medium red bell pepper, seeded and chopped into ½" pieces
1 jalapeño pepper, with seeds, chopped into ¼" pieces
1 tablespoon freshly grated ginger*
2 cloves garlic, minced
1 teaspoon ground allspice
4 Granny Smith apples (1½ lbs), peeled, cored, and cut into ½" cubes
¼ cup golden raisins
¾ cup brown sugar, packed
½ cup apple cider vinegar
¼ cup white wine
1 cup water*
For the pork chops:
1 lb. pork loin chops, bone in (2 large chops, ¾-1" thick)
1 teaspoon cumin
1 teaspoon coriander
1 teaspoon brown sugar
½ teaspoon cardamom
½ teaspoon garlic powder
½ teaspoon salt
⅛ teaspoon pepper
1 tablespoon extra virgin olive oil
¼ cup white wine
¼ cup chicken stock
1 tablespoon unsalted butter, softened
salt and pepper, to taste
fresh thyme, for garnish (optional)
Instructions
Prepare the chutney:
Heat oil in large sauce pan over high heat. Add the mustard seeds and cover the pan until the popping stops, about 30 seconds.
Reduce the heat to medium, and remove the lid. Add the onion and salt, and sauté until softened and translucent, about 8 minutes. Add the bell pepper and jalapeño, and sauté 2 minutes. Add the ginger, garlic, and allspice, and cook 30 seconds. Add the apples, raisins, brown sugar, apple cider vinegar, white wine, and water.
Cook uncovered on medium low for 40 minutes or until softened.
Remove from heat, cool, and chill before serving.
Prepare the pork chops:
Combine the cumin, coriander, brown sugar, cardamom, garlic powder, salt and pepper in a small bowl.
Rub the chops generously with the spice rub -- you may only need half. Let stand for 15 minutes or until the chops are about room temp. Heat the olive oil in a large sauté pan over medium high heat. Add the chops and cook until they release easily from the pan and they're golden brown, about 2 minutes.
Flip and cook an additional 4 minutes or until golden brown or until they reach an internal temperature of 155 degrees (they will continue to cook as they rest). Remove from pan, cover with foil, and set aside.
Degrease the pan, reduce the heat to medium, and add the white wine, scraping up all of the bits from the bottom of the pan. Reduce the wine by half, then add the chicken stock. Reduce the stock by half, and season with salt and pepper, to taste.
Remove from heat and swirl in the butter. Serve the chops with very warm pan sauce and the spicy apple chutney. Enjoy!
Marcie Bidou
I'm a wife, mother, and food blogger, residing in the San Francisco Bay Area. I graduated from culinary school in March 2014, and I'm a food blogger at flavorthemoments.com, where I publish a combination of my own recipes and adaptions of others. My style of food is fresh, seasonal, and always homemade.