Bryan Picard serves a flatbread lobster roll with garlic butter and lemon. Delicious!
By Bryan Picard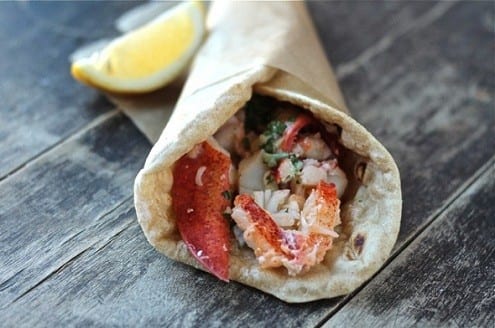 I wanted to make a lobster roll that you could actually roll. I have nothing against the classic hot-dog bread buns, but I figured flatbreads are so easy to make, why not give those a whirl? My preferred way to eat lobster is straight up with a squeeze of lemon and soaked in garlic butter. Simple but effective. It's the same here, but rolled in a flatbread.
The flatbreads need a couple of hours to rise, so plan in advance. Don't worry about making too much, the dough keeps well in the fridge for up to a week and it's a triple purpose recipe; flatbreads, pizza dough, and small buns.
Ingredients
3 cups white flour
1⅓ cups lukewarm water
2 teaspoons yeast
2 teaspoons salt
Instructions
In a large bowl, mix the yeast and the water. Then, add the salt and flour and work with your hands until smooth. Add a bit of water if needed.
Cover and let rise for 1-2 hours, or until it has doubled in volume. If time is on your side, you can even let it rise overnight. At this point you can store it, covered, in the fridge.
Take a chunk of dough just a bit bigger than a golf ball, roll it on a floured surface to about ⅛?. Roll as much as you need. Flour in between the rolled flatbreads to make sure they don't stick to each other.
Heat up a pan. Drizzle a bit of oil and put the flatbread on. It should cook less than a minute on each side.
Set it aside on a plate covered with tin foil so it stays hot.
Repeat.
Garlic Butter
• 1/4 cup butter
• 2 cloves garlic, finely chopped
• 1 tablespoon parsley, chopped
In a small saucepan, on low heat, melt the butter.
Add the garlic, simmer for a minute, and remove from heat.
If using unsalted butter, add a pinch of salt.
Roll it up
Put lobster meat on a flatbread (I used claws), drizzle with garlic butter, squeeze a lemon wedge, roll up and enjoy!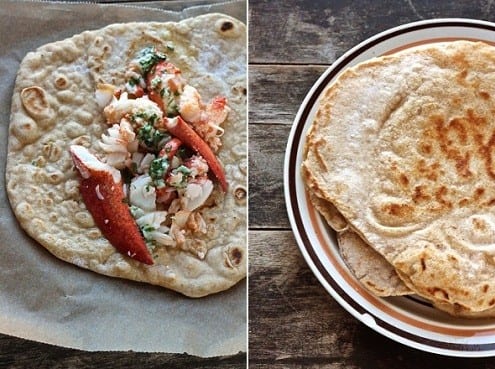 Bryan Picard
Bryan Picard is a wild and homegrown food enthusiast. He lives in the Maritimes in Canada and has worked the kitchens as a cook and chef for the past ten years. He writes on his blog The Bite House.