Get a taste of Peru right here in the US with these top Peruvian restaurants in Florida.
In the last two years, we have spent a total of about 9 months in South Florida housesitting. In that period, we've had the chance to explore the large Cuban-American community of South Florida.
This year, as we continue to get to know the local neighborhoods, we discovered Floribbean cuisine. Popular in South Florida, Floribbean cuisine can be traced back to the exploration of the New World by the Spanish.
When we first stumbled onto a "Peruvian Ceviche" stand at the local farmers in West Palm Beach, our tastes for Peruvian cuisine was reignited. We had loved the food in Peru and that first bite of ceviche at the market set us on a quest to find the best authentic Peruvian restaurants in South Florida.
For a taste of Peru in South Florida, we present the 5 authentic Peruvian restaurants not to miss in South Florida.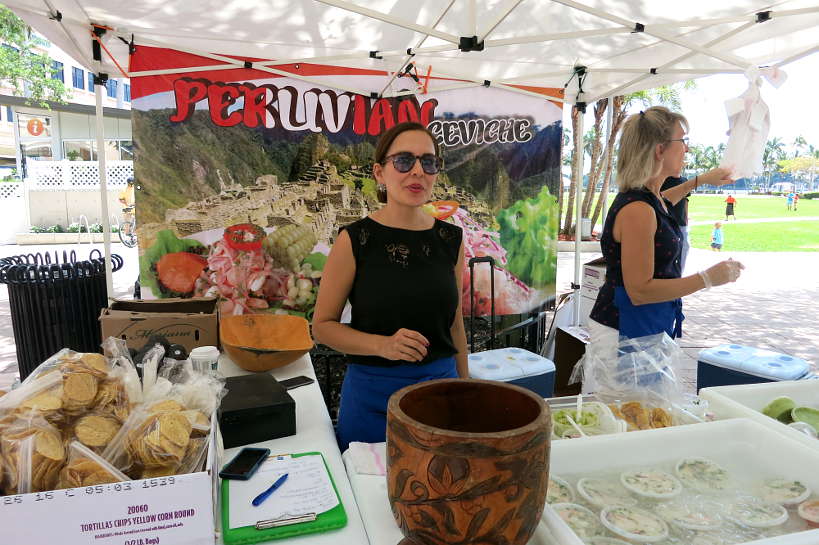 #1: Go for the Fresh Ceviche at Ceviche 401 Restaurant, Delray Beach
When you think of Peruvian cuisine, the first dish that probably comes to mind is ceviche. Indeed, ceviche is the national dish of the Peru. This delicious and classic dish is essentially chunks of raw fish and seafood marinated in lime juice and seasoned with Peruvian chili peppers, onions and salt.
While we were on our quest for authentic food in Lima, Peru, we enjoyed fresh ceviche at different types of eateries in the city. At Peruvian restaurants, to the local market and even from street food vendors. Regardless of the location, the fish was always incredibly fresh and full of flavor.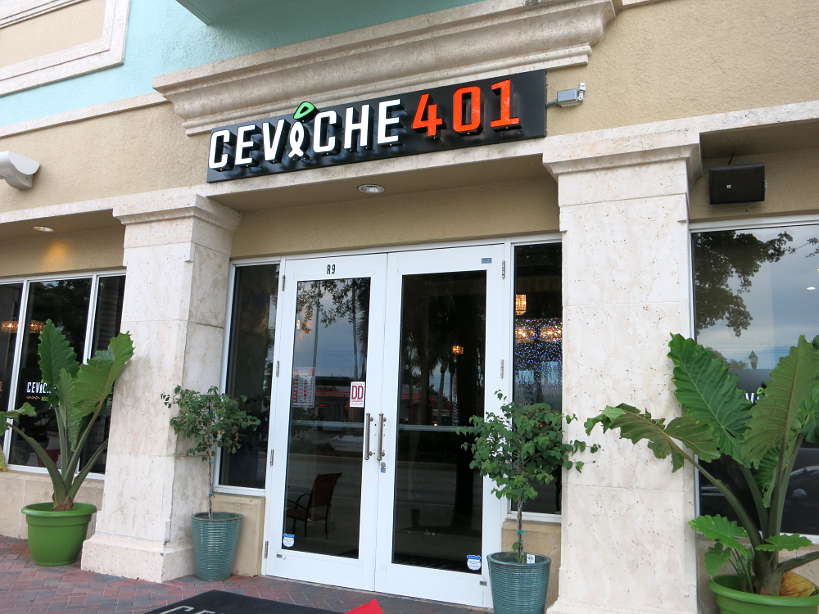 While in Florida, we visited Ceviche 401, a new Peruvian restaurant that had recently opened up in Delray Beach.
Over dinner, with our friend, Vicky, a South Florida based writer at BuddyTheTravelingMonkey.com, we fell in love once again with ceviche.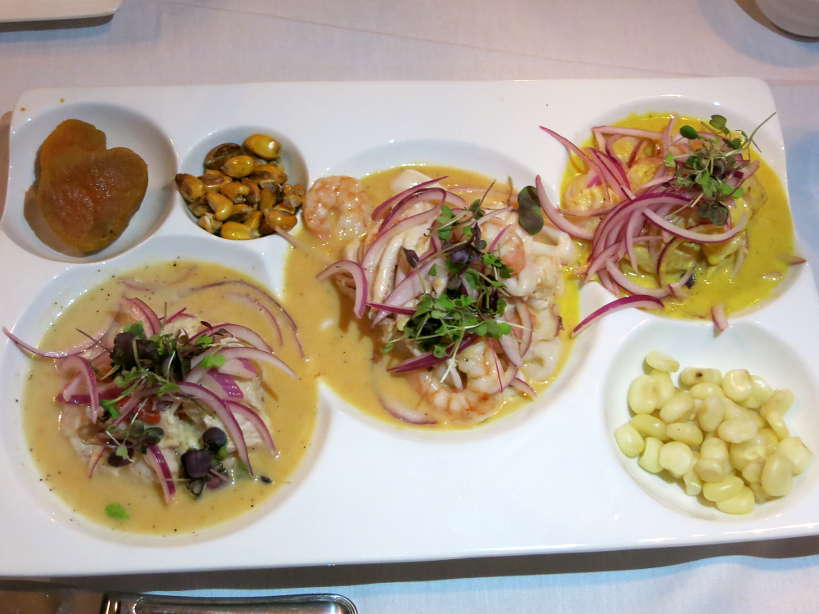 We shared a Ceviche Platter with three different kinds – Ceviche Classico, Ceviche Mixto and Ceviche Aji Amarillo. Each one was incredible and reminded us of the ceviche we had in Peru. The fish was fresh, bursting with citrus flavors and beautifully contrasted by the sweet potato (camote) and Peruvian corn tastes.
If you are in Delray Beach hungry for mouthwatering ceviche, stop into this casual restaurant and be prepared to enjoy amazingly fresh ceviche.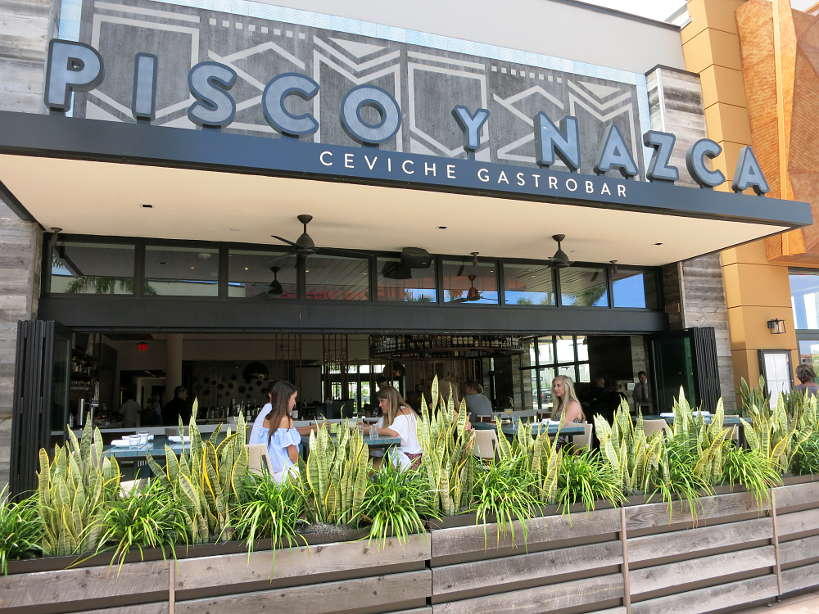 #2: Indulge in Nikkei Cuisine at Pisco y Nazca, Miami-Doral
Japanese-Peruvian fusion known as Nikkei is one of the standout experiences at this modern ceviche gastrobar. Pisco y Nazca Doral, is located in Doral, Miami which is a few miles west of Miami International Airport.
Featuring a range of shareable plates, we absolutely adored the Nikkei. In a delightful blend using Peruvian and Japanese ingredients, Peruvian chef Miguel has an outstanding Nikkei dish on the menu.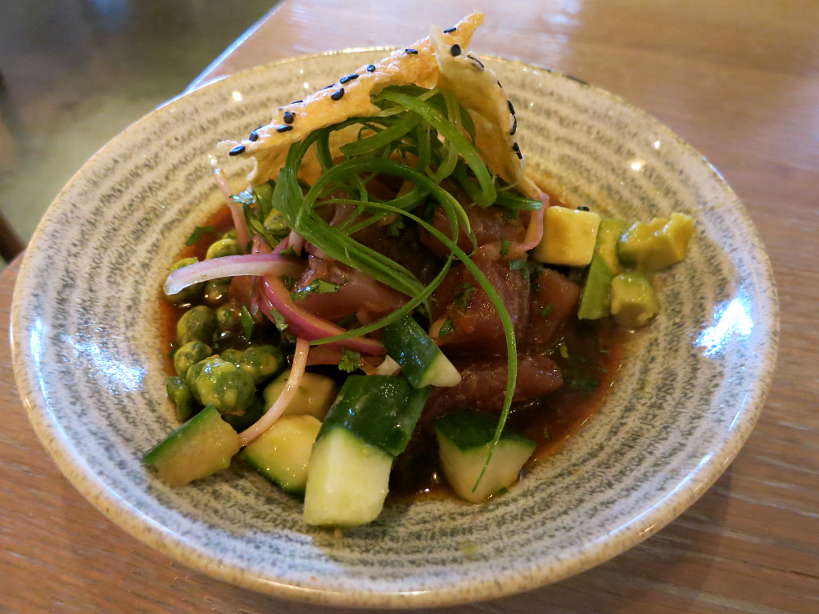 Made with ahi tuna, mirin, soy sauce, wasabi peas, cucumbers, canchaca, leche de tigre, topped with a wonton-sesame crisp, this was a sight to behold.
The flavors took us right back to Peru where we first had Nikkei cuisine. The sweet and spicy flavors with the contrast of textures perfectly complemented the delicate flavors of the ahi tuna.
#3: Find Impressive Causa at Chalakos Peruvian Bistro, West Palm Beach
Causa is a typical Peruvian starter made with delicious tasty mashed potatoes. The potato originated in Peru and this dish has is tied to the history of Peru's independence. In Peru, we enjoyed this starter in Lima and Cusco, discovering the different variations that exist. A traditional causa layers potatoes and avocados and some might be topped with tuna, chicken, shrimp or hard-boiled eggs.
While exploring the Floribbean cuisine, on a Taste History Culinary Tour, Lori, our guide raved about Chalakos, a new local Peruvian restaurant in Northwood Village.
Curious to discover the food at this local Peruvian restaurant in the funky, bohemian village of Northwood, we decided to give it a try. Chalakos Peruvian Bistro, is a simple restaurant that opened in early 2017. The menu is simple and features traditional Peruvian dishes at affordable prices.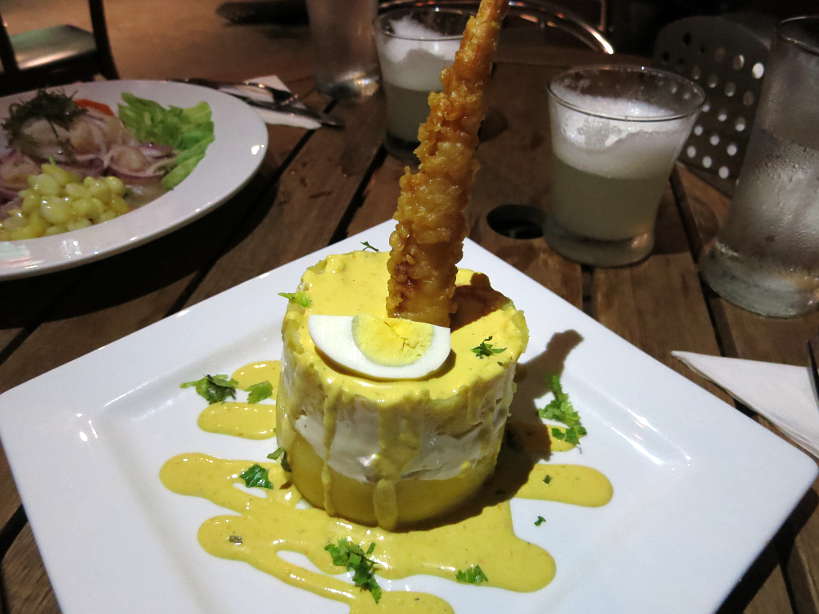 Sitting in the beautiful outdoor patio, we placed our order, and enjoyed the warm Florida evening. We were eager to taste the unique Peruvian delicacies. After starting out with a delicious Ceviche de Pescado (fish ceviche), we were tempted by the Causa de Camaron, or seasoned mashed potatoes layered with shrimp.
The portions were very generous and we were glad to share this impressive Causa de Camaron. The taste was exquisite and reminded us of the flavors we enjoyed in Peru. The potatoes were well cooked, perfectly seasoned, and the abundant fresh shrimps made it a real treat.
Marcos, the Peruvian Chef is a Chalako, which he told us refers to the people coming from a coastal town a few hours from Lima. Today, Marcos is juggling two businesses but is focused on growing his restaurant.
The historic and charming town of Northwood is an up and coming area just north of West Palm Beach. Enjoy the delicious Causa at Chalakos as you explore original art, unique stores in this quaint and laid back area.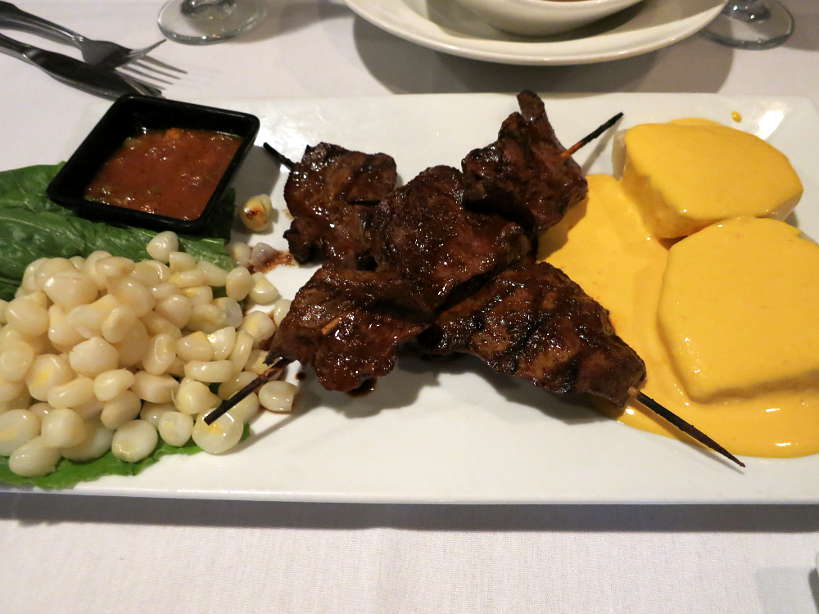 #4: Enjoy Authentic Anticuchos at Ceviche Arigato, Palm Beach
Anticuchos is one of the most unique street foods we enjoyed in Peru. It is a dish that is very much a part of the national story of Peru. Anticuchos are pieces of grilled beef heart served on a skewer. They are a popular street food and eaten with a boiled potato on the end of a skewer and with aji, or hot sauce.
This tradition comes from the African slaves who were brought by Spaniards to Peru in the 16th century. African slaves would take the innards given to them by their Spanish masters and transform them into delicious morsels of meat using seasonings from the Andes and Spanish.
At Ceviche Arigato, this is one of the dishes we absolutely loved and it is also a house specialty.
What we especially loved was how fresh it was and it reminded us of the anticuchos we had eaten in Peru. The beef heart was tender and perfectly seasoned. And, when paired with the Peruvian potato favorite, Papa a la Huancaina, it makes for a hearty traditional dish.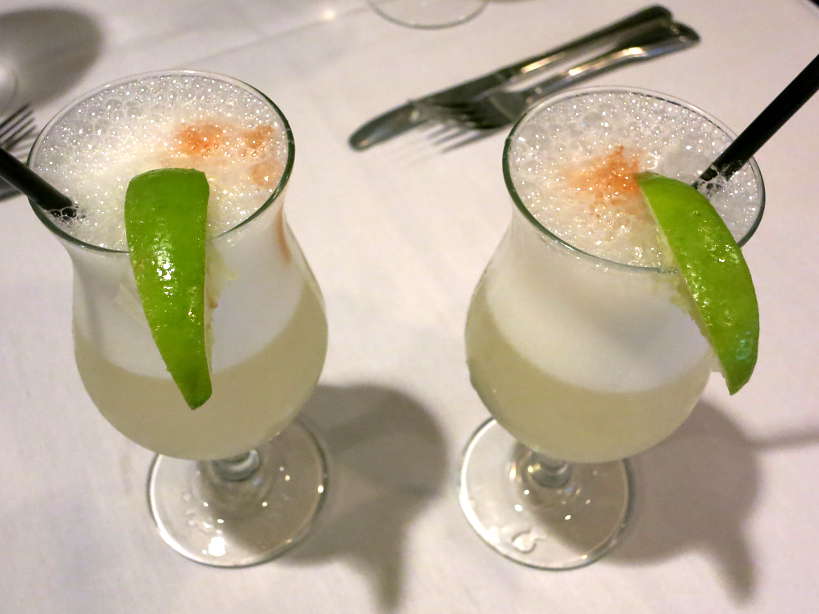 #5: Sip on Pisco Sour at Cabana El Rey, Delray Beach
We cannot talk about Peruvian restaurants without mentioning Pisco Sour, the national drink of the country. This is without a doubt the drink that we had in each and every restaurants we visited for this quest for authentic Peruvian restaurants in South Florida.
At Cabana El Rey, the warmth of the Peruvians greet you as soon as you walk in. The waiter welcomed us with a large smile and invited us to sit down for a drink. Meanwhile, the jovial Peruvian chef came and introduced himself.
Cabana El Rey has their own twist on the Pisco Sour. This is certainly the most unusual Pisco Sour we tasted. Enhanced with Chicha Morada, and pineapple, this combination sweetened the taste of the Pisco Sour and made for a colorful drink. Cabana El Rey is located in downtown Delray Beach. With a nice patio and outdoor seating, this is a great restaurant to enjoy a leisurely Nuevo Latino meal. If you're looking to taste a traditional Pisco Sour, we found our drinks at Ceviche Arigato the closest match to our Peruvian experience.
Since the worldwide recognition of Peru as a World's Leading Culinary Destination, Peruvian restaurants have been burgeoning across the US.
With readily available fresh seafood and a strong Peruvian community, South Florida is the perfect place to experience Peruvian cuisine without traveling to Peru.
Rediscovering Peruvian cuisine through the lenses of the local Peruvian community in South Florida has been quite an exciting journey. At each restaurant, we observed how each chef recreates memories from their native country through creative interpretations of authentic Peruvian cuisine.
While some dishes left us wanting more, others took us back to Peru, with great pleasure.
Rediscovering or discovering foreign cuisine at home country is a great way to travel through food.
Authentic Food Quest
Rosemary Kimani and Claire Rouger are co-founders of Authentic Food Quest. They traded in their corporate jobs in 2015 to eat their way around the world. Starting out in South America, they traveled to Argentina, Uruguay, Chile and Peru and spent 6 months discovering the authentic foods in the region. Their mission is to inspire people to travel through authentic food. They have just published their first book on Amazon: Authentic Food Quest Argentina: A Guide to Eat Your Way Authentically Through Argentina. Join them on their quest as they eat their way through the Philippines, Vietnam, Thailand, Cambodia and Malaysia in Southeast Asia.