Any recipe that spans generations holds a special meaning to those using it. In Emily Holbrook's case, it's her grandmother's recipe for seafood gumbo.
By Emily Holbrook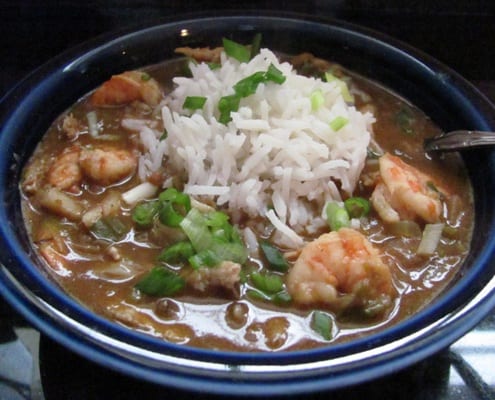 Created on a typewriter, this worn and yellowing paper is stained with what I can only imagine is sweet tea and roux grease. The creases are brittle and the edges worn. On the margins is my mother's loopy cursive, noting the slight adjustments she made over time. The first line reads, "One hen for boiling."
It's not often I use it — this emotional 8 1/2 x 11 page of measurements and instructions. It is reserved for special occasions. And the annual clamming trip to Southampton, New York is just that.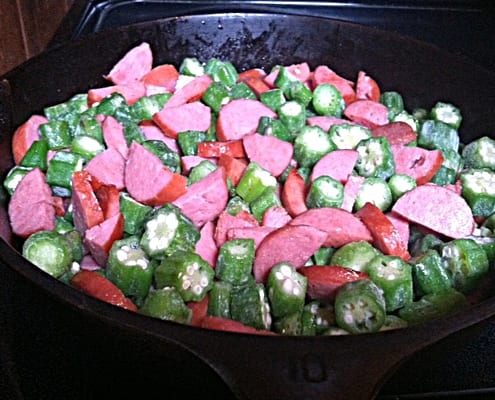 Myself and eight friends spend one weekend each summer at a tiny beach house — the former home of my friend's grandmother, which has also been handed down from generation to generation. We make this trek for one purpose: clamming. We swim across the shallow bay, dragging floating coolers for beer and clams and dig our feet into the black, silky mush — a mix of quicksand and slick mud. Within minutes we're hoisting clams to the surface with our toes. Within an hour we've filled the cooler.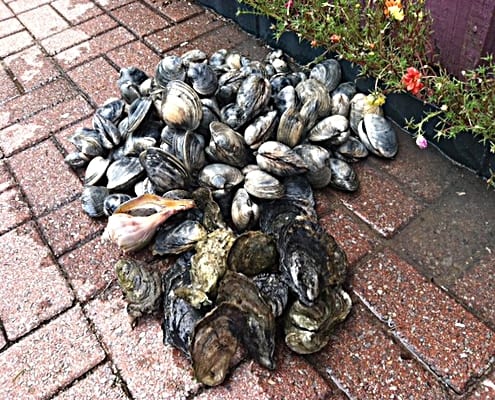 From there we swim to another area to hunt for oysters. Though not as plentiful as clams, we managed to catch close to a dozen, which we shucked and ate within minutes. The first time I tasted an oyster freshly caught from these waters, I proclaimed I would never taste a better bite of seafood. I still have yet to.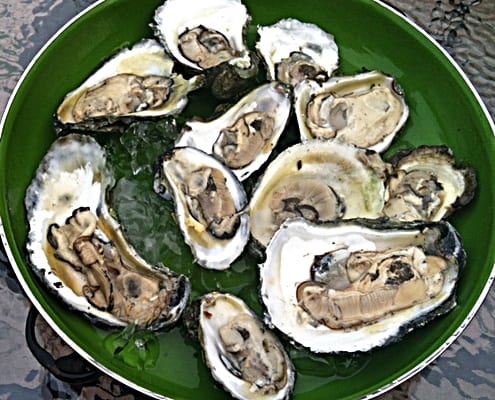 Back at the house, after enjoying melt-in-your-mouth oysters, we got to work steaming the clams. Working in batches, we piled the fresh clams (third picture) into a large, metal pot and added only water. A few minutes later, the clams opened, exposing the briny meat we worked so hard barely exerted any effort for. This process created a delicious, salty broth that we used in the gumbo. We were also lucky enough to have two quarts of lobster stock on hand, thanks to a friend's recent seafood smorgasbord and his ambition to put to use leftover shells.
Here it is, the best gumbo you'll ever taste–Grandma's gumbo.

Seafood gumbo served over rice.
Ingredients
1 hen for boiling
1 cup shortening (or butter or vegetable oil)
1 cup flour
3 to 4 quarts stock
2 onions chopped
3 bell peppers chopped
1½ cups chopped celery
3 teaspoons garlic, minced
5 bay leaves
1 cup chopped green onion (tops only)
1 bunch fresh parley, chopped
several squirt worsteschire sauce
1 to 1½ pounds sliced okra
2 cans stewed tomatoes
1 pound kielbasa, cut into ¼ inch slices
chopped chicken
3 to 4 pounds small shrimp
5 to 6 ounces cure 81 ham
1 pound crab meat (or any other seafood, such as clams)
cooked white rice
gumbo filé (optional)
Instructions
Place shrimp in a large bowl, sprinkle with 1 tablespoon salt, 1 teaspoon red pepper and garlic powder. Stir well, cover and refrigerate until ready to use.
Boil the hen with celery, onion, salt and pepper. Remove chicken, de-bone and cut up. Save broth for stock.
Make roux with the equal parts flour and shortening. Cook slowly until it turns a dark reddish brown (must be stirred continuously on low heat to prevent burning). Add to this the chopped onion, bell peppers and celery. Cook at low heat until the vegetables separate from the fat.
On the side, brown the okra and sausage in a pan (this helps remove some of the okra's ropiness).
After vegetables separate from fat, add the hot chicken stock to the mixture. Let this cook until it thickens.
Add stewed tomatoes, garlic, sausage, chicken, ham (optional) and spices. Let this cook about 45 to 90 minutes (the longer it simmers, the better it tastes).
Twenty to thirty minutes before serving, add parsley, green onions, crab meat and okra. Add shrimp 5 to 7 minutes before serving. Serve over rice.