A simple side often served with Indian flatbread, eggplant and potato curry is a flavorful dry curry-style dish also known as aloo baingan.
By Shweta Arora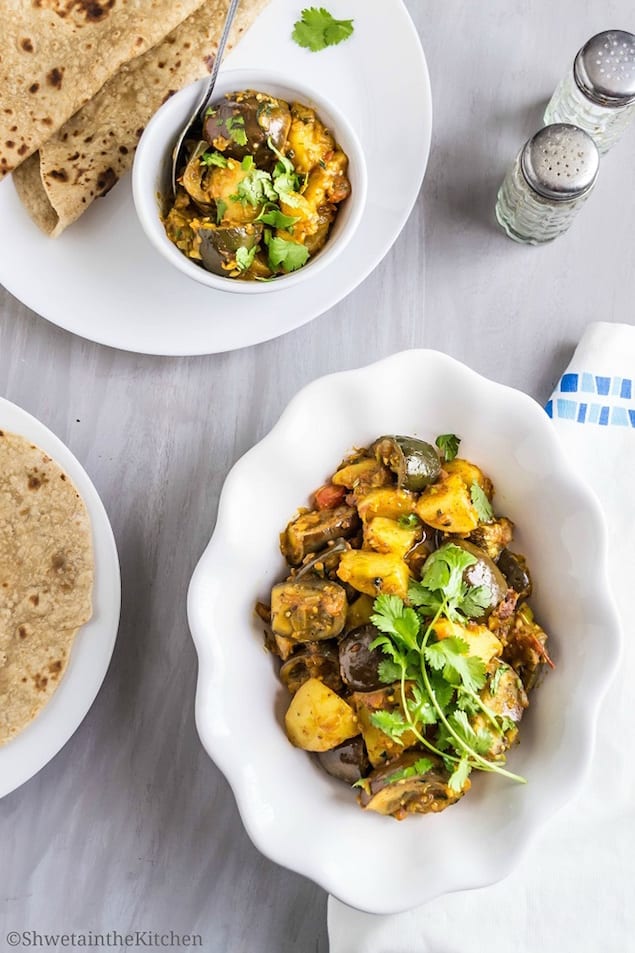 Eggplant and Potato Curry, or Aloo Baingan, is a simple, vegan and extremely flavorful Punjabi style dry curry made. This sabzi (dry version of curry) can be served with Indian flatbreads like Chapati/roti or even Naan. This dish is apt for everyday cooking.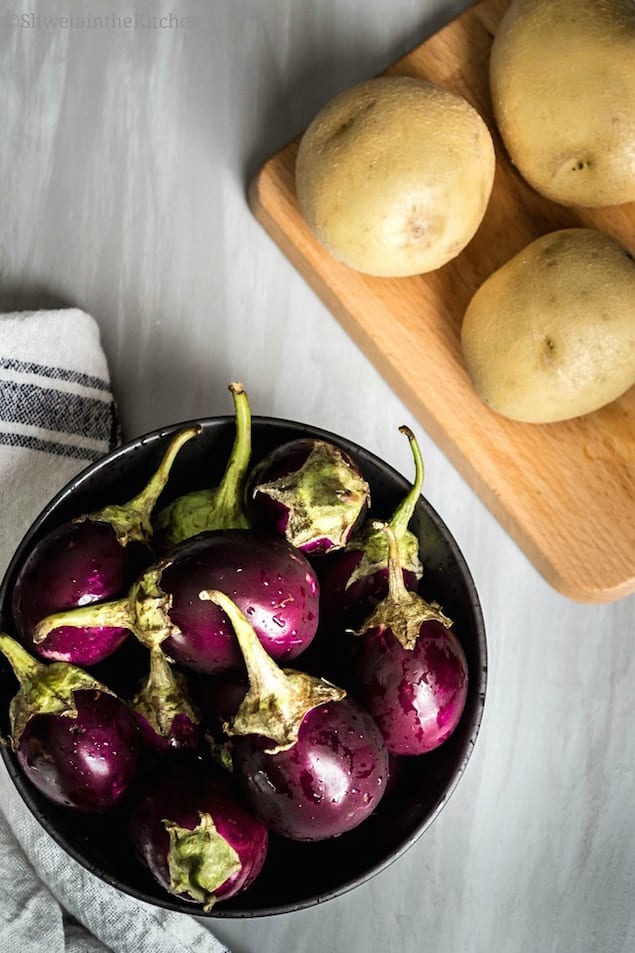 There are so many varieties of eggplant and potato curry combination, each having their own unique taste, but for today I am sharing a simple dish of Punjabi Aloo Baingan Sabzi.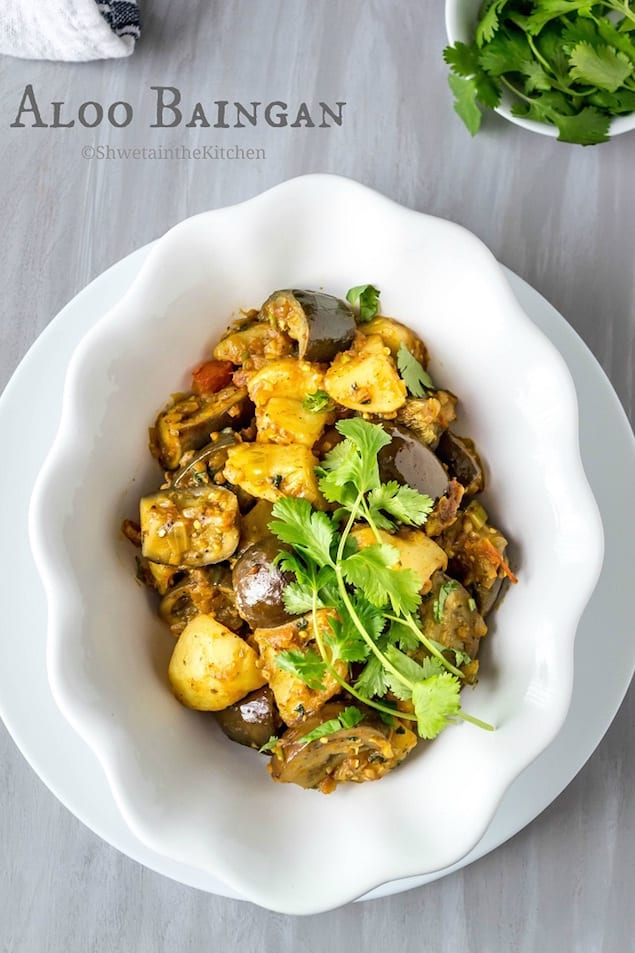 Find more authentic Indian recipes here.
Eggplant and Potato Curry
A simple side often served with Indian flatbread, eggplant and potato curry is a flavorful dry curry-style dish also known as aloo baingan.
Ingredients
2-3 tbsp oil
½ tsp cumin seeds
⅛ tsp asafoetida (hing)
4 cloves garlic finely chopped or grated
1 tbsp ginger finely chopped or grated
2 green chillies finely chopped
1 small onion finely chopped
2 small tomatoes finely chopped (approximately 1 cup chopped)
7-8 small eggplants (cut one into 2- 4 pieces)
3 medium potatoes peeled and cut
¼ tsp turmeric powder
½ tsp red chilli powder (or to taste)
1 tsp amchur poder (or to taste)
½ tsp garam masala (or to taste)
1 tbsp dry fenugreek leaves
salt and pepper to taste
handful of finely chopped coriander leaves
Instructions
In a cooking vessel heat some oil and once hot add the cumin seeds and asafoetida. Once they start spluttering add the ginger, garlic and green chillies. Sauté for couple of seconds and add the onion and cook until golden brown. Then add the potatoes and cook till half cooked. Now add the tomatoes, salt, pepper and turmeric powder.Cover and cook until tomatoes are soft.
While the potatoes and tomatoes are cooking chop each eggplant into 2-4 pieces (Depending on the size) and immerse them in water and salt mixture to prevent them from turning brown. Once the tomatoes are soft add the red chilli powder, amchur and mix well. Cook till the potatoes are ¾th cooked. That's the time to add the chopped eggplant. Mix,cover and cook till eggplants and potatoes are done. Last but not least add some garam msala, finely chopped coriander leaves and dry fenugreek leaves (crushed between palms). Mix and cook for another 2 mins or so.
Notes
I've used small eggplants for this recipe but if you cant find those you can use 1 big eggplant that we usually use for Baingan Bharta
I've used canola oil for this recipe but using mustard oil is another option. It gives a good flavor to this dish.
Eggplants cook faster than potatoes so make sure to cook the potatoes till they are almost done before adding the eggplants or else the eggplant will get mushy.
To fasten the cooking process you can use boiled potatoes instead.
Shweta Arora
Author,photographer and editor for my Food Blog - ShwetaintheKitchen. Follow me on my journey to create delicious homemade recipes from various cuisines. Bon appétit!