Eggplant Fries with Marinara Sauce is a fun way to take care of any eggplants you have. Crispy, crunchy and perfect for dipping, they're a fantastic snack.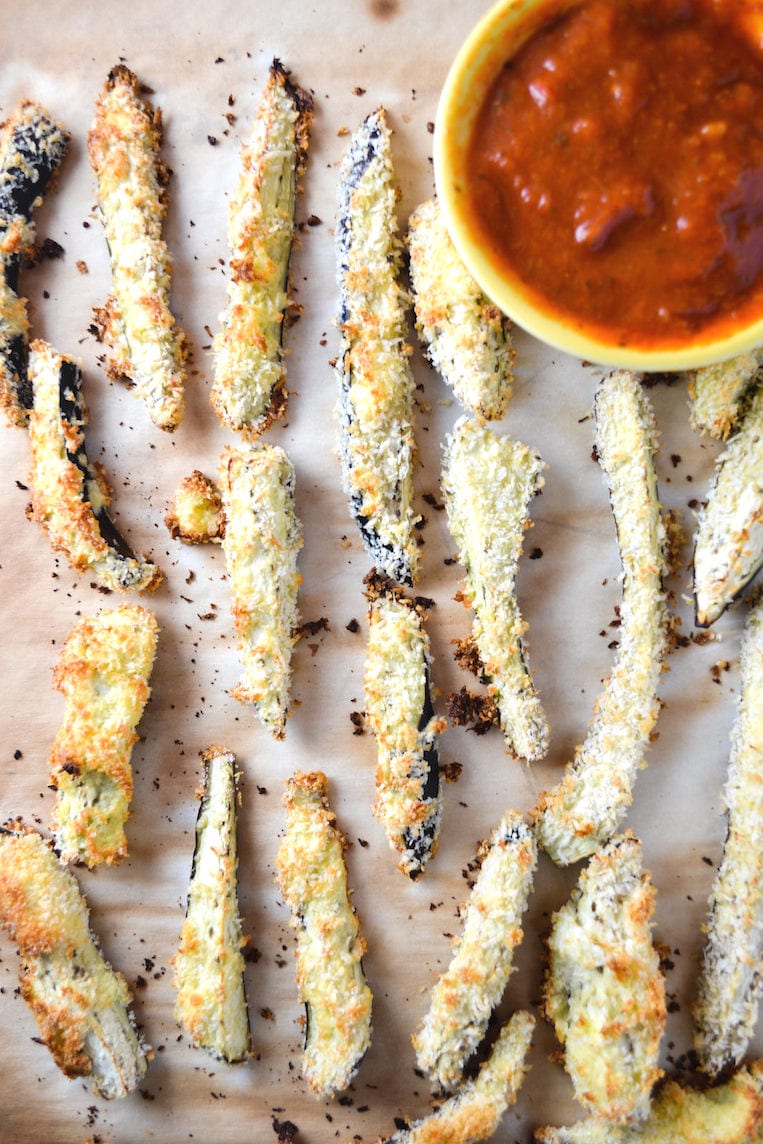 When in doubt on what to do with eggplant, make eggplant fries. Not only is it painfully simple, it also is a nice change up from most traditional eggplant preparations. Since we've been getting so much of it in our CSA lately, I've been grilling them, or making terrines, or just roasting them and pouring sauces on top. In all these meals, the eggplant is soft and juicy, soaking up the flavor of those things around it.
But with eggplant fries, the eggplant remains crisp. I like to use Panko bread crumbs mixed with just a touch of Parmesan cheese for extra crunchiness. Dip these babies in some marinara sauce and you've got a lovely side dish to share. But beware that they go quick, and they should, as these aren't the type of thing that reheats well. Eat up!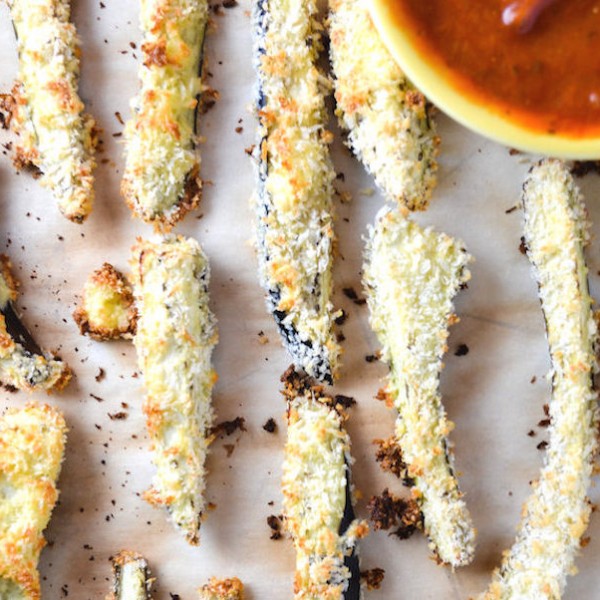 Vicky Cassidy
Ingredients
1

lb

eggplant

trimmed and cut into long ½ inch thick pieces

1

tablespoon

olive oil

Kosher salt

freshly ground black pepper

½

cup

Panko bread crumbs

¼

cup

grated Parmesan cheese

1

egg

Marinara sauce to serve
Instructions
Preheat oven to 500 and line a baking sheet with parchment paper.

Lay strips of eggplant, skin side down, on a cutting board. Drizzle with olive oil, salt and pepper.

In a medium bowl, beat egg. In a separate bowl, combine Panko and Parmesan.

Dredge eggplant in egg and then roll in bread crumb mixture. Transfer to baking sheet.

Bake for 8 minutes, flip fries, and bake for an additional 2-3 until golden brown.

Warm up marinara sauce and serve together.
Vicky Cassidy
Vicky Cassidy can usually be found in her Madison, WI kitchen with cumin or paprika in her hair and olive oil smudges on her camera. She is a self-taught cook and the occasional baker, and she loves oversharing stories about her kitchen and life on Things I Made Today.