From hotel menus to beachside huts and all the fresh fruit in between, discover the best ways to devour Jamaica.
By Michelle Tchea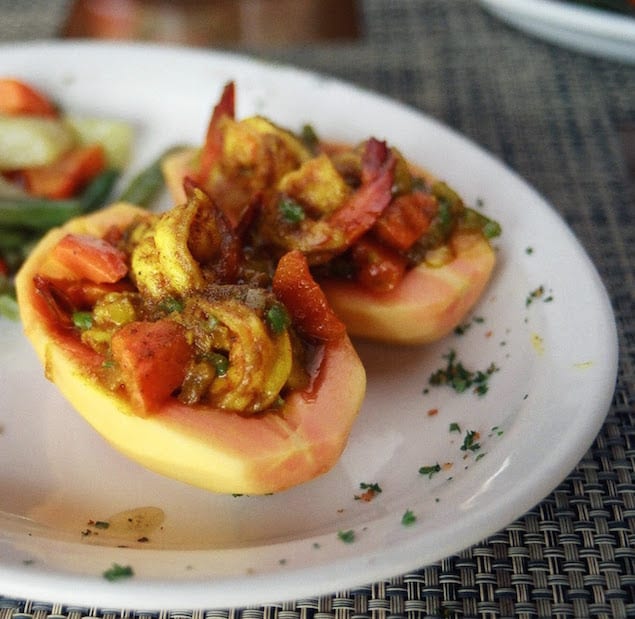 Image: JTBOnline – Faith's Pen Plate
As a born and bred Aussie, I don't know much about the Caribbean's.
The only association I have of Jamaica, in particular, affectionately relates to Brian Lara from the West Indies Cricket Team and of course the comical movie, Cool Runnings.
Despite weather forecasts of a mild and sultry winter, I didn't want to take my chances after last years' brutal snow season. So instead of sitting in a tiny New York apartment, watching reruns of Cool Runnings and dreaming of a tropical vacation, I jumped on a flight straight to Jamaica.
Despite a host of different activities to keep you entertained in Jamaica, like Chukka Adventure Sports of Zip-lining through the rainforest, Swimming with the Dolphins near Ocho Rios and visiting the Bob Marley Museum in Kingston, you really must go to Jamaica for the food, glorious food!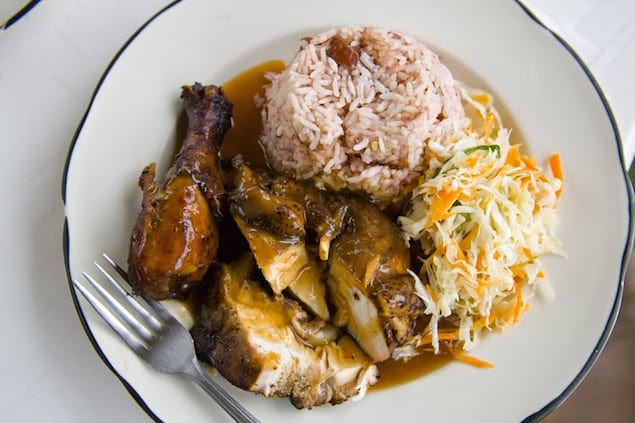 Image JTBOnline: Jerk Chick and Rice/Beans
Eat like a local
Jamaica is definitely a foodie destination. The island is bursting with fresh fruit and vegetables that make the most organic, luscious mango in New York taste bland. The sweet, succulent flesh of a juicy, juicy mango is just the beginning of the buffet of foods and other unique delicacies you can try in Jamaica. 
Breadfruit magically hangs on trees in the city of Negril where local eats come highly recommended. If you find yourself in the Blue Mountains, be careful not to step on fallen avocados and if you wander in the walls of a fancy resort like GoldenEye (Yes, home of 007, James Bond) be sure to try the rum fruit punch and not the martini.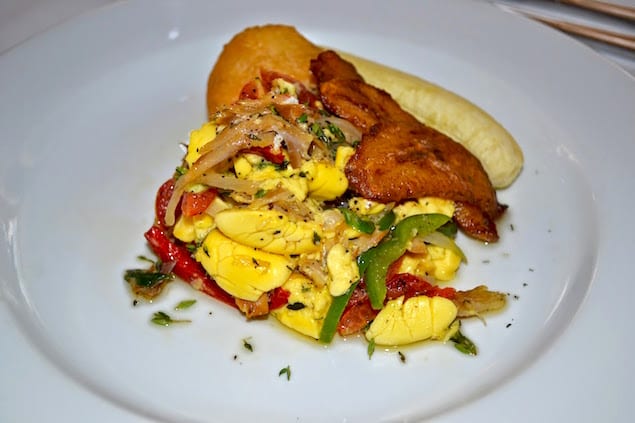 Image: JTBOnline – Akee and Saltfish for brekkie
Putting a humble bowl of plain, old oatmeal to shame, breakfast in Jamaica is a colourful affair.
One of the luxury resorts and hotels in Montego Bay like the  all-inclusive hotel Adults only Riu Hotel or Hyatt Ziva, in Montego Bay, go straight for the buffet and prepare yourself a heaping plate of ackee and saltfish, roasted banana and salted callaloo. Rumored to be Olympic Athlete and Gold Metalist, Usain Bolt's favourite breakfast plate, there really is no need for guilt.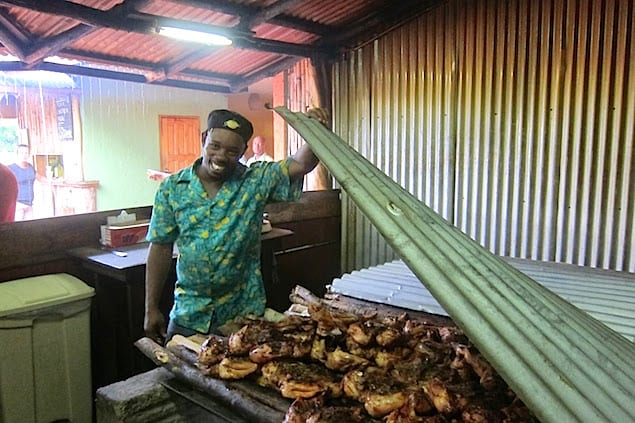 Image: Scotchie's Credit: Mary Asperos
For lunch, small beachside huts come highly recommended with fresh-baked patties and bowls of chunky soup. But if you really must indulge in the most recognized dish of the country, follow your nose and find yourself an authentic Jerk chicken roadside pit. The aroma of fresh thyme, green onions and spicy scotch bonnet chile peppers are highly addictive, putting the Colonel to complete and utter shame.
Found in every neighborhood and city, Scotchies Jerk Centre is possibly one of my favorite lunch spots. Now with 3 restaurants around the island, you go for the service, the jerk chicken and the fiery hot sauce that really hits the spot with a bottle of fruit punch or White Stripe beer.
For Dinner, you really can't go wrong fresh fish. Hundreds of Jamaican inspired recipes and flavors can come out of any local's kitchen, but if you don't have access to a friendly cook, stop off at Gloria's Restaurant in Port Royal. There's something endearing and very authentic about the rustic, ramshackle ambiance which keeps to Port Royals rocky history. Now regarded as one of the safest neighborhoods of Jamaica, guests sit back in the plastic, outdoor chairs and wait for the freshest fish to leave the port and enter the kitchen to feed hungry revelers. Try the fried fish, known affectionately to locals as escovitch fish, with all the delicious sides like bammy, festival, rice and beans and of course a giant bottle of fresh coconut water. Located just 10 minutes from Kingston Airport, Gloria's is an ideal lunch or dinner stop en route to the airport.
Michelle Tchea
Michelle Tchea is a 4-time bestselling author. Her books include, Building a Perfect Meal, My Little SoHo Kitchen, Signature Dishes (Australia's Best) and Chefs Collective. Her work can be found in other leading luxury travel and food magazines including Travel+Leisure Asia, SMILE, NUVO Magazine and The Telegraph