This makes a decent 500g loaf, and just requires you to plan a day ahead.
By Jess Lacey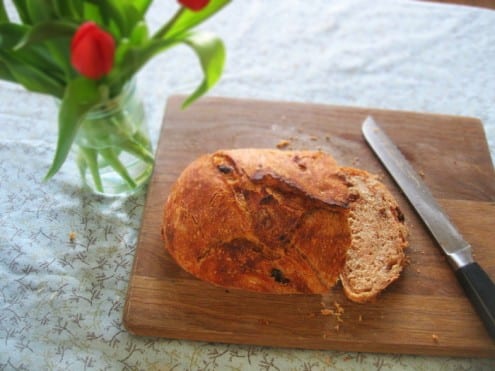 I had to try a recipe that compared making bread to having a pet cat. It requires minimum effort, a little bit of waiting, and given that I have used it six times with five perfect results, and one almost perfect result, I would have to say it is foolproof. I've adapted a plain loaf to make a tomato and fennel loaf, which is fantastic with some very seasonal wild garlic pesto and a schmear of goats cheese. This makes a decent 500g loaf, and just requires you to plan a day ahead.
Easy Tomato and Fennel Bread
This makes a decent 500g loaf, and just requires you to plan a day ahead.
Ingredients
400g white flour
300ml cold water
1¼ teaspoon salt
1g (1/4 teaspoon) dried yeast, or 3g fresh yeast
1-2 tablespoons fennel seeds
2 tablespoons tomato puree
2-3 tablespoons finely chopped sun dried tomato
Instructions
Put the flour and salt in a large bowl.
Dissolve the tomato puree and yeast in the water.
Stir into the flour with a wooden spoon until you have a dough.
Mix in the fennel seeds and sundried tomato.
Cover the bowl with a tea towel and leave for 12-18 hours covered (it will rise massively).
Take it out of the bowl with floured hands, and knead together for a minute or so on a floured surface until it forms a coherent ball coated in flour.
It will still be more sticky than you think is right, but it is, you don't need to add more flour.
Wrap in a tea towel and leave for 1-2 hours.
It's ready when you stick your finger in it and it leaves an indentation.
During the last half hour or so of this, put a big casserole dish (apparently called a Dutch oven in the States?) or metal pot with a lid big enough to fit the dough almost doubling in size) in the oven at 250C to preheat.
When the dough is raised, shape it into a loaf.
Dust the now heated pot (carefully) with flour.
Add the loaf to the heated pot and put in the oven with the lid on for 30 minutes.
Take off the lid and cook in the oven for about another ten minutes, until the outside is crispy and golden brown.
Remove from the oven and leave to cool on a wire rack for 30-45 minutes.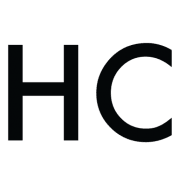 Jess Lacey
Jess Lacey is an Irish food blogger and soon to be lawyer. She has found a home in London, Dublin, Leiden, Melbourne and Aarhus. After a brief foray into the world of Michelin starred cooking, she decided to keep cooking and food as relationships based purely on passion rather than income. She travels frequently, and justifies this by writing about it. More of her musings and recipes are available on her blog, Canal Cook.