Earl Grey Dark Chocolates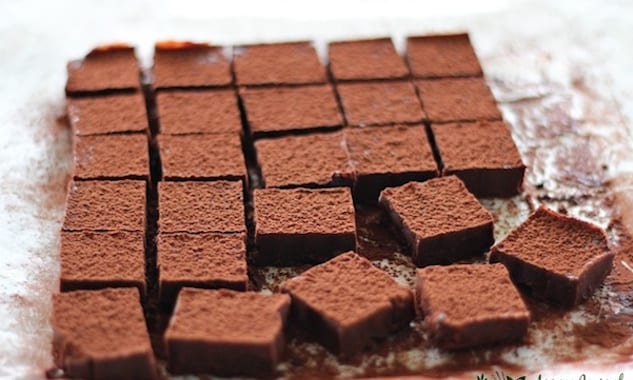 Smooth, melt in your mouth dark chocolates are not too sweet and linger with a flavors of Earl Grey tea and a hint of honey.
By Ann Low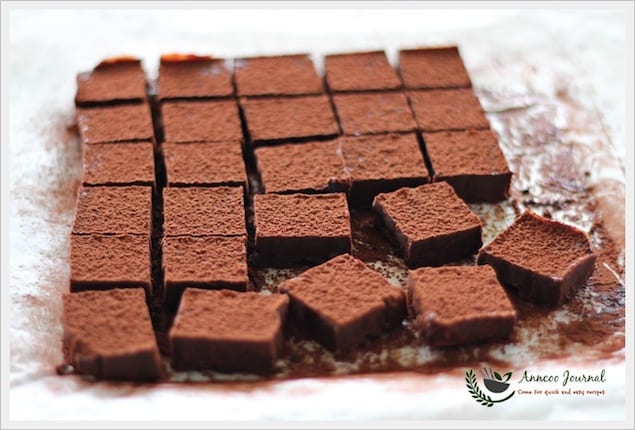 This small piece of smooth, creamy chocolate melts in your mouth and bursts slowly like a decadent truffle. Mixed with whipping cream and dusted with cocoa powder, it is a chocolate treat that is not too sweet. So here is my Earl Grey Chocolate recipe adapted from a Chinese cookbook. The recipe is very easy to follow and the taste is very unique, with a hint of Earl Grey tea and honey in the chocolate. Definitely worth to make this at home for your loved ones.

Earl Grey Dark Chocolates
Smooth, melt in your mouth dark chocolates are not too sweet and linger with a flavors of Earl Grey tea and a hint of honey.
Recipe Type:
Chocolate, Dessert
Ingredients
300g Dark Chocolate (can use Lindt brand or valrhona 70%)
180g Whipping cream (dairy cream) (measure to 140g after boiling)
12g Earl Grey leaves (I used 6 tea bags)
20g Butter
1 tbsp Honey
cocoa powder (varhlorna) for dusting
Instructions
Chop dark chocolate into small pieces and add butter on it, set aside.
Heat up whipping cream and earl grey tea bags till a boil at medium heat. Turn off heat, cover for 5 minutes.
Remove tea bags. Measure cream to 140g and mix with honey and bring to a boil at medium heat again.
Pour hot cream into chocolate pieces and stir till chocolate melted and smooth.
Pour chocolate mixture into a 7 inch square pan lined with non-stick baking paper. Leave chocolate to set for at least 2 hours.
Cut chocolate into small square pieces with a warm knife and dust with cocoa powder. Serve immediately or return the chocolate to fridge to chill.
Notes
Due to the our hot climate here, you need to be very quick when cutting the chocolate. If you don't like to use Earl grey tea, can use 300g chocolate and 150g whipping cream. Change honey to rum.
Ann Low
Ann Low is the author of Anncoo Journal, and loves to bake and cook for both family and friends. She acquired a strong passion for culinary skills from a very young age by watching her grandmother prepare delicious meals for the family. Ann believes that baking is an art and she wants to share her baking and cooking experiences with everyone in the world.