Lovely flavourful mussels cooked in aromatic vegetables, herbs, bacon and white wine, finished with cream.
By Ena Scheerstra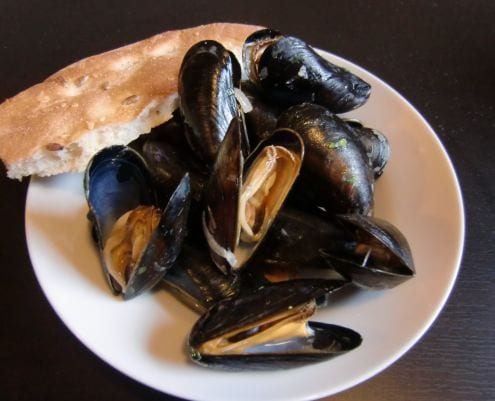 Although it is actually not very popular in the Netherlands, the country is a big producer of high quality mussels.
Farming mussels starts with wild mussel seeds that are sown onto farming grounds in the Wadden sea and Oosterschelde, these tidal areas are the best environment for growing mussels. When the mussels are 2-3 cm big, they are fished up and placed onto another farming ground, with more food resources. After 1,5-2 years, the mussels are fully grown, they are fished up again and taken to the mussel auction in Yerseke. After assessment (size, quality, etc) they are sold to musseltraders and brought to special plots (mainly in the Oosterschelde) where they can lose the sand collected in the shell when fished up before. During the whole process from seed to grown mussel, they are checked regularly for poisonous/harmful substances and bacteria.
When the mussels are needed for sale, they are rinsed, cleaned, packed and cooled. Because of the low temperatures, the mussel will go into hibernation, which will keep them fresh and alive for longer. Dutch mussels are usually available from July to March.
Because mussels contain high levels of protein, are low-calorie, rich in minerals and vitamins (calcium, phosphor, iron, selenium) and contain good fats, they are very healthy. Mussel allergy is fairly common, but can be divided in two categories. People that already have a severe reaction after eating a small amount of mussels should avoid them. But more common are pseudo-allergic people, who only have trouble (nausea, skin rash, etc) after eating a whole meal of mussels and can try to eat mussels later in the season, when they contain less protein and thus cause less symptoms.
Mussels are very easy to prepare. Usually farmed mussels are available, which are already prepared for cooking. You only need to rinse them and remove any beards that are left. Important to remind is that dead mussels can cause food poisoning, so throw away all damaged mussels and mussels that remain open even after tapping a few times on a surface.
Don't overcook mussels. A mussel is cooked when its shell is open, when you cook it longer than that you will only cause it to be rubbery and disgusting. I've seen suggested on some places to pry open any mussels with a knife that did not open during cooking, because it is caused by strong closing muscles, but mussels that do not open after cooking can also be dead/filled with mud (and thus cause food poisoning/make a mess). So I always think, better safe than sorry, and throw away the closed ones after cooking (there are only a few of them anyway).
Because of the delicate flavour and the soft texture of mussels, they can be easily overpowered by other ingredients. The ingredients that are used should enhance the flavour of the mussels. So I like the classic "Moules Marinières" way of cooking best, but I do have two additions: bacon and cream. The wine in which you cook the mussels in together with the mussel liquid forms a nice soup, but usually it is not that much. So I like to stretch it further with the cream, which results in a full bowl of soup but still a very strong mussel flavour. The bacon gives the whole dish a nice savouriness, without losing its seafood character. Generally, if you order mussels in France you will get an accompaniment of bread and butter, if you order mussels in Belgium you will get French fries/chips and sauces. They are all nice accompaniments, but I usually only give some bread to soak up the soup, because it is already quite a rich and filling dish. And of course the leftover white wine from cooking!
Print
Dutch Mussels
Lovely flavourful mussels cooked in aromatic vegetables, herbs, bacon and white wine, finished with cream.
Author:

Ena Scheerstra

Prep Time:

30 mins

Cook Time:

10 mins

Total Time:

40 minutes

Yield:

2

1

x
2

kilo mussels

1

carrot, diced

1

onion, diced

1

celery stick with leaves, diced/chopped

100 gram

bacon, diced
few sprigs of parsley, chopped
few sprigs of thyme

1

glass of white wine

125

ml cream
Accompaniments
Bread
Butter
French fries
Sauces
White wine (or beer)
Instructions
Clean the mussels.
Dice the vegetables and bacon.
Fry the bacon in a large pan (the mussels will need to fit in) until nice and crisp, set aside.
Use the bacon fat to fry the vegetables in.
Add the bacon back into the pot, together with the herbs.
Add in the mussels and wine, stir around, place the lid on the pan.
Cook the mussels for about 5 minutes, or until most are completely open. Stir once halfway through the cooking time.
Pour in the cream, heat for 30 seconds, stir and serve immediately.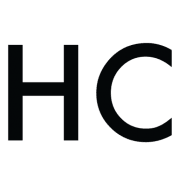 Ena Scheerstra
Ena Scheerstra has a lifelong love for food and cooking, starting to collect cookbooks at age 10. She spends most of her free time on cooking and everything food related. She is a strong believer of honest food, produced sustainable and sourced locally, and cultures her own vegetables on her balcony and in her small allotment. Her blog is very internationally orientated, reflecting the variety of food she cooks, but on Honest Cooking she is focusing on showing the world the wonders of Dutch food.