Bread plays a very important role in Dutch cuisine.
by Ena Scheerstra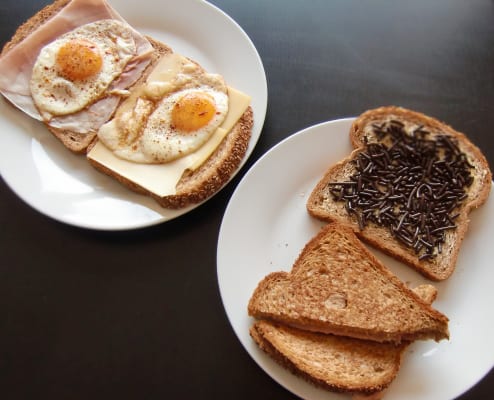 There are a few possibilities for the Dutch lunch. Most people eat sandwiches: slices of bread spread with a little margarine and filled with sweet or savory ingredients, made at home and taken to school or work in a bread box or sandwich bag. Whole grain bread slices (in many different varieties) are the most common, but some people prefer to have white bread, and soft buns (white, brown, with raisins or with muesli) are eaten as well. Probably the most common filling is the famous Dutch cheese, but cold cuts (cooked ham, raw ham, several varieties of salami, several varieties of sausages, etc) and sweet fillings (jam, peanut butter, chocolate sprinkles (hagelslag), chocolate/hazelnut paste, apple syrup) are also very common. Dutch sandwiches are generally filled thinly, for example a few thin slices of cold cuts or cheese (made with a cheese slicer) or a thin layer of a sweet filling. Occasionally people will add some lettuce leaves or slices of tomato or cucumber to their savory sandwich. People will drink milk or another milk product like buttermilk, chocolate milk or drinking yogurt (with fruit flavor). Coffee, tea, juice or an instant soup are also possibilities. Sometimes people also eat some fruit or yogurt at lunch.
Another reason why people often take food from home is the availability elsewhere. The typical lunch-break isn't long enough to go out for lunch, and many canteens don't offer a complete meal. But some bigger companies have a canteen that does serve more. Even then, some people take bread with them from home and just eat that or buy something extra like a soup or a salad, other people buy their complete lunch. Typical warm lunch dishes are 2 slices of bread with butter, mustard and meat croquettes (broodje kroket), a grilled ham and cheese sandwich (tosti) and 2 slices of bread, one with ham, one with cheese and topped with fried eggs (uitsmijter). Sometimes a small salad is served on the side. All kinds of sandwiches are available as well.
The typical Dutch lunch-break is around noon and takes about 30 minutes, which makes extensive meals impossible. At more official or more festive moments there is more time, so more things are possible. Only at very special occasions a hot lunch is served, otherwise a lunch buffet is common. This can be a simple buffet with an assortment of pre-filled sandwiches, milk, buttermilk and fruit, but can be a lot more extensive. In that case, it becomes a koffietafel (literally: coffee table). A soup is served as appetizer, after that several kinds of bread are served with butter, several kinds of savory (cheese, cold cuts, fish) and sweet fillings (traditionally jam and honey), together with a salad (Russian salad, salmon salad) and a simple hot dish (veal croquette, vol-au-vent with ragout). As a dessert an assortment of fruits is given. To drink there is coffee and milk, and often also tea, buttermilk and juice.
Print
Tosti and Uitsmijter
Two lovely and satisfying lunch dishes.
Author:

Ena Scheerstra

Prep Time:

5 mins

Cook Time:

10 mins

Total Time:

15 minutes

Yield:

1

1

x
Tosti
2

slices of bread

1

slice of cooked ham
a few slices of cheese
a knob of butter
Uitsmijter
2

slices of bread

1

slice of cooked ham

1

slice of cheese

2

eggs
salt and pepper
knob of butter
Instructions
Tosti
Heat a non-stick frying pan on low heat.
Take one slice of bread, layer thinly with cheese, place the slice of ham on top and cover with another layer of cheese. By sandwiching the ham between cheese, the whole tosti will stick together better. Top of with the second slice of bread.
Melt half of the butter in the frying pan. Place the sandwich on top. Fry on low heat until brown and crisp.
Flip over the tosti, place the other half of the butter under it and fry on low heat until this side is also brown and crisp.
Serve immediately.
Uitsmijter
Melt the butter in a frying pan on low heat.
Break the eggs into the pan, season with salt and pepper and fry on low heat until the white is cooked and the yolk is still runny.
Meanwhile, layer the ham on one slice of bread and the cheese on the other.
Place the eggs on top of the bread. Serve immediately.
Notes
Different kinds of bread can be used (whole-grain, white, sandwich, artisan). Just use the kind you like or which you have available.
I use Dutch gouda cheese for both recipes. You can substitute this with another semi-hard cheese with good melting properties and a mild flavor profile.
Instead of ham, other cold cuts or fried slices of bacon can be used.
Additional herbs and spices can be used to season the eggs. I like to use paprika powder and garlic powder, or a Provençal herb mix.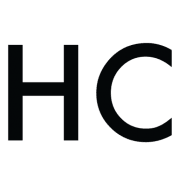 Ena Scheerstra
Ena Scheerstra has a lifelong love for food and cooking, starting to collect cookbooks at age 10. She spends most of her free time on cooking and everything food related. She is a strong believer of honest food, produced sustainable and sourced locally, and cultures her own vegetables on her balcony and in her small allotment. Her blog is very internationally orientated, reflecting the variety of food she cooks, but on Honest Cooking she is focusing on showing the world the wonders of Dutch food.