Healthy Dum Aloo – Baby Potatoes in Spicy Yogurt Gravy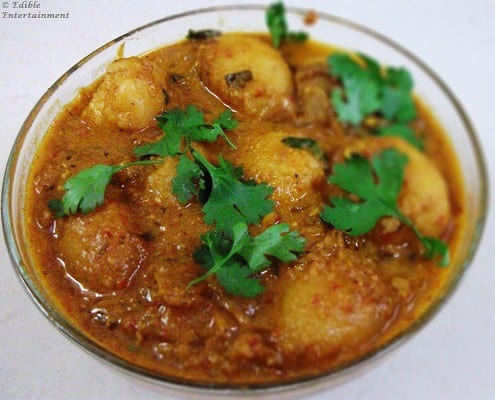 A healthier version of the famous Indian dish where baby potatoes are cooked in a spicy yogurt gravy.
By Kavitha Iyengar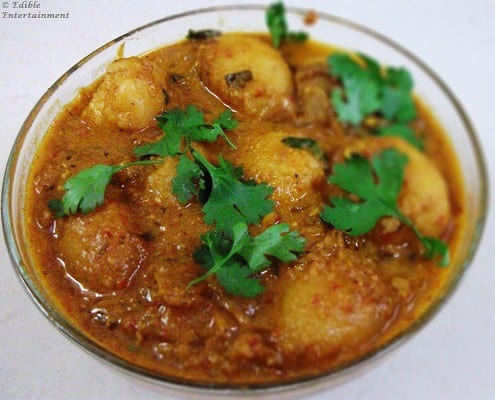 Dum Aloo is named so because the dish is cooked under Dum or Pressure so as to let the potatoes soak in the flavor from gravy. In the authentic recipe, you have to actually deep fry the potatoes. This is a healthier version of the very famous Indian Curry.

Dum Aloo | Baby Potatoes in Yogurt Gravy
Baby Potatoes cooked in spicy Yogurt Gravy
Ingredients
To grind for Masala
Almonds - 10, blanched
Tomatoes - 1 cup (about 2 medium)
Ginger - 1 inch
Garlic - 3 cloves, peeled
Dry Red Chilies - 4
For the Gravy
Onions - 1.5 cups (1 large onion)
Oil - 6 teaspoons (4 tsp for frying potatoes & 2 tsp for gravy)
Cumin Seeds / Jeera - 1 teaspoon
Cloves - 2
Cinnamon - 1 inch
Cardamom - 2
Turmeric / Haldi powder - ½ teaspoon
Garam Masala - 1 teaspoon
Kasuri Methi / Dry fenugreek leaves - 2 teaspoons
SALT - 3-4 teaspoons (or as per taste)
Yogurt / Curd - ½ cup (100 ml) (not the thick kind)
Water - ½ cup (80-100ml) (if required)
Coriander / Cilantro leaves - for garnish
Instructions
I. Preparing the baby potatoes -
Boil & peel the potatoes.
Heat a pan & add 4 teaspoons oil to it.
Add the potatoes
Fry till the potatoes turn golden brown and form a nice crisp layer. (keep an eye on the pan as the potatoes may burn if not tossed regularly)
Keep aside
II. For the masala
In a blender, take tomatoes, blanched & peeled almonds, ginger, garlic & red chilis. (ingredients mentioned under 'To grind for masala'.
Blend to a smooth paste & set aside
III. For the gravy
Add the remaining 2 teaspoons of oil to a pan
Add cumin seeds, clove, cinnamon & cardamom. Sauté for 1-2 minutes
Add chopped onions
Sauté till they get a golden brown color.
Add the ground paste (from above ?)
Mix & sauté for 4-5 minutes
Add the Salt, Turmeric, Garam Masala & Kasuri Methi
Mix well. Let it cook for a minute
IV. Final Step: Getting it all together
Add the fried baby potatoes to this mixture and mix once.
Add the yogurt/curd
Mix well and simmer for around 10 minutes
In case the curry is too dry, add a little water.
Garnish with coriander / cilantro leaves & serve!
Notes
- You can substitute for baby potatoes by using normal potatoes & cutting them into 2 inch thick cubes. - Serve with Chapati, Tortilla, Bread, Rice etc.
Kavitha Ramaswamy
Kavitha Ramaswamy is the founder of www.Foodomania.com, a vegetarian and vegan Food Blog where she shares over 500 easy recipes with step by step pictures.