Far beyond the sad plasticized pudding cups in a grocery store corner, this pudding is rich with homemade dulce de leche and pairs famously with a tart fruit like pluots.
By Amanda Marsteller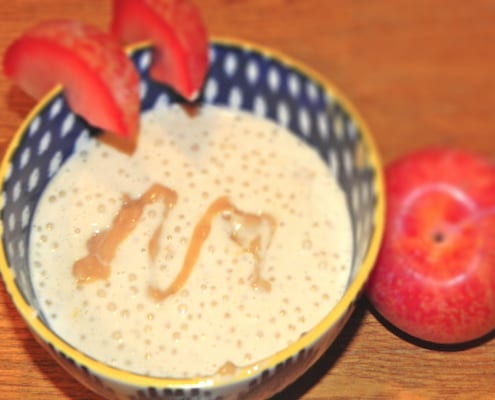 Tapioca's not for everyone, perhaps you don't fancy the satisfying chew of tiny bubbles bursting in every spoonful, but for me, it's an essential ingredient in a good pudding. Far beyond the sad plasticized pudding cups in a grocery store corner, this pudding is rich with homemade dulce de leche and pairs famously with a tart fruit like pluots. The slightly underripe, tangy pluots cut into the thick caramel flavor and I struggled to stop swooping up ribbons of dulce de leche with pluot wedges even before the pudding was finished cooking. At any rate, while this recipe from San Francisco's State Bird Provisions offers a simple approach to tapioca-crafting, I did change up the method for making dulce de leche. Instead of boiling the whole can of sweetened condensed milk for a few hours, I used David Leibovitz's approach by pouring the can of milk into a glass pan nestled inside a larger glass pan filled halfway up with water and letting this brown itself into gooey golden caramel for about an hour and a half. This method cuts the cooking time in half and sends you on your way to spoon-licking splendor much more speedily. After the caramel waiting period is over, you're not far from the end result of a luscious, pearl-packed pudding experience, ripe with opportunity for bowl and pot-licking pleasures and beyond.

Dulce de Leche Tapioca Pudding
A sinfully rich pudding slicked with dulce de leche ribbons and packed with chewy tapioca pearls.
Author:
Amanda Marsteller
Ingredients
1 14 ounce can sweetened condensed milk
¼ teaspoon salt
3 cups whole milk or half and half
¾ cup tapioca pearls (I used medium size)
2 pluots
Instructions
Preheat oven to 425 degrees F.
Pour the can of sweetened condensed milk into a glass baking dish.
Set this baking dish inside a larger dish and fill the larger one with water until it reaches halfway up the side of the small dish.
Cover the small dish with aluminum foil and bake for one and a half hours, adding more water to the larger dish as necessary to maintain level.
Once the dulce de leche is browned, remove it from the oven and let it cool.
Whisk the dulce de leche until smooth and stir in the salt.
In a bowl, whisk ¾ cup of the dulce de leche together with ¾ cup of milk or half and half.
Over medium heat, bring the last 2¼ cups of milk to a simmer in a pot.
Once simmering, whisk in the tapioca and continue to simmer and stir for about 20 minutes, or until the tapioca is cooked through.
Turn off the heat and whisk in the dulce de leche and milk mixture, then pour into a bowl.
Place this bowl in an ice bath or large bowl of cold water and allow the mixture to cool.
Serve with swirls of extra dulce de leche on top and a few wedges of pluot for dipping.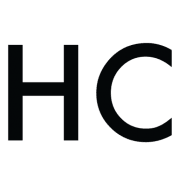 Amanda Marsteller
Amanda is an associate producer in food television and editor of mobile culinary apps. While new recipes and restaurants enrich her everyday eating, she finds a certain thrill in exploring the public library's historic menu collection and reveling in the dishes of days gone by. With the Brooklyn Bridge in view, she believes that her borough is one of the most exciting locales to experience food, in both the present and the past. She also pens a blog called The Choy Luck Club, in which she shares the bounty of community-supported agriculture.