Revamp the dirty martini with grilled olives and smoky bitters.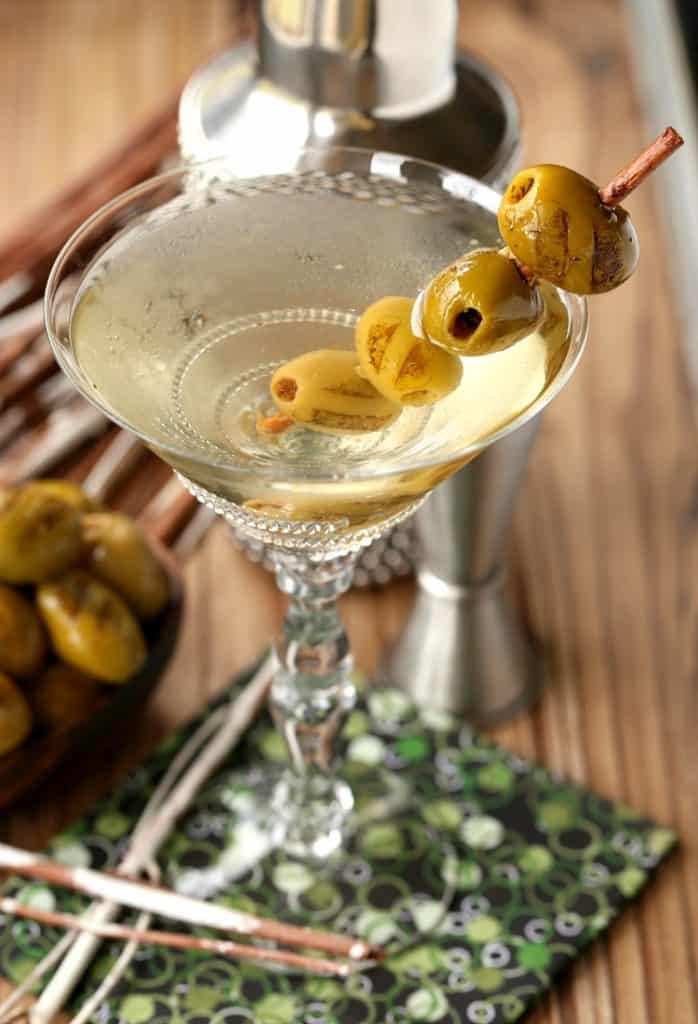 It's all about the garnish today in this Grilled Dirty Martini! We're trying to get the flavor of summer right in your glass.
So obviously in this drink we're talking about grilling the olives – but it's more than that – we're adding that smoky grilled flavor right in this dirty martini recipe.
I found these grilled olives at the store and knew I had to try this when we pull the grill out. Christie was very excited for this cocktail post, seeing as a dirty martini is pretty much the only kind of martini she drinks. She loves them so much we even turned it into a party shot in these Dirty Martini Shots.
In addition to grilling the olives, I'm adding a dash or two of these cool Oak Bitters I found. Just a little to drive that grilled flavor home but not too much to make it actually taste oaky.
The last twist for this Grilled Dirty Martini is a lemon peel.
But not for the garnish – I added a lemon twist to the cocktail shaker while I shook up this drink.
See Also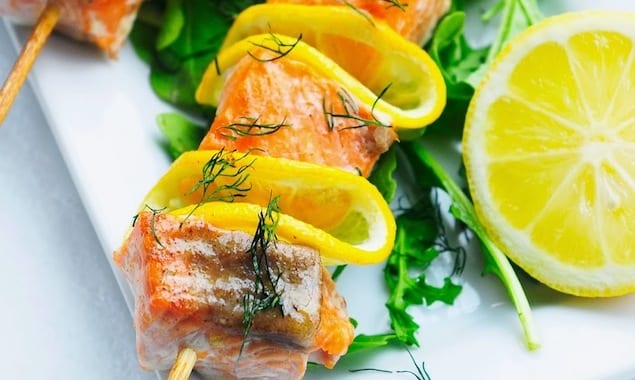 It added the perfect amount of lemon freshness to the vodka without actually being "lemony". You with me so far? Just a dash of Oak Bitters without it becoming to "oaky" and just a hint of lemon rind without it being too "lemony".
Subtle flavors here, that's the key to this Grilled Dirty Martini.
Love cocktail projects? Click here for more of my drink recipes.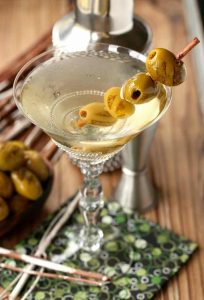 Dirty Martini on the Grill
Dan George
Ingredients
2 1/2

ounces

vodka

1

ounce

olive juice

1-2

dashes Oak Bitters

lemon twist

splash of water

grilled olives for garnish
Instructions
Add all the ingredients except for the olives to a cocktail shaker filled with ice.

Shake very well and strain into a chilled martini glass.

Add the olives on a pick for garnish.
Notes
If you can't find grilled olives at the store you can easily make them yourself by putting a few olives onto a skewer, or in a grill basket, and grilling them lightly on both sides.
Dan George
Born and raised in New Jersey, Dan started the web site Mantitlement as a way to learn how to cook for the first time from his wife, Christie. Christie has always been the primary cook in the household and Dan got used to having her three-course, restaurant quality meals for dinner every night. Well, it was time he learned how to do some cooking on his own, and that's how Mantitlement got started. Dan believes that everyone is entitled to having great food and drinks at home...and he can show you how to make them with his collection of recipes!