Danish Kammerjunker Cookies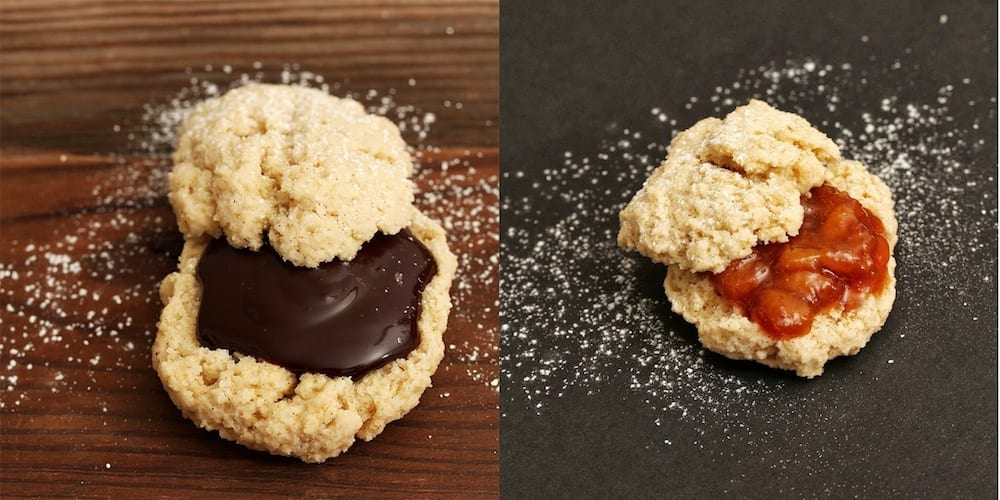 Kammerjunker are twice-baked biscuit-like cookies that are often served with milk and yogurt for breakfast but here are topped with jam or ganache for an extra-sweet treat.
By Vanessa Pastore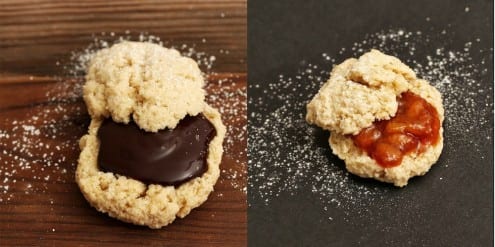 Most of my knowledge of Nordic cuisine comes from PBS, specifically the program New Scandinavian Cooking on their 'Create' station (which I miss dearly, Comcast) With their infectiously happy and gregarious hosts, cooking outdoors in beautiful, if not blustery surroundings, the inherent magic of the North is hard to deny. I was tasked to immerse myself into, specifically, the Danish food culture. What I found was that inherently, Danish food does not really cater to vegetarians or vegans. While more restaurants are popping up in Denmark, offering options in the form of innovative tacos and curries; Danish vegetarian (vegetar) cuisine seems at its roots, a bit Spartan. What I can always rely on, however, are baked goods; as this blog dicatates quite clearly, I eat them for morgenmad (breakfast), frokost (lunch), and middag (dinner).
From rich cakes like Othellolagkage (Literally Othello cake with layers of macaroon, marzipan, and ganache), to the tantalizing donut-like æbleskiver, to holiday pebernødder, I am definitely at home with Danish sweets. When I came across kammerjunkers, I felt a kindred spirit. The kammerjunker, and yes I'm going to say it like it's today's magic word, is a biscuit like cookie that is twice baked. Ring any bells to you? Kammerjunker may very well be the Danes answer to biscotti, bringing them even closer to my Italian heart. Typically, kammerjunker are found in a dish called koldskål (containing milk, buttermilk, and yogurt) for breakfast. While anything in a bowl and covered in milk is defined as breakfast, I chose a different route with my abundance of peaches, and made a jam to match.

Danish Kammerjunker Cookies
Kammerjunker are twice-baked biscuit-like cookies that are often served with milk and yogurt for breakfast but here are topped with jam or ganache for an extra-sweet treat.
Ingredients
Kammerjunker
2.5 cups Flour
1 Tblsp Baking powder
¾ tsp Ground cardemom
¼ tsp Salt
½ cup Sugar
7 Tblsp Earth Balance (cold and cut into chunks)
⅓ cup Coconut milk
2 tsp Vanilla paste (or extract)
Farmer's Market Peach Jam
3 Peaches, peeled and diced
¼ inch of fresh ginger, grated, or ¼ tsp ground ginger
Pinch of salt
½ cup Brown sugar
½ cup Strong brewed Earl Grey tea
Ganache
½ cup Semisweet chocolate chips
1 cup Coconut milk (hot)
Pinch of salt
Instructions
Kammerjunker
Preheat your oven to 350° F.
This is not your standard pastry method, or even creaming method. Dump the flour, baking powder, cardemom, sugar, and salt into a large mixing bowl, and mix to incorporate everything.
To this, add your earth balance and work into the dough, until you get a pebbly consistency.
Once you're there add your coconut milk and vanilla to form a somewhat sticky dough.
Form into ping-pong sized balls on a lined baking sheet. If you want a softer end product, make them more toward the golf ball side of the spectrum, as such.
Bake these for 10 minutes, then remove and set aside. You now want to cut the kammerjunkers in half while they're still warm. Wait until you can handle them without them falling apart, or you'll be forced to eat the evidence. By no means do you have to explain an uneven number of tops to bottoms.
Lower the oven to 200° F and continue to cook the kammerjunkers, cut side down, for 45 minutes to dry them out further.
The cookies do not get as hard as biscotti per se, and have almost a scone-like quality to them.
Peach Jam
Combine all the ingredients in a sauce pan and heat on medium. When the sugar begins to melt, keep your eye on it! This sucker likes to froth like nobody's business.
Let this reduce until you get the consistency you want. I let mine go on medium low heat, with monitoring and stirring, while the kammerjunk baked.
Ganache
Place the chocolate chips and salt in a heatproof bowl. Heat the coconut milk in the microwave, or on stove top if you feel fancy, until very hot and steamy. Pour the hot coconut milk over the chocolate, steep for a moment, then stir stir stir until it comes together in glossy goodness. You can use it as is, or refrigerate for a truffle-like consistency on your kammerjunkers.
Vanessa Pastore
Vanessa Pastore is a part time baker, blogger, and all around passionate about food. A vegan of 13 years, she has become obsessed with farmer's markets, international markets, and anything she can get her hands on. Everything is a potential ingredient, and every ingredient is a potential baked good. When she's not baking or blogging, chances are, she's thinking about it.