Crockpot Roasted Garlic Tomato Soup is the perfect way to take advantage of all the ripe and in-season tomatoes. Using a crockpot makes this dish easy.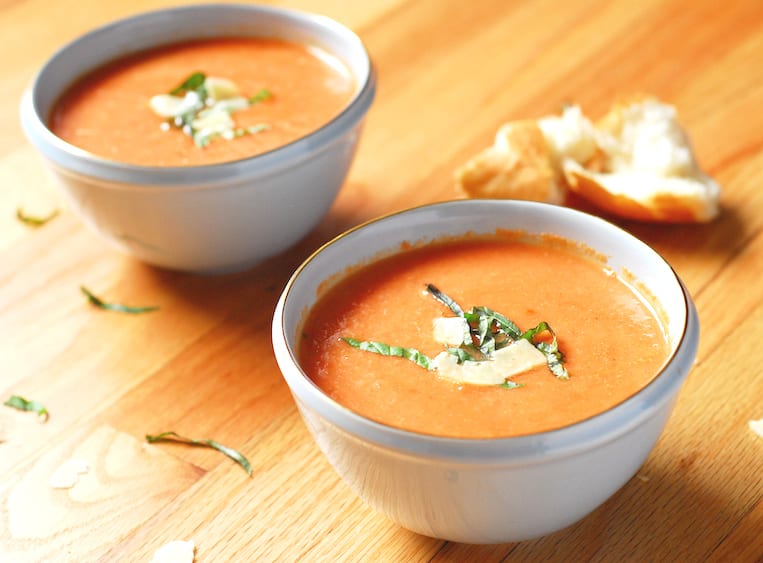 PEOPLE OF THE WORLD! I'm reunited with my crockpot! And yes, it feels oh so good. Funny story: when my fiance and I got home from South Africa, my crockpot was the one kitchen item that hadn't turned up. It was nowhere to be found. So I went around resenting the world for a few days and contemplating whether or not I should order a new one. Then my fiance decides to go down to our basement storage unit, where all our stuff lived while we were gone, and found it sitting out, on an open shelf. Of course.
You guys, Portland is a cold place. Even during the summer we get the odd cool day! I thought coming back would be no big deal since, you know, I've lived in Oregon my entire life. I was wrong. My blood totally thinned out in the year we were gone. So soup was the answer! More specifically, roasted garlic tomato soup that's topped with asiago cheese and plenty of basil. Thank goodness I made enough to freeze.
See Also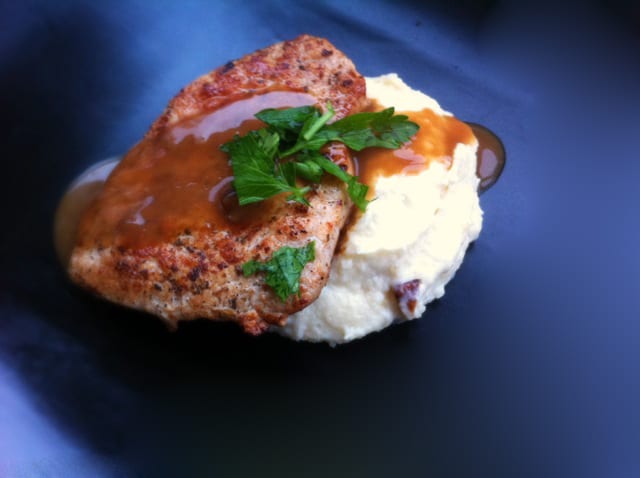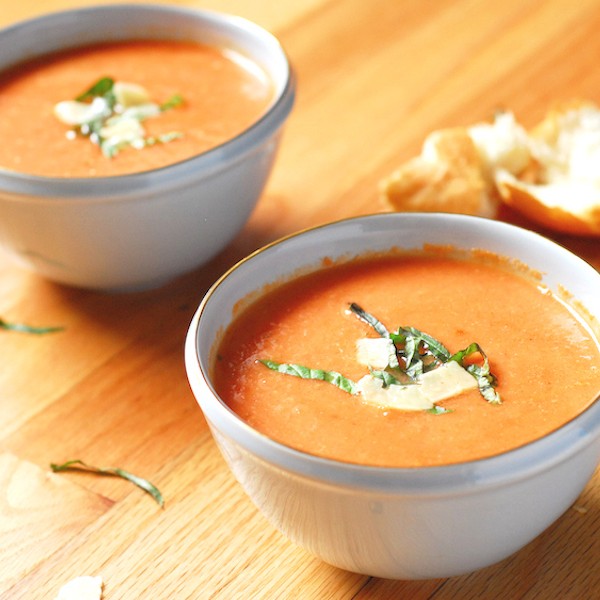 Chelsea Miller
Ingredients
2.5

lbs

ripe Roma tomatoes

1

head garlic

1

tbsp

olive oil

1

medium-sized yellow onion

diced

1

14 oz can diced tomatoes

½

cup

chicken broth

1

tsp

salt

½

tsp

freshly ground black pepper

1

tsp

granulated sugar

¼

tsp

crushed red pepper flakes

¼

tsp

cayenne pepper

2

tbsp

chopped fresh basil

plus more for garnish

½

cup

heavy cream

4

oz.

Asiago cheese

sliced

2

tbsp

julienned basil

for garnish
Instructions
Preheat your oven to 400 degrees F.

Peel the cloves of garlic in the head. Set them on a square of foil and top with the olive oil. Roll the foil around the cloves to make a packet. Roast in preheated oven for 25 minutes.

While the garlic is roasting, bring a large pot of water to a boil. Add the tomatoes. Boil for 3 minutes.

Drain the tomatoes and run cold water over them until their cool enough to touch. Remove the skin and cores and add to the crockpot.

Add all remaining ingredients except heavy cream, cheese, and basil for garnish, including roasted garlic.

Cook on high for 3-4 hours, or until vegetables are soft. You could do 6-8 hours on low if need be.

Puree vegetables with an immersion (stick) blender until completely smooth. Stir in heavy cream and most of cheese, leaving out just a bit for garnish.

Spoon into bowls and top with remaining cheese and julienned basil.
Chelsea Miller
I am a Portland native, University of Oregon graduate, traveler, restaurant worker, and lover of all things food back in Portland, Oregon after an extended stay in Cape Town, South Africa.