Tamara Novacoviç with a bread recipe that can pose as a "typical" bread from many different countries.
Text And Photo By Tamara Novacoviç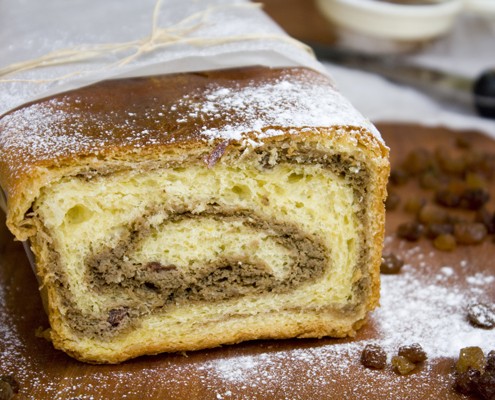 This is a traditional recipe and I must say that I have stumbled upon many recipes like this one on the Internet, where it is said that this is a traditional Hungarian bread, Slovenian bread, Polish bread…All of this is actually true: it is a sweet bread made in many countries in Eastern Europe. It goes by many names: Povitica, Potica and in Croatia Orahnaca. I believe some of you may be familiar with this cake. It represents a taste of home land to families from Eastern European countries who emigrated.
For me, this cake represents some of the sweetest childhood memories. My grandma's friend (we called her aunt Franca) used to bake the best walnut roll in the world. I remember the sweet smell coming from her apartment, which meant we were going to get a real, freshly baked treat. The best companions to this roll are milk and coffee. I remember the greatest feeling of waking up to a freshly baked walnut roll with a glass of milk that awaited me on the table. Mornings like this were my favorite part of the day. I used to eat it for dinner, before bed too. Today, nothing has changed, I still enjoy fresh from the oven roll, but the difference is that I personally make it.
Rolls like this one are usually made for holidays, especially Easter and Christmas. The secret of their great flavor comes from the filling, made with walnuts or poppy seeds (known as Makovnaca), raisins and rum. Also, the dough is often flavored with lemon or orange zest. My favorite version uses walnuts and here I'm giving you a recipe I tried for this Easter. It is from a traditional Croatian cooking book I got as a present.
The secret of this roll's great flavor comes from the filling, made with walnuts or poppy seeds, raisins and rum. Also, the dough is often flavored with lemon or orange zest.
Ingredients
For the dough
1 oz (30 g) fresh yeast
1 tbsp sugar
¼ cup (30 g) all purpose flour
⅕ cup (50 ml) warm milk
3½ cups (350 g) all purpose flour
a pinch of salt
¼ cup (50 g) butter
⅛ cup (30 g) sugar
zest of ½ lemon
2 egg yolks
1 whole egg
1 cup (250 ml) milk
1 tbsp sour cream
1 egg for the egg wash
For the filling
3½ cups cups (350 g) ground walnuts
3 tbsp rum
⅔ cup (150 g) sugar
1 tsp vanilla extract
2 cups (100 g) raisins
1 tbsp honey
0.8 cups (200 ml) milk
zest of ½ lemon
½ tsp cinnamon
Instructions
First, crumble fresh yeast with warm milk, sugar and flour. Let rise for 15 minutes, covered with clean kitchen towel, until frothy.
In a separate bowl combine flour with salt, melted butter, sugar and lemon zest. Add yolks and 1 whole egg, sour cream and yeast mixture. Knead until soft dough forms. Let rise in an oiled bowl, covered with clean kitchen towel in a warm place until doubled in size (about 1 hour).
In the meantime, make the filling: combine ground walnuts with sugar and vanilla sugar, lemon zest, cinnamon and hones. Combine raisins with rum and let stand for 15 minutes. Add raisins with rum to the previous mixture. Add boiling milk and combine everything. Let cool until you roll out the dough.
Punch down risen dough. Divide in two equal parts. Roll out each part onto floured surface into a rectangle (that fits the size of your baking pan) approximately 35 x 30 cm. Spread with filling, leaving1/2- inch (1 cm) border uncovered. Starting at long side, roll up, pinching seam to seal.
Place rolls seam side down in a greased baking pan. Let rise again, until doubled in size.
Preheat oven to 392 F (200 Celsius).
Brush rolls with whisked egg and bake for about 40 minutes.
Let cool completely before slicing. You can dust it with powdered sugar before serving.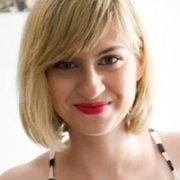 Tamara Novakoviç
Tamara Novakovic is a passionate self-taught cook, food blogger, freelance food writer and photographer behind bite-my-cake.blogspot.com. Her life journey has led her through Faculty of Humanities in Zagreb, Croatia to discovering passion for making cakes. She is currently a weekly food columnist for Croatian newspaper V magazine and food magazine Repete.