For a delicious mezze, spend the time to make this beautiful eggplant dish. With crisp lamb and tart pomegranate, is is the perfect combination of flavors and textures.
By Jess Lacey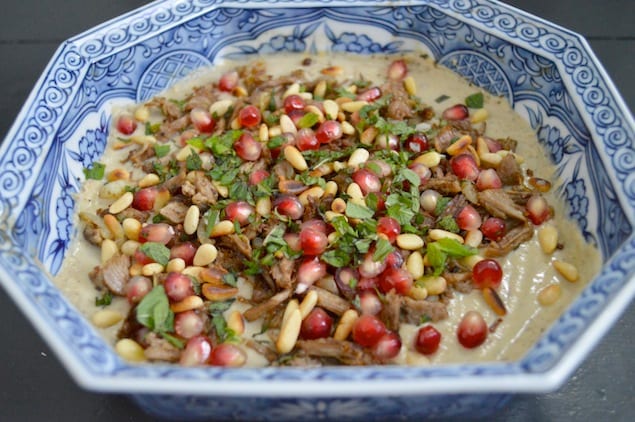 The most relaxing thing for me is a day with nothing to do but cook. This lamb dish from the Morito cookbook was made on one of those kind of days, a lazy Sunday with hours to spend in the kitchen. It's a little bit time consuming, but not tricky to make, and it looks so pretty at the end that you get a fantastic sense of accomplishment. I followed the recipe pretty much to the word, but if I was remaking it, I'd add some tahini to the aubergine to give a bit of extra bite. This dish serves 6-8 as part of a mezze.

Crispy Spiced Lamb with Aubergine and Pomegranate
For a tasty mezze, take the time to make this eggplant dish. With crisp lamb and tart pomegranate, is is the perfect combination of flavors and textures.
Author:
Samuel and Samantha Clark
Ingredients
600g stewing lamb
1 teaspoon coriander seeds
1 teaspoon cumin seeds
1 teaspoon ground cinnamon (or a cinnamon stick)
1 onion, halved
a few sprigs of thyme and some bay leaves
3 aubergines
3 tablespoons greek yoghurt
3 tablespoons olive oil
2-3 cloves of garlic
juice of ½ lemon
50g butter
1 white onion
1 teaspoon toasted and ground cumin
1 teaspoon ground cinnamon
chilli flakes, to serve
2 tablespoons chopped mint
2 tablespoons pomegranate seeds
2 tablespoons toasted pinenuts
Instructions
Put the lamb in a large sauce pan with all of the ingredients down to and including the bay leaves.
Simmer for around 45-50 minutes, skimming the froth off the top as you go (appealing, I know!)
The meat should be very soft and easy to tear apart with a fork/your hands once cooled (test with a fork before taking off the heat)
Roast the aubergines in a very hot oven, over a gas flame or over a barbecue until soft (around 45 minutes in an oven at 220C)
Once they cooled, scrape the flesh from the skin into a bowl, and blend with a stick blender.
Stir in the yoghurt, oil, lemon juice and garlic.
Once the lamb is torn into small shreds, heat the butter in a saucepan.
Cook the onion in the butter with a pinch of salt until soft and sweet, 10-15 minutes.
Add the spices and cook for a minute, then add in the lamb.
Fry until bits of the lamb are crisping up, then remove from the heat, and pile on top of the aubergine in a big bowl.
Top with the pinenuts, mint and pomegranate seeds.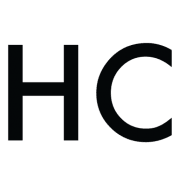 Jess Lacey
Jess Lacey is an Irish food blogger and soon to be lawyer. She has found a home in London, Dublin, Leiden, Melbourne and Aarhus. After a brief foray into the world of Michelin starred cooking, she decided to keep cooking and food as relationships based purely on passion rather than income. She travels frequently, and justifies this by writing about it. More of her musings and recipes are available on her blog, Canal Cook.