Crispy Beef with Sticky Orange Sauce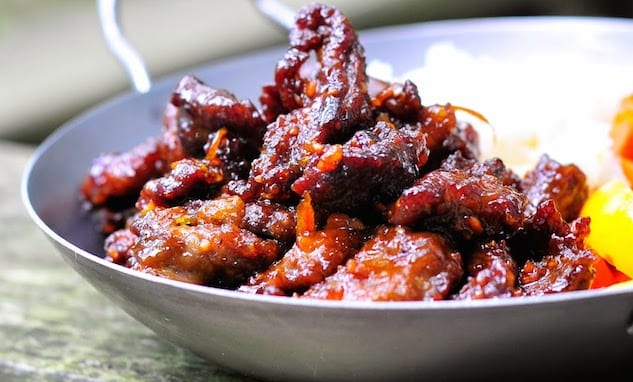 Served with rice and stir-fried vegetables, this dish has subtle flavors to allow the meat to shine and the orange to be present with each bite.
By Sherron Watson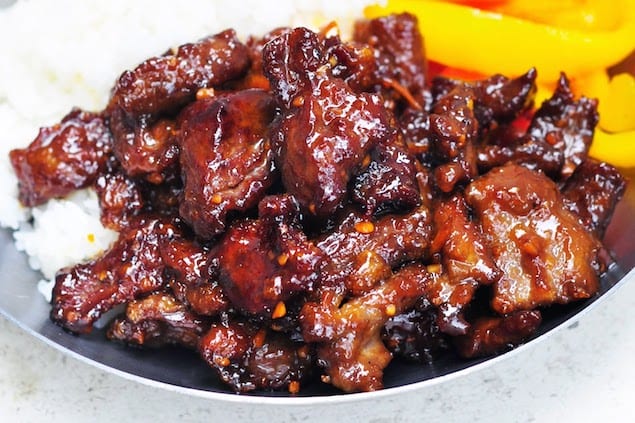 The beef is fried in coconut oil. In case of allergies, use arrowroot starch in place of cornstarch and coconut aminos in place of the recommended soy sauce.
I was very happy to have this for lunch with a bowl of rice and a few stir-fried vegetables along the side. The combination of ingredients created a nice blend of flavors. Nothing too over-powering. Subtle flavors that allow the meat to shine and the orange to be present with each bite.
My inspiration for this dish came from two blogs: Fifteen Spatulas and Table for Two.

Crispy Beef with Sticky Orange Sauce
Served with rice and stir-fried vegetables, this dish has subtle flavors to allow the meat to shine and the orange to be present with each bite.
Serves:
Makes enough for 2 very hungry adults or 4 adults with rice and side dishes
Ingredients
2 pounds of steak: sirloin, stir fry steak or skirt steak
2 tablespoons coconut aminos or soy sauce or gluten free soy sauce
⅓ cup arrowroot starch or corn starch
1 cup of oil, for frying (I used coconut oil)
Orange Sauce
2 tablespoons arrowroot or cornstarch
⅓ cup fresh orange juice
3 tablespoons molasses
1 tablespoon rice vinegar
3 cloves of garlic, minced
1 teaspoon fresh ginger, minced
¼ cup of orange rind, sliced very thin
¼ cup green onion, chopped for garnish
Red pepper flakes, optional
Instructions
Cut meat into bite size pieces. I tried to have my pieces about 1inch by 1.5 inches. Add coconut aminos or soy sauce to the meat pieces and toss. Add the starch and coat each piece of meat.
Using a wire rack inside a cookie tray, spread the meat pieces out in a single layer. Freeze for 45 minutes. This helps to dry the meat out and make it crispy when fried.
minutes before meat is done in the freezer, add oil to large cast iron pan or dutch oven. Bring oil to 375 degrees F.
Line a bowl with a paper towel and start frying meat. Fry until golden brown on each side (about 3 minutes) You can add more oil if you want to coat the pieces and "fry". I did more of a pan fry on mine and it worked out great. Remove pieces to paper towel and continue frying until all the meat is prepared.
To prepare sauce-see below. Toss sauce with crispy beef pieces, add garnish and serve with rice.
Orange Sauce
To serve sauce on the side: Combine sauce ingredients in a small sauce pan, whisk and bring to a boil. Reduce heat and simmer until thickened (about 3 minutes).
To serve sauce over beef: Add ingredients to a small bowl and whisk. When all of the meat has been fried, remove oil and toss sauce into frying pan. Bring to a boil and then reduce heat for 3 minutes. Add beef pieces and stir to coat each piece with sauce.
Sherron Watson
Sherron Watson is a writer and photographer. Her passion for food started at a young age while working with her family in their restaurant business. A career in photography gave her the experience she needed to start capturing images of her favorite dishes. This led to the creation of her blog: simply-gourmet.com. She is currently a food writer for Capital Style Magazine in Annapolis, MD.