How to Create a Falafel Salad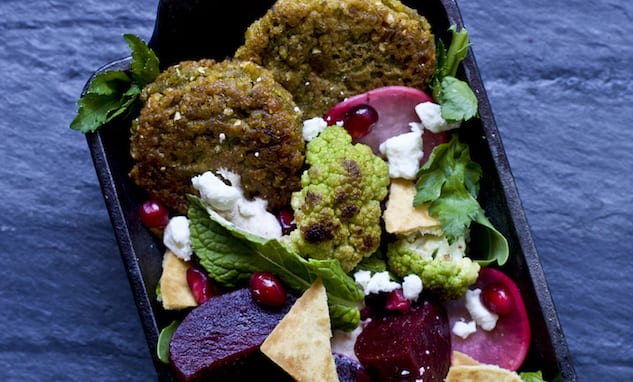 This salad could cause you to have a serious obsession. It is crunchy, sweet, tart and tangy – full of texture and brightness with fresh herbs and zip of Greek yogurt.
By Kristin Guy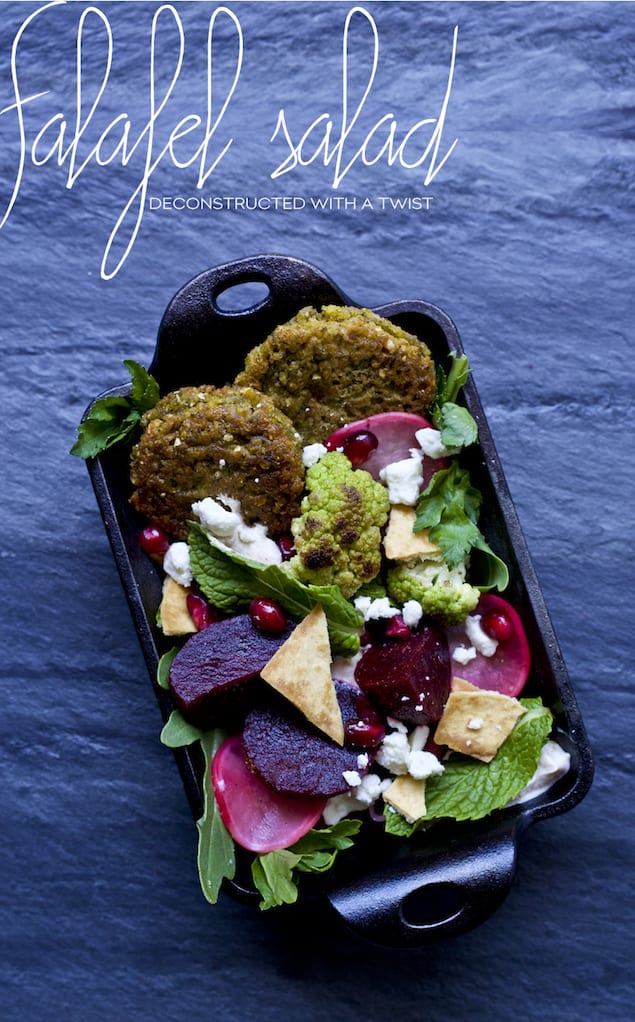 One of the greatest joys of travel is experiencing new dishes along the way. We are the kind of people who are feverishly making notes on our phones between bites, trying to figure out what is in the sauce and which ingredients are making the experience so special. Once home and especially when postpartum of the most recent destination kicks in – we teleport ourselves back by recreating these favorite dishes from home.
One particular dish that has been a reoccurring hit on our meal list is a deconstructed falafel salad that we enjoyed on a recent galavant in Melbourne, AU. Our first evening in town we arrived late and were in need of a bite. We walked around the corner from our apartment looking for something still open and what started out as a meal of necessity turned out to be the happiest of accidents and repeat visits throughout our stay.
The Aviary Hotel is a hidden gem, filled with unique dishes, fine crafted drinks and a salad that has made it home as one of our prized souvenirs.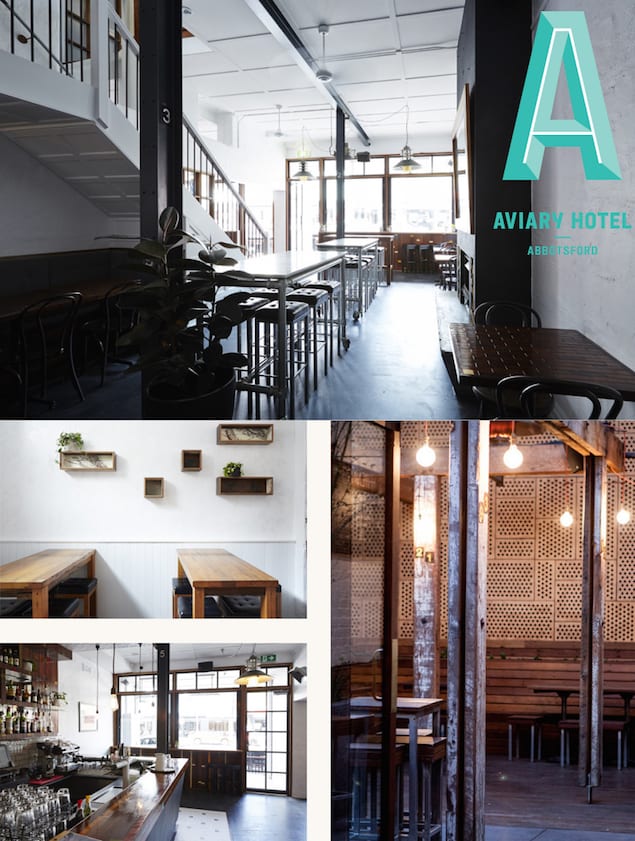 If you don't believe our obsession with this salad is real. We will embarrassingly admit it was eaten twice during a one week period. It is crunchy, sweet, tart and tangy – full of texture and brightness with the fresh herbs and zip of greek yogurt. The only thing that could possibly make this better would be eating it back on the sidewalk in Melbourne accompanied with one of The Aviary Hotel's seasonal cocktails and a side of crisp calamari.
Lucky for you (and us!) there's no need for a stamp on our passport to enjoy this unique dish tonight. Our notes have come in handy and we're excited to share our interpretation of a new summer favorite with you guys – cheers!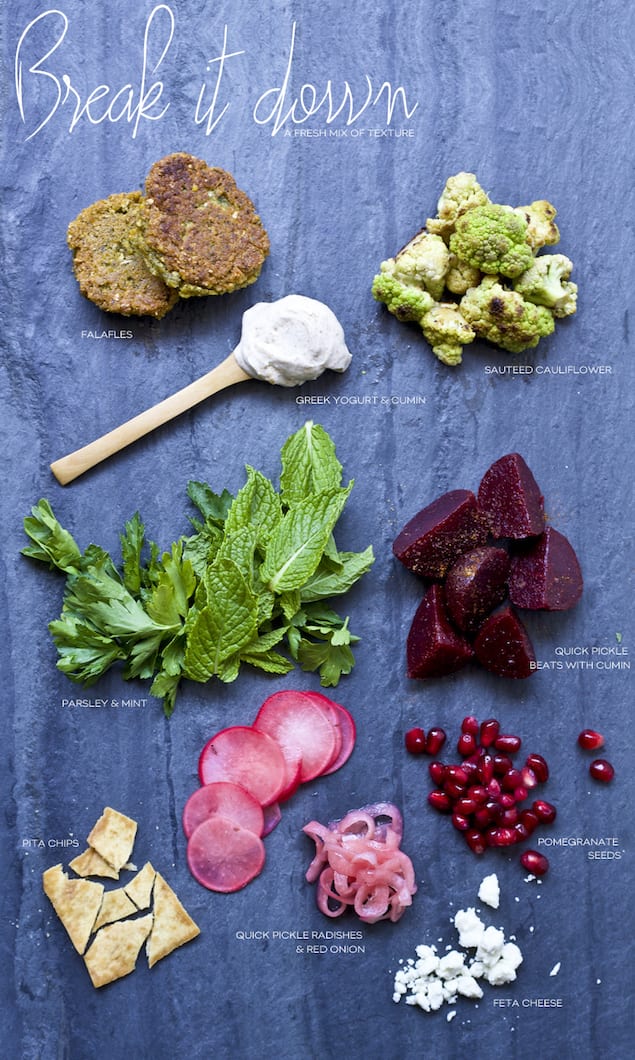 How to Create a Falafel Salad
This salad could cause you to have a serious obsession. It is crunchy, sweet, and tangy – full of texture and brightness with herbs and zip of greek yogurt.
Cuisine:
Middle Eastern Fusion
Ingredients
Falafel mix (see box for specific preparation & directions)
½ cup Nonfat Greek yogurt mixed with 1 TSP ground cumin & juice ½ lemon
½ cup Sautéed cauliflower
½ cup flat parsley & mint
1 cup quick pickled beats (directions below)
Quick pickled radishes & red onion (directions below)
Pomegranate seeds
Non fat feta cheese
Pita Chips
Instructions
Quick Pickled Beats with Cumin
Chop steamed beats into quarters, place in a bowl and add 2-3TBS red wine vinegar and 1 TBS cumin seeds
Let sit for 15-20 minutes, stirring mixture occasionally to evenly coat
Quick Pickled Radishes & Red Onion
With a mandolin thinly slice radishes and red onion, place in a bowl with 1-2 TBS white wine vinegar and fresh cracked pepper.
Let sit for 15-20 minutes, stirring occasionally to evenly coat
Directions
This is a no-muss salad with a serious mixture flavor and texture. There are no rules here, simply pile on ingredients to your desired amount and enjoy! Add wild rocket or micro greens for a heartier meal, and a squeeze of fresh lemon for extra brightness.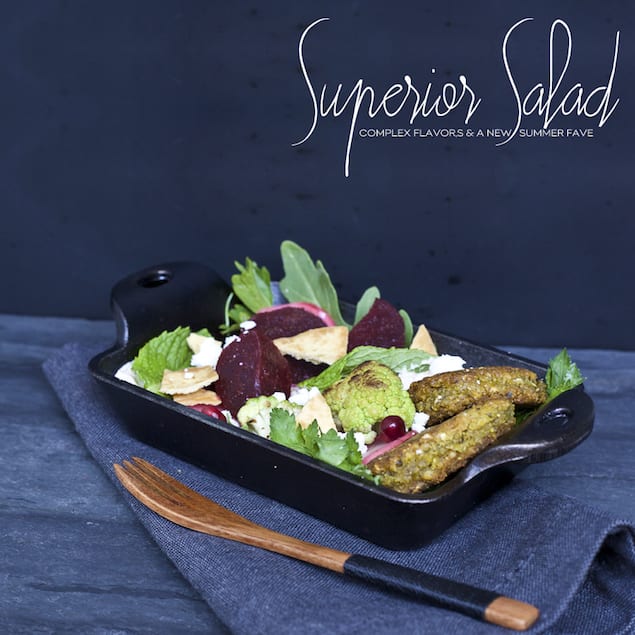 Kristin Guy
KRISTIN GUY: Stylist & Photographer Specializing in Dining By Design.